<![CDATA[
Conservative Refocus Rebuttals
By Barry Secrest
I'm always fascinated over how, exactly, the Wall Street Journal, of all news organizations, actually hired a raving, semi-Liberal, lunatic with a keyboard and made her their preeminent staff-opinion-writer...I mean, how does that happen, exactly?
Has Noonan been, somehow, stricken by the Wuhan Virus and is even now suffering from it's [recently] documented psychological side-effects? Has everyone else in her party ( It's actually the Dems) gotten it too?
You know, hanging out in the urban areas, especially in the likes of New York, can certainly do that to you, and a whole lot more, apparently.
"Where did Donald Trump come from?" She initially asks and the question, while, easy enough for most Americans to decipher, tends to summarily incapacitate most writers of Noonan's unimponderable ilk.

"Where is the GOP going? Should the whole thing be burned down?" 
Navel-Gazing for Dummies
Well, let me answer that, Peggy (as she undertakes a prolonged instance of extreme navel-gazing) --but first things first, would Peggy Care to explain where in-the-hell the riot-embracing, socialist-craving, Trump-hating, defund-the-police-Democrat Party is headed, if anywhere?
Maybe Nancy is so plugged-in to the current burn-all-federal-buildings-down-Democrats, that she simply quaffs everything over into the burn/don't burn category.
"A lot had to go wrong before we got a President Trump. This fact, once broadly acknowledged, has gotten lost, as if a lot of people want it forgotten."
No, Peggy...Regarding Trump, it was never a credible question being asked by the Democrat media, in fact, and most of the American people obviously know this...
However, what's mesmerizing is the fact that Peggy seems to believe that whatever she manages to type-out on her keyboard, simply becomes "So"--like that movie with Jim Cary in it--the one where God grants him the power to handle all things and Carey's character manages to screw it all up beyond recognition.
Has Peggy watched that movie? Maybe she should...
"Mr. Trump's election came from two unwon wars, which constituted a historic foreign-policy catastrophe, and the Great Recession, which those in power, distracted by their mighty missions, didn't see coming until it arrived with all its wreckage. He came from the decadeslong refusal of both parties' leadership to respect and respond to Americans' anxieties, from left and right, about illegal immigration. He came from bad policy and bad stands on crucial issues."
Spar Wars
Okay, so, what exactly, has this got to do with Republicans, or more specifically, Conservatives? When Peggy scribes the (2) big unwon wars, was she referring to Obama's war against Libya, (which was Obama and Hillary's) or, was she referring to Obama's anemic war movements in both Pakistan and Afghanistan?
Or, maybe she's referring to G.W. Bush's war in Iraq, which America did eventually win, but, hell!  I'm not certain which big wars that she means, exactly, simply because there've been so many, that, by the way, Peggy aided in creating.
But, how, exactly, is that Trump's or the American people's fault?
America's biggest war, WW2,  was presided over by a Democrat, and the Korean war was also presided over by a Democrat.
The Vietnam war was presided over by Eisenhour who was a Republican, and it was against Communist Aggression, as was the Korean war, but would the Democrats go to war against any Communist nation, now, or would they simply join-up?
That, as they say, is the question.
The Dems now all but own, the Black Lives Matter movement, which is nothing but systemic Marxism, as embraced by most sports teams, and pretty much anyone without even a tittle of common sense, however, that seems to be all the rage, these days.
"He came from the growing realization of on-the-ground Americans that neither party seemed to feel any particular affiliation with or loyalty to them, that both considered them lumpen bases to be managed and manipulated.

He came from the great and increasing social and cultural distance between the movers and talkers of the national GOP, its strategists, operatives, thinkers, pundits, and party professionals, and the party's base.

He came from algorithms that deliberately excite, divide and addict, and from lawmakers who came to see that all they had to do to endure was talk, not legislate, because legislating involves compromise and, in an era grown polar and primitive, compromise is for quislings."
Nihilism for Beginners
Well, Okay, but Still....why would we burn the Republican party down, when it was obviously the Republicans that managed to get Trump into the office (thank the most wonderful God in heaven) and quite frankly, what's the woman's point?
"He came from a spirit of frustration among a sizable segment of the electorate that, in time, became something like a spirit of nihilism. It will be a long time repairing that, and no one is sure how to. "
What? Has Peggy decided that she must re-imagine the word, "nihilism" or something?
Nihilism is defined as  "the rejection of all moral and religious principles in the belief that life is meaningless"
Now, which party represents this particular definition "to a Tee."
It ain't the Republicans.
The Democrat party base has most recently been burning Bibles in Portland, and burning churches, even as most of the blue-state governors have been closing churches down, at every possible moment.
Did Peggy somehow mix-up her title? Did she mean "Burn the Democrat Party Down" and if so, why would we do that when they're doing it to themselves quite splendidly?
"And here, in that perfect storm, was Mr. Trump's simple, momentary genius. He declared for president as a branding exercise and went out and said applause lines, and when the crowd cheered, he decided "This is my program," and when it didn't cheer, he thought, "Huh, that is not my program." Some of it was from his gut, but most of it was that casual. After the election, a former high official told me he observed it all from the side of the stage. This week the official said that after a rally, on the plane home, all Mr. Trump and Jared Kushner would talk about was the reaction. "Did you see how they responded to that?"
Now, what the heck is Peggy even talking about, at this point? Once we've decided that she simply has to be referring to Democrats, which is in fact, is the party of "nihilism" or "anti-religion" --how does she then toss her entire premise, into the "Orange Man bad," category, along with his party?
"The base, with its cheers, said they weren't for cutting entitlement benefits. They were still suffering from the effects of 2008, and other things. They weren't for open borders or for more foreign fighting. They were for the guy who said he hated the elites as much as they did."
The Elites...and Who They Are
Well, there she got something right, I mean, we do hate the so-called elites not unlike Peggy, along with their constant stream of extensive nonsense, but, not exactly for all the reasons pretended by the duplicitous Left.
The nexus for this pernicious brand of dislike flows from the coiffures of what we interpret as an incredible pretense. I mean, are there actually people who wake up thinking how elite they truly are?
Or, more likely, are there not actual people who wake up and go about doing the incredible things that they do, without even thinking about being a so-called elite.
That is the thing, you see.
In order to truly be an Elite, one cannot even approach thinking about the esoteric qualities of elitism, even in passing. In my opinion (which I have many) this instance, indeed, is the true and real quality concerning being an actual elite, and these folks who pretend that they are, don't actually even come close, on their best day.
Or, does their diddling with some poor kidnapped, sex-trafficked youngsters, uber- qualify them, in their very small minds, if you can even call it that? 
The Wuhan Chinese Virus
"The past four years have produced a different kind of disaster, one often described in this space. The past six months Mr. Trump came up against his own perfect storm, one he could neither exploit nor talk his way past: a pandemic, an economic contraction that will likely produce a lengthy recession, and prolonged, sometimes violent national street protests. If the polls can be trusted, he is on the verge of losing the presidency."
Ah, so here, we get down to the meat of things.
The Wuhan virus is Trump's fault. Right.
Now, swish that around in your mind for a moment, and gargle it convincingly before expectorating your results, which should proceed right down the drain, along with this spectacularly ghastly idea.
It's not Trump's virus, It's China's.
We know this from the reams of incontrovertible data regarding what China did and when China did it, and even then, how they made the very conscious decision to fly the virus out to everywhere, except, anywhere in China.
They obviously, must think that the world is as stupid as the 1.392 million [non-communist party] villagers that they've cuckolded.
So, will America blame the virus on Trump, or will the people ascribe the virus to its mendacious masters in China? I believe we're starting to see the answer on this, and that answer is not exactly in Noonan's favor.
"Now various of his foes, in or formerly of his party, want to burn the whole thing down—level the party, salt the earth where it stood, remove Republican senators, replace them with Democrats."
No, Really...
Okay, so who, in the Republican party, other than the ridiculously supercilious anti-Trumpers, a people we simply cannot take seriously (not unlike Peggy.... again) desires to burn the party down?
Is it certain conspicuous members, of whom she dares not mention, or, is it merely Peggy's woefully active imagination, or, probably more accurately, is it some second-rate establishment Republican who failed to secure a job in the Trump Administration and is burning mad about the whole damned thing?
Yes, in Peggy's history as a Bilderberger Establishment Republican, it was probably some pissed-off idiot she had coffee and a Danish with, last week, who now, somehow, represents a substantial proportion (of Peggy's imagination) and of the whole blasted Republican Party, that doesn't really exist.
Yeah, that's just how she rolls...."one"...can, in her mind, represent an entire movement that doesn't really exist.But she can write about it and make it seem as so.
"This strikes me as another form of nihilism. It's bloody-minded and not fully responsible for three reasons."
Well, once again, nihilism is a thing of the Democrats, as we've already ascertained, based upon the reams of evidence that they keep producing, ad nauseum.
"First, it's true that the two-party system is a mess and great daily frustration. But in the end, together and in spite of themselves, both parties still function as a force for unity in that when an election comes, whatever your disparate stands, you have to choose whether you align more with Party A or Party B. This encourages coalitions and compromise. It won't work if there are four parties or six; things will splinter, the system buckle. The Democratic Party needs the Republican Party, needs it to restrain its excesses and repair what it does that proves injurious. The Republicans need the Democrats, too, for the same reasons."
Um...NO...we  really don't need the Democrats anymore, rest assured, Peggy, any more than we need a few more enemies like China, and the simple fact is, the two-party system has been and always will be a mess, most especially when the Dems keep voting in members like Ilhan Omar and AOC, for Heaven's sake.
That, in fact, is the overall problem.
The Dems are no longer interested in putting in statesmen  (or women).  In fact, they went radical quite some time ago, and the radicals have now over-taken the entire party, along with its new Communist stylings.
We need a few more democrats like we need a few more holes in the head.
"Second, if the Republicans lose the presidency, the House and the Senate in November, the rising progressives of the Democratic Party will be emboldened and present a bill for collection. They'll push hard for what they want. This will create a runaway train that will encourage bad policy that will damage the nation. Republicans and conservatives used to worry about that kind of thing."
Well, it's according to what the meaning of "If," is...now isn't it Peggy?
Facilitations
But, the chances of America losing its incumbent President in a re-election, quite frankly, is starkly minimal, indeed, based upon the historical facts--but most especially-- when you have a usurper who can't even figure out where he's at, most of the time.
"Third, Donald Trump is burning himself down. Has no one noticed?"
Nope. NOT AT ALL, in fact, QUITE THE OPPOSITE.
You see, Peggy, In order to subscribe to the misbeliefs that you obviously subscribe to, one would, first, have to totally ignore the NY Times, and Washington Post....and even the sections providing the more useful facilitation of wrapping fish.
In fact, I see the dems and Biden burning themselves down, completely, on most days, even to the point of, predictably, absolving Biden of the horrid mess that is a debate ( for Him).
And I see the democrat media reeling with up to, what is it? 10,000 layoffs, as was most recently reported.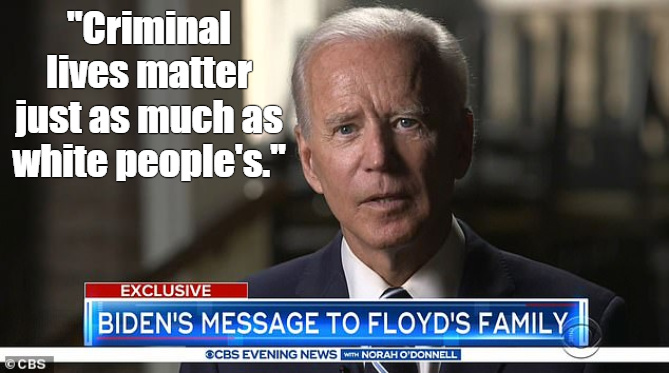 Peggy, you do have at least some concept regarding what THAT will ultimately do, to your shadow-Globalist party?
"When the Trump experience is over, the Republican Party will have to be rebuilt. It will have to begin with tens of millions of voters who previously supported Mr. Trump. It will have to decide where it stands, its reason for being. It won't be enough to repeat old mantras or formulations from 1970 to 2000. It's 2020. We're a different country."
Indeed, we are a different country, as we always will be, however, people like you, Peggy, are so horribly lop-sided that you see only what you wish to see, and not what actually is taking place.
The main point is that the Democrats, which, by the way, I find very strange, you didn't even mention them in any meaningful sense, have completely played-out their efforts to eject Trump from his singular job of over fulfilling his campaign promises, for the last (4 ) years. While Trump was continually, working his Asimov off, the Dems have done exactly what they always do, skulking about and scheming-up, any old way to eject Trump from his party....that simply will not work.While totally ignoring the joke that is Biden.
....and replace him with Pence?
I really don't think they know what they're doing...
I also see a country that is even now gearing up to react to the Marxist BLM/ Antifa-Fascist movement.
I see Newton's 3rd law just about ready to be fully engaged and in the most meaningful way,
" To every action, there is an equal and opposite reaction"
"The size of the forces on the first object equals the size of the force on the second object."
I see Trump pushing ahead with a favorably rating amongst Republicans approaching the highest ever seen, at approximately 96%. I see Trump's poll-standings neatly mirroring his exact standings at the time of the last election, with Democrat samplings among the polls, far over-exceeding the Republican samplings, just exactly as it was in 2016.
And I see Biden, as diagnosed before it's all over with, as a victim of "Sundowners' Syndrome"
In essence, I see what is actually happening
"A lot is going to have to be rethought. Simple human persuasion will be key."
With the Democrats, again, this so terribly true.
"Rebuilding doesn't start with fires, purges and lists of those you want ejected from the party."
Actually, the rebuilding continues, just as it was incepted back in 2010, with Conservatives over-taking the remaining establishment ( read Globalist) Republicans, and the Nationalists taking back over.
I see the last major strain of the Globalists, and their minions, and we will soon eradicate their like, at least on our side of the aisle.
"Many if not most of those calling for burning the whole thing down are labeled "Never Trump," and a lot of them are characterologically quick to point the finger of blame. They're aiming at Trump supporters in Congress. Some of those lawmakers have abandoned long-held principles to show obeisance to the president and his supporters. Some, as you know if you watched the supposed grilling of tech titans this week, are just idiots."
Oh, and when they did the entire way with Obama, including the entire blasted media.... what was that called?  "Nothing to see here? "
Yeah, we've watched that movie more times than we've seen Star Wars.
"But Never Trumpers never seem to judge themselves. Many of them, when they were profiting through past identities as Republicans or conservatives, supported or gave strategic cover to the wars that were such a calamity, and attacked those who dissented. Many showed no respect to those anxious about illegal immigration and privately, sometimes publicly, denounced them as bigots. Never Trumpers eloquently decry the vulgarization of politics and say the presidency is lowered by a man like Mr. Trump, and it is. But they invented Sarah Palin and unrelentingly attacked her critics. They often did it in the name of party loyalty."
"Some Never Trumpers helped create the conditions that created President Trump. What would be helpful from them now is not pyromaniac fantasies but constructive modesty, even humility."
Yeah, Peggy...so...what happened to you? No Really?
"The party's national leaders and strategists don't have a lot to be proud of in the past few decades. The future of the party will probably bubble up from the states."

" Both parties have weaknesses. Liberals enjoy claiming progress that can somehow never quite be quantified. Conservatives like the theme of betrayal."

It will be unhelpful for Republicans, and bad for the country, if that's the background music of the party the next 10 years.



..and, again, what of the current Democrats, Peggy? And, why do you systemically ignore all of their non-sense?

We do see what is actually happening...and it bears no resemblance to your theatrical parade of words assembled together to essentially represent absolutely nothing.

"Seinfeld" did it so much better...alas.

 

 

]]>