Black Lives Matter Protesters Attack and Vandalize Large Christmas Tree in Chicago Park (Youtube)
November 28th, 2015
Black Lives Matter Protesters Attack and Vandalize Large Christmas Tree in Chicago Park (Youtube)
Posted by:
Barry
Published on November 28th, 2015 @ 12:10:00 pm , using 120 words,
CRN
by Barry Secrest
In a spirit of ongoing chaos, 'Black Lives Matter' protesters Attacked and vandalized a Christmas Tree in Chicago's Millennium park, while screeching a largely unintelligible chant.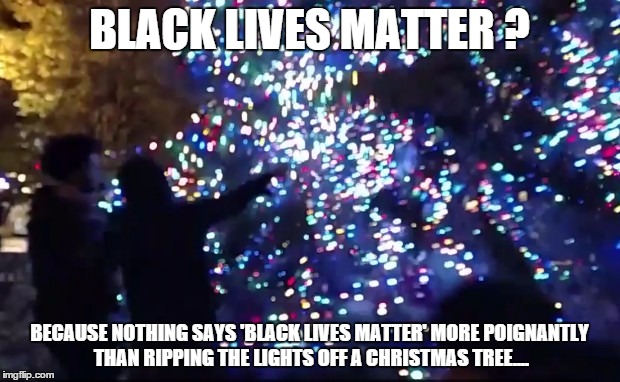 The deranged protesters, who have the backing of the Democrat Party including all of the Democrat presidential candidates, began stripping the lights off the beautifully-lit Christmas tree, as the atmosphere turned riotous.
The website Twitchy, which covered Twitter on behalf of the story, published a range of saucy comments....
 "Hope they get electrocuted"
 "Chicago is doomed"
 "I think it's safe to say the multiculturalism has failed in western civilizations."
"TEARING CHRISTMAS LIGHTS DOWN Such classy people in Chicago. Way 2 go Mayor Emmanual LIBERALISM IS A MENTAL DISORDER!"
No feedback yet