The Trump Effect: US Shrewdly Punishes Fleeing Islamic State Terrorists By Mercilessly advantaging Stranded Convoy to Pick-Off ISIS Fighters
September 7th, 2017
The Trump Effect: US Shrewdly Punishes Fleeing Islamic State Terrorists By Mercilessly advantaging Stranded Convoy to Pick-Off ISIS Fighters
It's cold, it's ruthless, and it's how a war declared by brutal & barbaric ISIS terrorists should have been fought all along, by America.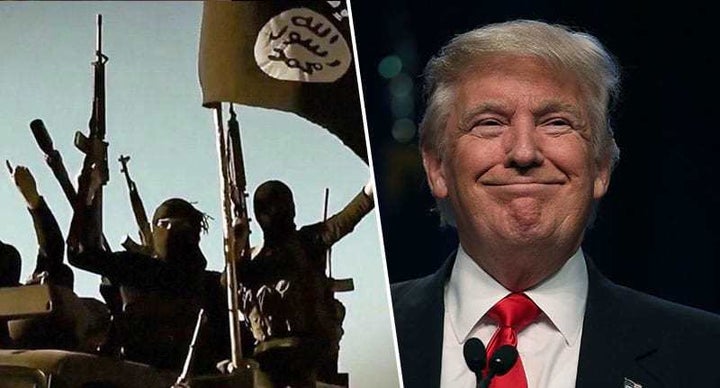 Since Trump was elected, instead of dropping warning pamphlets, as Obama did in service to his fellow Islamic ideologues, the US has been steadily forcing the ISIS Muslim extremists out of their hiding nests and relentlessly exterminating them like the vermin that they are.
In this case, the US is utilizing air strikes to pick-off a steady flow of ISIS fighters trying to come to the aid of a stranded 11-bus convoy full of Islamic State civilian evacuees.
Unlike ISIS, which makes it a primary mission to murder primarily western women and children civilians, the US has not attacked the stranded convoy of ISIS families, despite their harboring Islamic fighters.
But, if any fighters stray away from the convoy or approach too close, the US has been picking them off one by one…~Refocus Notes
Stars & Stripes
By CHAD GARLAND
IRBIL, Iraq — An attempt by Islamic State to evacuate hundreds of fighters from western Syria to the Iraqi border has instead left them sitting ducks for aerial attacks by the U.S.-led coalition on the convoy.
"We were able to exploit it and take advantage," Army Col. Ryan S. Dillon, a coalition spokesman, said of the ISIS maneuver Thursday morning as 11 buses full of ISIS fighters and civilians remained stranded in the Syrian desert.
U.S. warplanes continue to pick off militants who stray too far from the protection of the convoy's women and children, officials said. Strikes have also destroyed militant vehicles coming to the area from ISIS-held territory.
"Like moths to the flame," more than 40 vehicles have come to try to aid the convoy, including armored technical vehicles and a tank disguised as a truck, Dillon said. "We were able to continue to just observe and pick them off one at a time."
Related from Stars & Stripes
No feedback yet