Turkey's Largest Airport Hit by Islamic State Terrorist Suicide Attacks Killing 31 & Injuring Scores
June 28th, 2016
Turkey's Largest Airport Hit by Islamic State Terrorist Suicide Attacks Killing 31 & Injuring Scores
News reports from this morning indicated that Turkey's brutal dictator Erdogan had suddenly issued an apology to Russia, for shooting down one of its military jets.  
Erdogan is not a leader known for making apologies, so the apology was highly uncharacteristic. The question becomes whether or not Turkey's apology, the latest news coming out of the EU that the furious EU Globalists would no longer be allowing members to leave, while ejecting all members sovereignty, creating a super-state army, and recent movements within & without NATO, may all be connected....
~ Refocus Notes
At least 31 people have been killed in an attack on the main airport in Istanbul, a senior Turkish official has told the Associated Press. Initial indications suggest Islamic State was behind the attack, the official said.
Figures suggested up to 50 people had been killed - however , that has now been downgraded.
Three suicide bombers opened fire before blowing themselves up at the international terminal of Ataturk Airport, Istanbul governor Vasip Sahin told NTV television.
Several witnesses reported two explosions but Sahin said authorities believed there were three bombers. He said some 60 people were wounded. Six of those sustained serious injuries, the state-run Anadolu Agency said.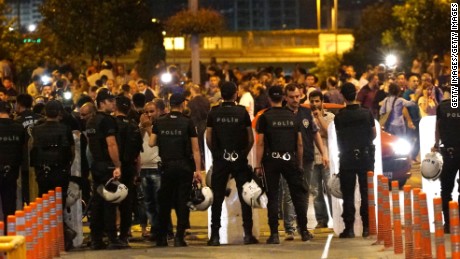 Two of the attackers detonated their explosives when police fired at them, a second official said, citing information from the interior ministry.
A witness told NBC News that he saw a police officer diving to tackle one of the attackers - who then detonated his bomb. The attack is understood to have happened near the airport entrance - before the assailants would have gone through security checks.
Speaking in the Turkish parliament earlier, justice minister Bekir Bozdag said he could only confirm one attacker, based on initial information.
 "According to information, I have received, at the entrance to the Ataturk Airport international terminal a terrorist first opened fire with a Kalashnikov and then blew himself up,"Bozdag said. 
Pictures posted on social media showed wounded people lying on the ground inside and outside the terminal buildings. 
"There was a huge explosion, extremely loud. The roof came down. Inside the airport it is terrible, you can't recognise it, the damage is big," said Ali Tekin, who was at the arrivals hall when the attack took place.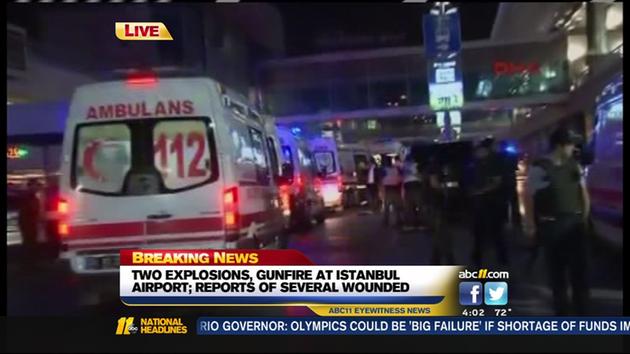 A German woman named Duygu, who was at the airport, told Reuters: "Everyone started running away. Everywhere was covered with blood and body parts. I saw bullet holes on the doors." 
Another passenger told the Associated Press that she hid under a counter after hearing an explosion and a loud bang....
Continue Reading / View News Report Videos
No feedback yet