Life Under America's Suicide Squad: A Scathing Rebuttal to Peggy Noonan's "Imagine a Sane Donald Trump"
October 30th, 2016
Life Under America's Suicide Squad: A Scathing Rebuttal to Peggy Noonan's "Imagine a Sane Donald Trump"
Posted by:
Barry
Published on October 30th, 2016 @ 07:08:00 pm , using 2660 words,
Conservative Refocus
By Barry Secrest
It was once, very long ago written, "How terrible it will be for those who call good things bad and bad things good, who think darkness is light and light is darkness, who think sour is sweet and sweet is sour."
Many, now commonly believe that the above ancient words of wisdom represent the current spate of suicidal reasoning in leadership, taking place all across the planet, and certainly in Obama's America, of course.
More pointedly, as we read the words of semi-conservative establishment columnist Peggy Noonan, of the Wall Street Journal, in her most recent selection of articles we can easily see that same exact trend, swooning within her anecdotal political rhetoric.
As what could be described as possibly America's last true political race, some folks just can't seem to see past their own burning interests for fear of eclipsing what must be some global mandate, that we of the pitchfork and torch class, are simply not privy.
But, it should be pointed out that it took a great deal of digging and sourcing to finally figure out the Noonan, in this particular article, was not attempting poor satire. I write this because as you read through her exactingly quoted words, in this article, you may start  wondering. 
But, as she noted in her follow-up article of this week, these words of hers are deadly-serious and therefore a cause for some alarm, at least as it regards Ms. Noonan's highly questionable sagacity, going forward.
In fact, it has been written of the WikiLeaked emails in referencing the words of  Hillary's hand-picked colleagues, that "the writers are the worst kind of snobs, snobs with nothing to recommend them."
"In their expression and thoughts, they are common, banal, dumb, uninformed, parochial."
Indeed, they are all of that but then so much more, as we are all beginning to see.
However, then, you have those others who speak of Trump and by default, his supporters, as if they're all deranged for supporting what the opposition states as being the all-encompassing insanity of Trump.
In Peggy Noonan's latest exposition, she offers the CNN-biased fact that Trump "is a nut" in her article titled Imagine a Sane Donald Trump
"Look, he's a nut and you know he's a nut. " 
"They all know Donald Trump's a nut." Peggy Noonan writes again and again, as if straining for a hypothetical conclusion that fails to reach her antithetical grasp, but hasn't it been well-noted that close repetition in writing, denotes a failure in reasoning?
Noonan, in fact, if not ironically, wrote that earliest paragraph in red in a recent article, truth be told, which is why  her words are presented in a brisk red font, throughout this article.  But, it does seem to fit Noonan's overall essence once you digest this particular bit of libel, overall, indeed, if you desire the word "slander" then merely watch her Sunday showings.
However, first, what exactly defines her "nut?" We looked towards Merriam-Webster to find out: 
a small dry fruit with a hard shell that grows on trees and bushes; Or the inside part of a nut that is used as food; OR a piece of metal that has a hole through it so that it can be screwed onto a bolt or screw 
I believe the 3rd definition might be the charm in noting how the globalist establishment sector of the Republican party (of which she is card-carrying member) has so thoroughly tried to screw Donald Trump--to the point that the man now simply must have thread scars across a large portion of his body, if not his psyche.
However, the actual term Noonan is trying to use is both defined and written as "nuts" and it's commonly used as "an expression of contempt or derision," which is precisely what the terrified globalists who Noonan runs with, have stated from the very start, regarding Trump.  
But, certainly Mrs. Noonan has noted the extraordinary corruption and deep trouble that America currently finds itself within--or does she yet believe, along with her Bilderberger counterparts and Obama, that America needs to be taken down slowly while whispering sweet nothings in her wounded ear?
That's right, we doggedly didn't forget about Noonan's membership in "the club" and her attendance of the Bilderberg 2012 meeting --and it makes pretty much everything Noonan writes suspect, quite frankly.
So, it's not surprising the penultimate "innie"--like Peggy Noonan--would outwardly attack Trump, as the classic "outie," and it makes Trump immeasurably more attractive to the voting class, quite frankly.
Not to mention the fact that the ever wishy-washy Noonan can't seem to find a comfortable political perch by which to establish a consistent commentary. She has taken her own personal odyssey of non-support-to-quasi-support and then to feigned support only to wash up, finally, on the desert Isle of  non-support, once again, never quite finding her final destination which never really existed, in the first place. 
In reality, Noonan cannot seem to get past her own clearly co-opted media, of which she is a member; a media that goes into hyperventilation mode whenever Trump so much as passes wind, which, of course, is by design in that it's about all that they have to work with.
Noonan goes on to opine:
"Some will vote for him anyway. Many are in a madman-versus-criminal mode, living with (or making) their final decision. They got the blues. Everyone does. They're worried about the whole edifice: If this is where we are, where are we going?"
At this early point in Noonan's essay, we can now begin to wonder if the indefinite pronouns "some," "many," and "they" might indeed be referring to Noonan and her elite globalist colleagues?
Noonan's "some," "many," and "they" consistently leaves out "us," but of course.
Or worse,  is her word usage merely a facet of Noonan's increasingly troubled imagination? We did find it strange that while Noonan writes extensively on politics in a race, mercifully, nearing its end,  she actually failed to mention Hillary Clinton's name anywhere in her entire article.
Very odd indeed, in fact, it reeks, even as the vehicles of Wikileaks, DC leaks, Wiener, and Huma's laptop computer have, in fact, re-opened the FBI's investigation, driving the final nail in Hillary Clinton's campaign.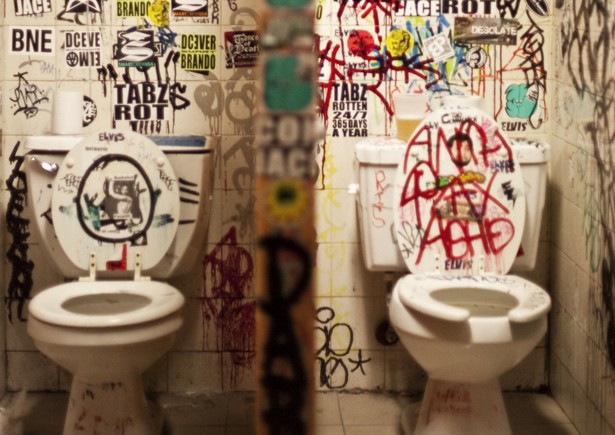 Moreover, Noonan, of the proud and measurably co-opted Wall Street Journal goes on to graffiti Trump, writing next that "He's a screwball,"  and of the "TV funhouse that is his brain."
So, it appears that we've seemingly traveled from editorializing in the WSJ to the equivalent of scribbling rude epithets on a bathroom stall, for Ms. Noonan, who apparently needs lessons in the severe art of insult, if that's her editorializing game.
But, why, exactly, does Ms. Noonan think that Mr. Trump's insane? You're going to love these, get ready.
"Mr. Trump got mad because Paul Ryan didn't call to congratulate him after the second debate."
Er, yeah, Ms. Noonan, that's clearly straitjacket territory, um, but not for Mr. Trump, we should point out....Ryan's another one that just can't seem to make up his mind, largely because he also is an open-borders globalist who thinks that his job is  to constantly put himself in the shoes of illegal aliens, which should make almost everyone in America angry, at this point.
So, while no politically centered psychiatrist would institutionalize anyone, including Trump,on that basis, what else does Ms. Noonan have to throw at her sanitarium wall?
-"Mr. Trump revealed to the Republican Party what half of its own base really thinks and  the party's leaders didn't know!" "They were shocked, so much that they indulged in sheer denial and made believe it wasn't happening."
Well, that might seem mad, but only to the establishment political class, who live blithely within a globalist matrix of lies" of which they refuse to exit, despite the fact that their refuge has burst into flames and is near to collapse.
-"The party's leaders accept open borders and like big trade deals."
Again, a big part of the GOP's corporate sponsored "Big Problem"(as to its all-American base) and once again, clearly not insane in Trump's hardcore reasoning against, at least not outside the beltway.
-"Half the base does not [believe in open borders]! It is longtime GOP doctrine to cut entitlement spending."
Noonan's starting to sound a bit shrill, even in writing, and it's most likely because her article is beginning to make her sound like the thing she's accusing Trump of being.... but, it should be noted, that the conservative movement does not believe in cutting entitlements, on the contrary, we believe the US treasury should merely stop raiding "the social security lockbox," and that's for starters.
-"Mr. Trump insulted George W. Bush and nation-building and said he'd opposed the Iraq invasion"
 That's not insane, that's actually intellectually sound, and on all fronts, and while I'm sure this may come as a shock to Noonan, Mr.Bush is not a God immune from conservative criticism, if anything, Bush is a closet globalist with severe Bohemian Grove issues, that most Conservatives are now aware of.
-"It happened because Donald Trump intuited where things were and are going."
Now, let's not mistake political brilliance for insanity, although we fully understand how Noonan might grasp the  difficult art of political intuition as being insane. But, then, who's insane? Because Noonan has already answered her own question in an earlier episode of her"Declarations":
"From what I've seen there has been zero reflection on the part of Republican leaders on how much the base's views differ from theirs and what to do about it. The GOP is not at all refiguring its stands. The only signs of life I see are among young staffers on Capitol Hill, who understand their bosses' stands have been rebuked and are quietly debating among themselves what policy paths will win the future."
We should, at this point, indicate, that it would seem that Trump has found those policy paths that the establishment GOP has been railing consistently against,under the globalist Koch paradigm, for quite some time now.
Noonan moves onward:
Since I am more in accord with Mr. Trump's stands than not, I am particularly sorry that as an individual human being he's a nut.
At this point, in our decomposition of Noonan's silly piece of establishment hacking, it would seem that that the total inverse of her reasoning is now fully in play, in that Ms.Noonan keeps proffering reasons for Trump's so-called insanity that actually charges the party's conservative base into an abject frenzy, due to its overall lucidity.
These things, that Noonan keeps bringing up, would only seem as insanity to a person whose eyes have been so completely scaled over that reality outside her inner-beltway matrix  would resemble a terrifying slasher flick. 
So, now Noonan begins to imagine what, to her, a "sane Trump" would look and sound like, and again, you're going to love these.
"What if there had been a Sane Donald Trump? Oh my  God, sane Trump would have won in a landslide." (Well, who says he won't?)
-Sane Trump would look normal and happy not grim and glowering (our suggestion: try attending a Trump rally--the goodness of truth enshrouds Trump supporters all about)
-Hear and act on good advice (The Trump turnaround came with the campaign change to Bannon and Conway)
-Explain his positions with clarity and depth (Trump has practically written a book on his positions at his website--please visit it)
-Looked at a dubious, anxious and standoffish Republican establishment and not insulted them, diminished them, & done tweetstorms against them ( That is a two-way street that the GOP establishment views as a one-way street--it's Trump's party now, alas for Noonan)
A Sane Trump would've said "Come into my tent. It's a new one" ( And then have been charged with making sexual advances)
-There's a place just for you. What do you need? ( Their answer would have been for him to change his positions)
-Be less excitable and dramatic?  (Is Peggy Noonan looking for a new husband or just a metrosexual GOP candidate?)
- Not act, toward women, like a pig? ( Noonan should take a look at Trump's average pay to women versus Hillary's and Rosie O'Donnnell is certainly not the consummate representation of women, in fact, if anything she's but an exceedingly poor rendition thereof-- the bull-dike aspect of a man poorly encased within the body of a woman)  
-Accept your critique. ( Trump supporters have admonished Trump not to listen to folks like Noonan, ironically, it's worked)
-Explain the moral and practical underpinnings of my stand on refugees from terror nations? (Trump states it's to keep radical Islamic terrorists out, how many different ways would Noonan prescribe Trump state it?)
- My well-hidden secret is that I love everyone and hear the common rhythm of their beating hearts." (Oh, Puh-lease, give us a break!)
-Given an anxious country more ease, not more anxiety (You mean like not promising an Islamic refugee invasion increase by 550% ?)
-Demonstrate that he can govern himself suggested through his actions, while still being entertaining, funny and outsize, that yes, he understands the stakes and yes, since America is always claiming to be the leader of the world—We are No. 1!—(We're now in Noonan's warm and fuzzy zone--she wants Trump in there with her...gag)
-Sane Donald Trump would have explained his immigration proposals with a kind of loving logic (And then lost the primary)
-We must secure our borders for a host of serious reasons and here they are.-But we are grateful for our legal immigrants (Oh, for God's sake that's enough!)
Noonan completes her frenzied bit of nonsensical drivel of a column, while still completely ignoring Clinton's current spate of big trouble in Obama's little China ( that's us--here in America) by stating
"Does he know he's playing with fire? No. Because he's a nut.
"Sane Trump for president. Too bad he doesn't exist."
But in reviewing the entire thought process of Noonan, in her more recent collection of works, it seems incumbent for us to mention the fact that her thought process illustrates a complete void of lucid clarity.
In fact, Noonan seems  to ruminate along in a safe space-swaddled cocoon of glandular lunacy, especially in her collection of estranged usages, not only teetering-- but actually falling off the edge of delirious, in her writing.
The woman is clearly unhappy, but for what? The lack of, for her, a perfect candidate in the form of a venous political demi-god, say a  George H. W. Bush? His re-ambulated semi-action-figure, Jeb, was defeated way early on.
The full and certainly defeating counter-point to Noonan's faulty articulation lies within the fact that going forward, politics-as-usual will not win the day for America. The rumors of our impending collapse increasingly dominate both our economic, political, and even pop-cultural sub-annotations, in American society.
Peggy, did you really think that all of those dystopian novels and movies flooding out into our culture were merely flights of period fantasy, or do you think that perhaps something is and has been truly amiss? Or, did you even notice or truly care?
America has been operating under a government, staffed and overflowingly led by what could only be described as the equivalent of a Suicide Squad, and our constitutional republic simply cannot stand much more of this ludicrous nonsense, especially in a politically correct government acting as a secondary stand-in for real-life leadership and reasoning.
The interesting thing, within all of this, is simply the fact that on the one hand in her article,  Noonan clearly states that she agrees in principle with Trump's stances on a large number of issues, while on the other hand, Noonan repeatedly states and even titles her article predicated on the fact that Trump is insane.
Noonan's schism, in thought, as illustrated, bears out an extraordinarily enigmatic bearing, at best.
Notably, a very holy and ancient text once stated that "a double-minded man is unstable in all of his ways." According to an expert source, when translated for modern times, this particular verse looks like the following:
"A person who has doubts is thinking about two different things at the same time and can't make up his mind about anything."
I believe we've just found Peggy Noonan's, more or less, elitist problem which essentially permeates an entire hemisphere of establishment political thinking inside the inner beltway....nevermind Einstein's famous rendition on insanity....
Related from Conservative Refocus:
 "Saved The Best For Last": An Parody to Julian Assange and WikiLeaks For Hillary's Criminal Takedown (Youtube)
Read our surprisingly accurate rebuttal to Peggy Noonan from July of 2015:
No feedback yet