The Trump Inauguration & What They're Writing: A Record Number of Prayers, Signs of God's Blessing, A Patriotic Vision, Climate Hoax Halt (Youtube)
January 20th, 2017
The Trump Inauguration & What They're Writing: A Record Number of Prayers, Signs of God's Blessing, A Patriotic Vision, Climate Hoax Halt (Youtube)
Posted by:
Barry
Published on January 20th, 2017 @ 06:37:00 pm , using 1389 words,
Transcript of President Trump's Inaugural Address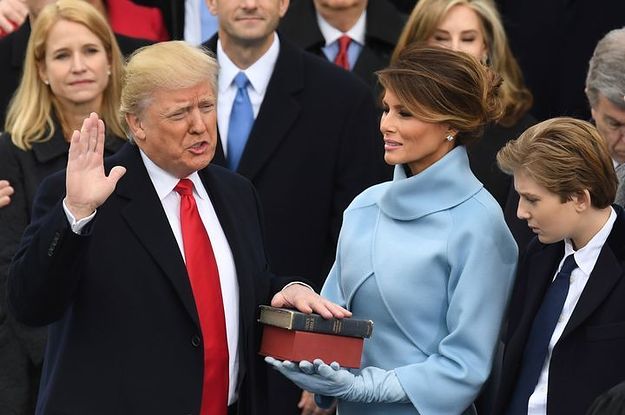 In contrast to his predecessor Barack Obama, who had a habit of mentioning himself often throughout his speeches, Trump mentioned himself just three times in two sentences, while referring to "we" the American people 45 times.
The first time Trump referred to himself came about halfway through the speech, when he said: "The oath of office I take today is an oath of allegiance to all Americans."
Donald Trump eviscerated Washington in his inaugural address
(Circa)  Donald Trump quickly put official Washington on notice that business as usual was about to busted.

"Today we are not merely transferring power from one administration to another, or from one party to another, but we are transferring power from Washington, D.C. and giving it back to you, the American people," he said in his inaugural address which lasted less than 20 minutes. 
With the outgoing president, Barack Obama, and the congressional leadership sitting right behind him, Trump used his trademark bluntness to indict the way the nation's capital has operated for the last decade

"For too long, a small group in our nation's capital has reaped the rewards of government while the people have borne the cost," he argued. "Washington flourished - but the people did not share in its wealth," he added.
"Their triumphs have not been your triumphs; and while they celebrated in our nation's capital, there was little to celebrate for struggling families all across our land." 

And that was just the beginning.... 
(Miami Herald) In his first, fiery words as the nation's 45th president, Donald John Trump presented a nationalist vision of America, breaking with tradition to invoke his unapologetically raw campaign, rebuke the country's principal political parties and offer a populist ode to the "forgotten" people who, against all odds, elected him. 
"Today, we're not transferring power from one administration to another, or from one party to another, but we're transferring power from Washington D.C. and giving it back to you, the people. For too long, a small group in our nation's capital has reaped the rewards of government while the people have borne the cost," Trump told energized supporters gathered under damp skies along the National Mall.
"That all changes starting right here and right now, because this moment is your moment. It belongs to you."
Pastor alerts Trump "Rain is a sign of God's Blessing"
 (CBS Philly) Trump  touched on religion in his speech, saying, "We will be protected by God.
Following Trump's first address as president, Rev. Franklin Graham referenced that it started to rain when Trump stepped to the podium and that rain is a sign of God's blessing. "In the Bible, rain is the sign of God's blessing, and it started to rain, Mr. President, when you came to the platform," Graham said.
 Trump's inauguration, just like his campaign, breaks Washington norms
(LA Times) Bikers for Trump roared into town. Self-described "deplorables" hosted a ball. And thousands of Americans, many with red "Make America Great Again" caps, poured onto the grassy expanse of the National Mall.
For the celebrity businessman-turned-politician, who rewrote the political playbook and shunned the Washington establishment to win the presidency, his inauguration was a decidedly Trump affair. "It's going to be more of a blue-collar inauguration," said Ron Scalzo, an insurance agency owner from Cape Coral, Fla., who was in Washington with his wife, Liz. "He speaks to us."
Some Trump supporters said they hoped the day would mark the end of partisan division. "There are a lot of people who are excited because their guy won, but there are a lot of people sticking their toe in the water not knowing how warm it is," said veteran energy lobby spokesman Frank Maisano.
"Whether they're establishment Democrats or establishment Republicans, they just don't know how this all is going to work out." 
(Free Beacon) The speech was vintage Trump: politically incorrect, critical of both parties, amped up, biting, strongly delivered, and wildly ambitious. Anyone who believed Trump would change his beliefs or style when he assumed the office of the presidency was proven wrong. He's not going to change. And he's not going to let up.
Trump espoused his worldview in remarkably few words. He is a vituperative critic of the post-Cold War international system. Where the architects of that system see it as a bulwark of stability and global prosperity, Trump sees it as diminishing the United States in favor of foreign countries and an international class of wealthy political and financial elites. 
Washington has been serving its own interests, he said, and not the people's. That ends now. His America will turn inward, focusing on domestic stability, education, infrastructure, and jobs. The one exception will be the fight against Islamic terrorism, where Trump is prepared to join with autocracies in pursuit of common goals.
Trump forcefully rejected identity politics. Racial and ethnic identities, he said, are less important than our status as American citizens. "When you open your heart to patriotism, there is no room for prejudice." 

(Financial Times) Beijing censors have ordered media outlets to tone down their reporting of Donald Trump's inauguration as US president, as the Communist party weighs its response to a new administration that threatens to tear up the rule book of US-China relations.
Propaganda officials have ordered the press only to use reports on the ceremony written by central state media, according to several Chinese journalists. "It is forbidden for websites to carry out live streaming or picture reports of the inauguration," said a copy of censorship instructions seen by the Financial Times. Internet media outlets should not give the event top billing on their homepages, the instructions add, reminding them to "take care of news comments . . . and negative and harmful speech". Similar orders are common ahead of big world news events but analysts said in this case they reflected uncertainty in Beijing over how to handle public perceptions of Mr Trump.
19 Words: Heavily Biased Associated Press Writes What is Quite Possibly Shortest Article in AP history
(AP)  President Donald Trump tells American people in his inaugural address, 'This moment is your moment. It belongs to you.
(McClatchy)President-elect Donald Trump will set a record with the amount of prayers during his inaugural ceremonies Friday.
Trump, who is starting the day at St. John's Church for a service at 8:30 a.m., will have six religious prayers as part of the ceremony, three invocations and three benedictions. That's a record, according to Jim Bendat, the author of "Democracy's Big Day," who was speaking on CNN Friday morning.
 The first invocation is scheduled for 11:21 a.m. and the final benediction is scheduled for 12:14 p.m.
Trump will be sworn in using both his own Bible, gifted to him by his mother, and the Bible used to swear in President Abraham Lincoln.
The National Prayer Service will be held on Saturday and features 26 religious leaders. Most come from denominations of the Christian faith, but other faiths featured include Islam, Judaism and the Navajo Nation.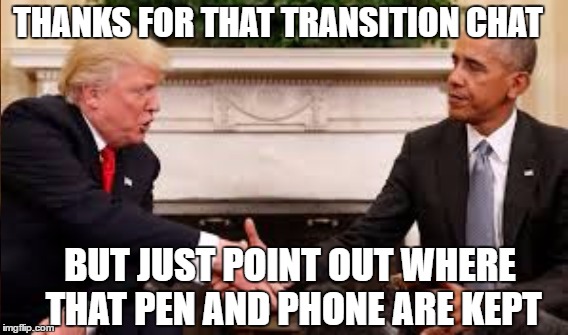 (Reuters) Donald Trump is preparing to sign executive actions on his first day in the White House on Friday to take the opening steps to crack down on immigration, build a wall on the U.S.-Mexican border and roll back outgoing President Barack Obama's policies.
Trump, a Republican elected on Nov. 8 to succeed Democrat Obama, arrived in Washington on a military plane with his family a day before he will be sworn in during a ceremony at the U.S. Capitol.
Aides said Trump would not wait to wield one of the most powerful tools of his office, the presidential pen, to sign several executive actions that can be implemented without the input of Congress.
(Climate Depot) A climate of change! Perhaps the most stark contrast between the Obama administration and the Trump administration is on "global warming". The climate differences were visible today as the White House website was scrubbed of all references to "climate change" at exactly noon today just as President Donald Trump was sworn in. 
Climate Depot statement: "Climate skeptics are thrilled that one of the very first visible changes of the transition of power between President Obama and President Trump is the booting of "climate change" from the White House website. Trump is truly going to make science great again and reject the notion that humans are the control knob of the climate and UN treaties and EPA regulations can somehow regulate temperature and storminess. Welcome to the era of sound science!" 
No feedback yet