A 'Detestable' Lie: Attorney General Jeff Sessions Slams Deep State Created "Russia Probe" in Hearing Opening Statement (Youtube)
June 13th, 2017
A 'Detestable' Lie: Attorney General Jeff Sessions Slams Deep State Created "Russia Probe" in Hearing Opening Statement (Youtube)
Posted by:
Barry
Published on June 13th, 2017 @ 07:32:00 pm , using 697 words,
POLITICO
By SEUNG MIN KIM and JOSH GERSTEIN
Attorney General Jeff Sessions forcefully defended his personal integrity on Tuesday, testifying that any suggestion he colluded with Russian officials to affect the 2016 election was "a detestable lie," even as he repeatedly refused to answer questions about his conversations with President Donald Trump.
Sessions provided several fresh insights into his role in the Russia controversy engulfing the Trump administration, revealing that he has avoided internal DOJ conversations about the FBI's Russia probe since he was sworn in, that he's never been briefed on Russia's alleged campaign to affect the U.S. presidential race, and that he never warned FBI Director James Comey that his job was on the line before he was abruptly fired by Trump last month.
The attorney general, former Alabama senator, and former Trump campaign adviser also insisted he did not recall having a third undisclosed meeting with Russian Ambassador Sergey Kislyak, as multiple reports have alleged citing information gathered by U.S. intelligence.
But Sessions' testimony was far from an exoneration of the president's conduct, as the attorney general confirmed that Comey had voiced concerns to him that the president had initiated improper one-on-one contacts.
Some of the hearing's most memorable moments came as Sessions repeatedly — and at times emotionally — lashed out at allegations that he and other Trump campaign advisers might have worked with Russian leaders to try to tip the election Trump's way.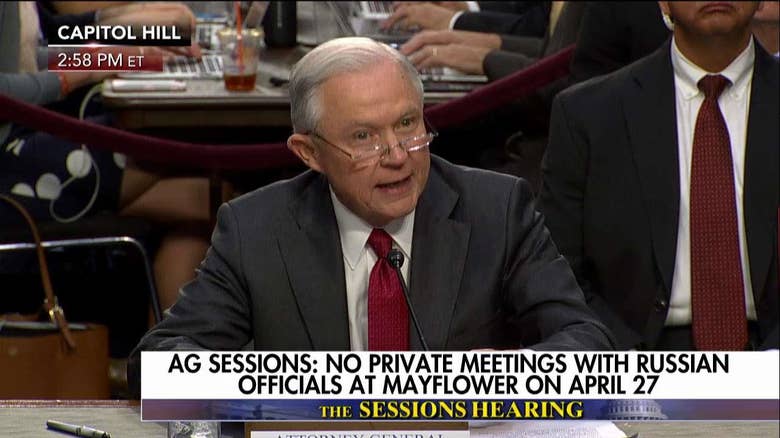 "The suggestion that I participated in any collusion or that I was aware of any collusion with the Russian government to hurt this country, which I have served with honor for over 35 years, or to undermine the integrity of our democratic process, is an appalling and detestable lie," Sessions said as he testified before the Senate Intelligence Committee.
Sessions also pushed back against the idea that he had more meetings with Kislyak, after having been forced to clarify remarks from his confirmation hearing in January that he did not have communications with Russian officials during the campaign. Two previous meetings with Kisylak surfaced earlier this year, but Sessions said on Tuesday he doesn't remember any further encounters, including an allegation he met with Kislyak in April 2016 at the Mayflower Hotel, which hosted a foreign policy speech by Trump.
"I did not have any private meetings nor do I recall any conversations with any Russian officials at the Mayflower Hotel," Sessions said.
He later elaborated that a brief interaction with Kislyak may have occurred, noting that "I may have had an encounter during the reception" but that would've been the extent of any communication.
Sessions took his  star turn in the same seat occupied by Comey five days before as the former FBI director pointedly accused Trump of lying about his dismissal.
Sessions has found himself at the center of the Russian controversy in recent days, particularly after Comey testified that he'd asked Sessions to intervene after Trump initiated a series of contacts about the Russia probe that the FBI director viewed as improper.
The ex-FBI chief also suggested Sessions realized something inappropriate was afoot when Trump asked Comey to stay behind at an Oval Office meeting in February while dismissing Sessions and others from the room.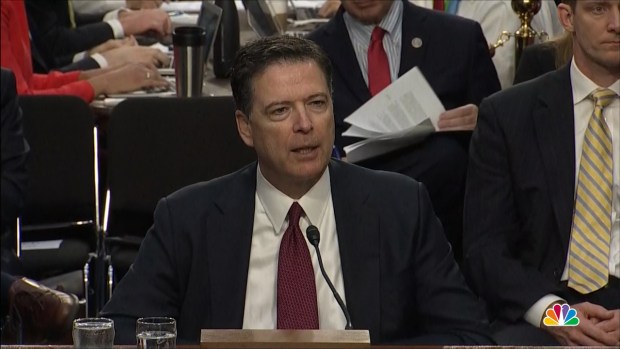 "My sense was the attorney general knew he shouldn't be leaving, which is why he was lingering," Comey testified.
Comey also said that in the one-on-one meeting that followed, Trump asked that the FBI "let…go" of a probe into former National Security Adviser Mike Flynn. Trump has said he made no such request.
Sessions denied on Tuesday that he stayed silent when Comey urged him never to leave him alone again with Trump. The attorney general testified that he urged the FBI and Justice Department officials to follow proper protocol in their communications with the White House.
That directly contradicts Comey's testimony from last week, when the ex-FBI chief said Sessions had no verbal response when Comey told the attorney general that being left alone with Trump was inappropriate and should not happen. A Justice Department spokesman rejected Comey's account following the June 8 hearing.
"He didn't recall this, but I responded to his comment by agreeing that the FBI and the Department of Justice needed to be careful to follow department policies regarding appropriate contacts with the White House," Sessions testified....
Videos added by Conservative Refocus
No feedback yet