President Responds To Rush Limbaugh's Assertions That Trump's "Caving" On The Wall: "The Wall's Gonna Get Built, Folks" (Youtube)
April 26th, 2017
President Responds To Rush Limbaugh's Assertions That Trump's "Caving" On The Wall: "The Wall's Gonna Get Built, Folks" (Youtube)
Posted by:
Barry
Published on April 26th, 2017 @ 12:02:00 am , using 483 words,
CRN Politics
By Barry Secrest
Rush Limbaugh kicked off his show, on Tuesday 4/25, with some pretty strong words on Trump and his consistent promise to build a wall and the fact that Trump appeared to be backing down, in order to get his budget passed.
However, shortly after Limbaugh signed off at 3:00 pm Eastern, Trump was asked a question about the wall in a presser, while signing a bill to promote US farming, and answering questions on Canada's trade surplus with the US.
Trump stated in reply, "The wall is gonna get built, folks. ... We're gonna have the wall built," he said, Trump then blamed assertions otherwise on "pundits who don't know what they're talking about." 
The following was Rush's comments on his Tuesday show:
"RUSH: I'm not happy to have to pass this on. I'm very, very troubled to have to pass this on. And I want to say at the outset that I hope my interpretation is wrong, and I hope this is not the case. But it looks like, from here, right here, right now, it looks like President Trump is caving on his demand for a measly $1 billion in the budget for his wall on the border with Mexico.
The Democrats are threatening a government shutdown. It's the same old same old, and I was hoping that Trump would throw this shutdown thing right back in their face and have everybody realize they're the ones engineering these shutdowns that nobody would notice anyway unless a big hullabaloo was made about it. The Democrats seem to have successfully used this stupid, silly threat of a government shutdown to get their way. What Trump is saying is if we need to get this done, then I'll delay the spending on the wall until September. And it's just a measly billion dollars.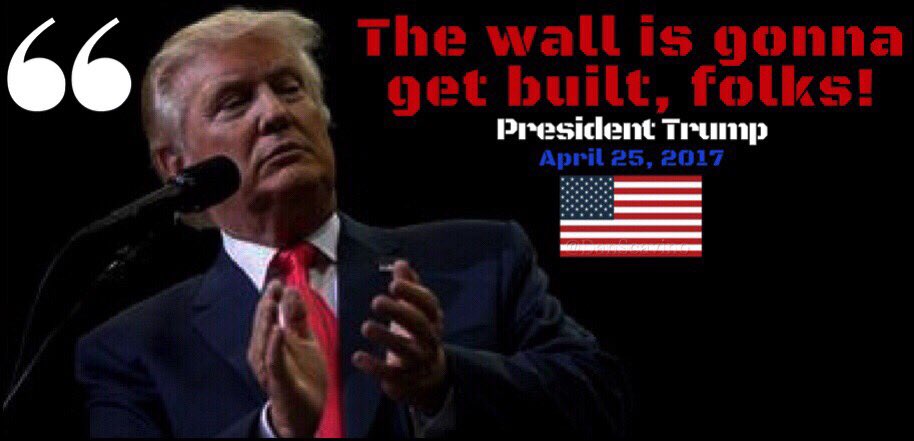 But the problem here, folks, is one of politics. If this happens, if Trump does cave — and I use the word "cave" guardedly. Trump, I'm sure, does not ever think he caves on anything. But outward appearances are what they are. And the bottom line is that, if he is willing to withdraw a demand of his for a measly billion dollars for the wall because the Democrats are threatening a shutdown, then the Democrats will have just learned that this threat works on Trump, too, not just all the other Republicans.
We know that the threat of a government shutdown, once it's even whispered in the Drive-By Media, paralyzes the Republican Party. And then they spring into action trying to assure everybody that we're not gonna shut down the government. And whatever the Democrats need, the Democrats, the losers in the last election, whatever they need, whatever they need is what we're gonna do if we have to avoid a government shutdown, because the media's gonna blame us even though we're not responsible for it and the country is gonna hate this and we can't afford this. And so we can't have a government shutdown."
No feedback yet