Planned Fascist Antifa Protest Rallies Across US On 11/4 are Not A Hoax As is Being Reported: A History of Violence at Past Protest-Antifa Events
November 3rd, 2017
Planned Fascist Antifa Protest Rallies Across US On 11/4 are Not A Hoax As is Being Reported: A History of Violence at Past Protest-Antifa Events
Posted by:
Barry
Published on November 3rd, 2017 @ 09:25:00 pm , using 1715 words,
CRN Nation
By Barry Secrest
As news of the planned November 4th Antifa protests viral out across the web, a large number of individuals, including certain members of the mainstream media, appear to be poo-pooing news accounts warning of the strong possibility of violence at these planned protest rallies, as being merely a right-wing hoax.
We've also seen the very many disdainful reactions from both uninformed and mislead individuals, all across social media and now, even in highly placed mainstream media accounts.
We've further seen some misinformed reactions even stating that the entire planned event is nothing more than a hoax.
One extraordinarily ignorant Facebook individual stated the following:
"You dumbf**ks have a tool capable of informing you that this story was started as a hoax, knowing your inbred asses fall for it and get all butthurt.

"The tool is called Google and it's spelled G O O G L E!"
Wonder what he's been reading?
However, the highly ranked, extensively visited website called "RefuseFascism.org," clearly references both the cities and the timing of the events, along with veiled references possibly alluding to violence.
In fact, the mainstream media newspaper "Oregon Live,"  had the following to report concerning news accounts of violence being forecast at these protest events: 
"A new anti-fascist group plans a rally Saturday in downtown Portland – part of series scheduled in cities across the country – but the demonstrations have whipped up a heap of warnings by right-wing groups on social media that the gatherings will signal a "civil war." 
Robert Brown, the lead organizer for the Portland event, dismissed the claims of planned violence as "nonsense" and a "hoax" intended to scare people from participating in the march. A national spokesman for the group sponsoring the protests, Refuse Fascism, also denounced claims of any attacks during any of the demonstration."
Even Newsweek treated with scorn, in defending Antifa, an ad in the New York Times which clearly demonstrated the seditious intent of Antifa to remove Trump and pence from the White House.
"The ad greeted New York Times readers on page five, not far from stories about an ISIS-inspired terror attack that left eight people dead in New York City's financial sector. In stark black and white, it proclaimed: "The TRUMP/PENCE REGIME MUST GO! NOV 4. It Begins. BE THERE. JOIN WITH THE THOUSANDS. RefuseFascism.org.""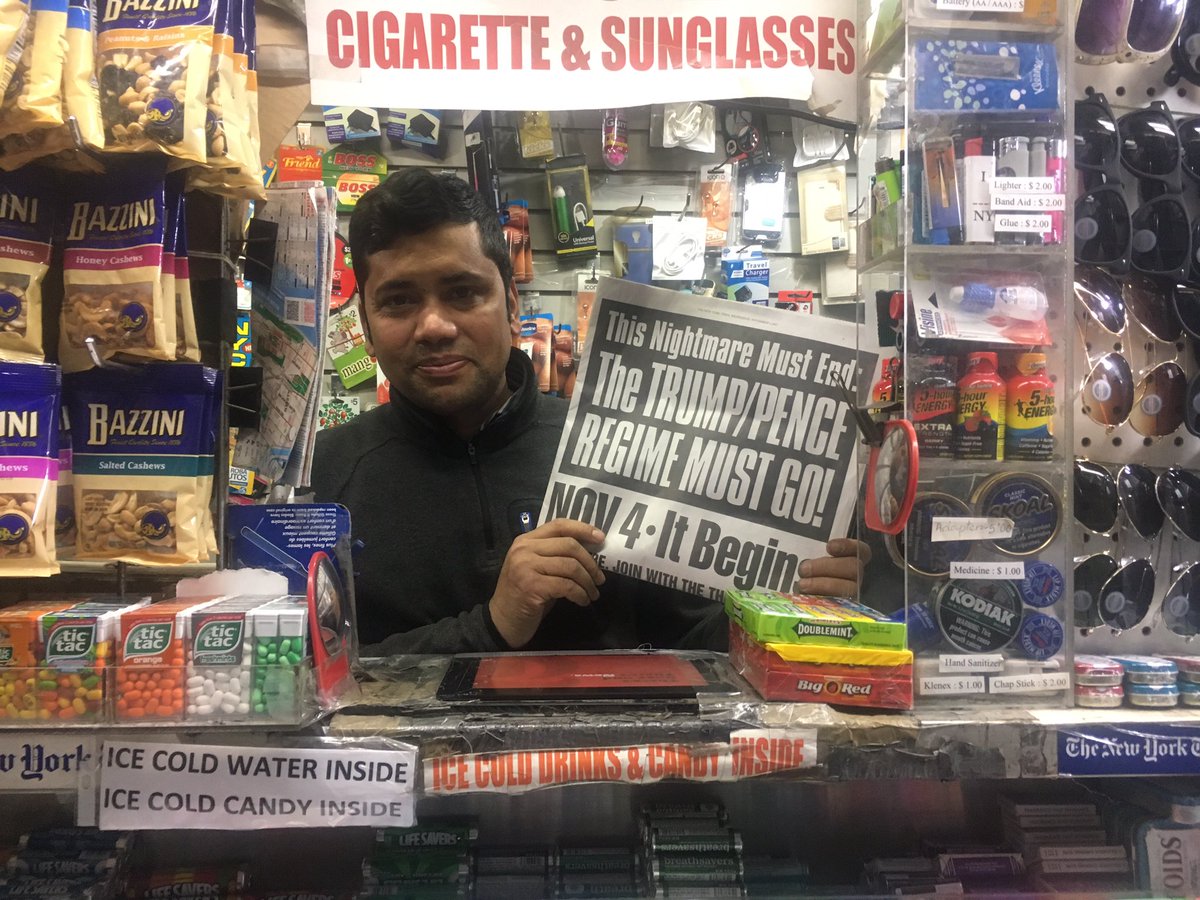 According to the Newsweek story, the entire premise is essentially a hoax perpetrated by the right-wing:
"The explicit goal of the November 4 protests, which have been warped into a number of increasingly bizarre, "Antifa"-related conspiracy theories by right-wing media, is to remove Trump and his administration from office. In order to achieve that end, millions of people will have to take to the streets of cities like New York, Austin, and San Francisco, demanding that the administration step down, organizers tell Newsweek. It's something that will not be achieved with the actions of only a few left-wing radicals, they say."
And yet, the RefuseFascism.org website clearly indicated those very words as taken directly from the Antifa website:
So, it would seem that the mainstream media has once again taken to the practice of publishing widely misleading stories and even denying what the fascist-inclined Antifa group is actually pushing at its own website, as follows: 
"The millions start with us 
"In less than a week, it begins; in 19 cities across the country, we will unite with courage and conviction, overcoming fear and uncertainty, to put a stop to the grave danger that the Trump/Pence regime poses to the world. Only the people acting together in non-violent mass protest, raising the demand that this regime must step down from power, can end this nightmare"…
We only culled a few examples, concerning the false reporting from the media, on the Antifa group's sagacity, however,   there are quite a few stories floating around in the media universe, which simply do not relate the true story behind the headlines.
As to the non-violent aspect of the planned protests being proclaimed by Antifa and parroted by the media, only one glance at the timeline of previous protests should prove to anyone (with the ability to apply critical analysis) that the Antifa group thrives on both violence and also attacking those who disagree with them politically, which, ironically, specifically defines one of the main aspects of true fascism.
Moreover, while it is certainly possible that no violence may take place at any of these planned protests events, the actual history of Antifa violence would seem to state otherwise, and by a wide, all-encompassing, measure.
In fact, the following is a long timeline of well-documented violence which the mainstream media has continually tried to deny, throughout 2017, even while they filed reports of violence which actually took place at a considerable number of Antifa events,  as kindly provided by the website Daily Wire:
January 20
On Inauguration Day, Antifa members rioted in downtown D.C., leading to the arrest of at least 217 people, according to CNN.
… black-clad "antifascist" protesters smashed storefronts and bus stops, hammered out the windows of a limousine and eventually launched rocks at a phalanx of police lined up in an eastbound crosswalk.
Six police officers were injured in the riots.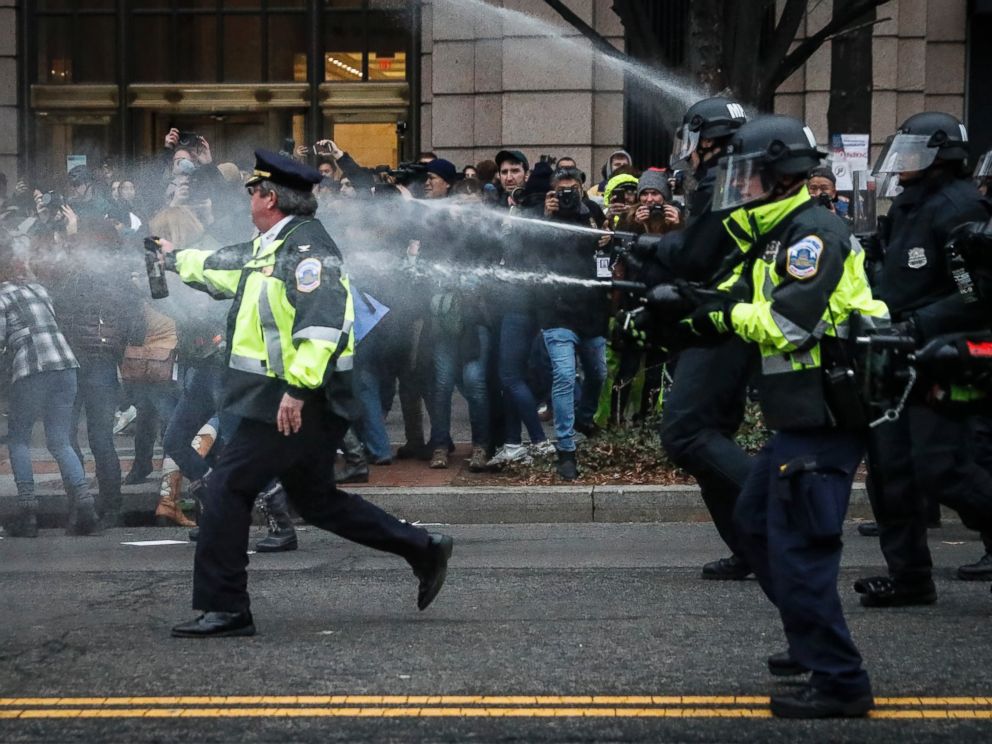 CNN reports that protests in New York, Portland, and Seattle also turned violent:
In New York, nine people were arrested for disorderly conduct, according to the New York Police Department. Authorities said five people were arrested at a protest in Dallas, six in Chicago.

In Portland, Oregon, protesters were armed with clubs, sticks and throwing unknown liquid at officers, according to the Portland Police Department. Six people were arrested in Portland Friday, Portland Police Sgt. Pete Simpson tells CNN.

In Seattle, people threw bricks and other items at officers during a demonstration on the the University of Washington campus, city police said.
In D.C., a limousine was vandalized and set on fire. The chauffeur limo belonged to Muslim immigrant, Muhammad Ashraf:
February 1
Prior to a planned speech by Milo Yiannopoulos at the University of California at Berkeley, Antifa members and a coalition of "Black Bloc" rioters devastated the campus, causing approximately $100,000 in damages, according to CNN.
Black-clad protesters wearing masks threw commercial-grade fireworks and rocks at police. Some even hurled Molotov cocktails that ignited fires. They also smashed windows of the student union center on the Berkeley campus where the Yiannopoulos event was to be held. At least six people were injured.
… The violent protesters tore down metal barriers, set fires near the campus bookstore and damaged the construction site of a new dorm. One woman wearing a red Trump hat was pepper sprayed in the face while being interviewed by CNN affiliate KGO.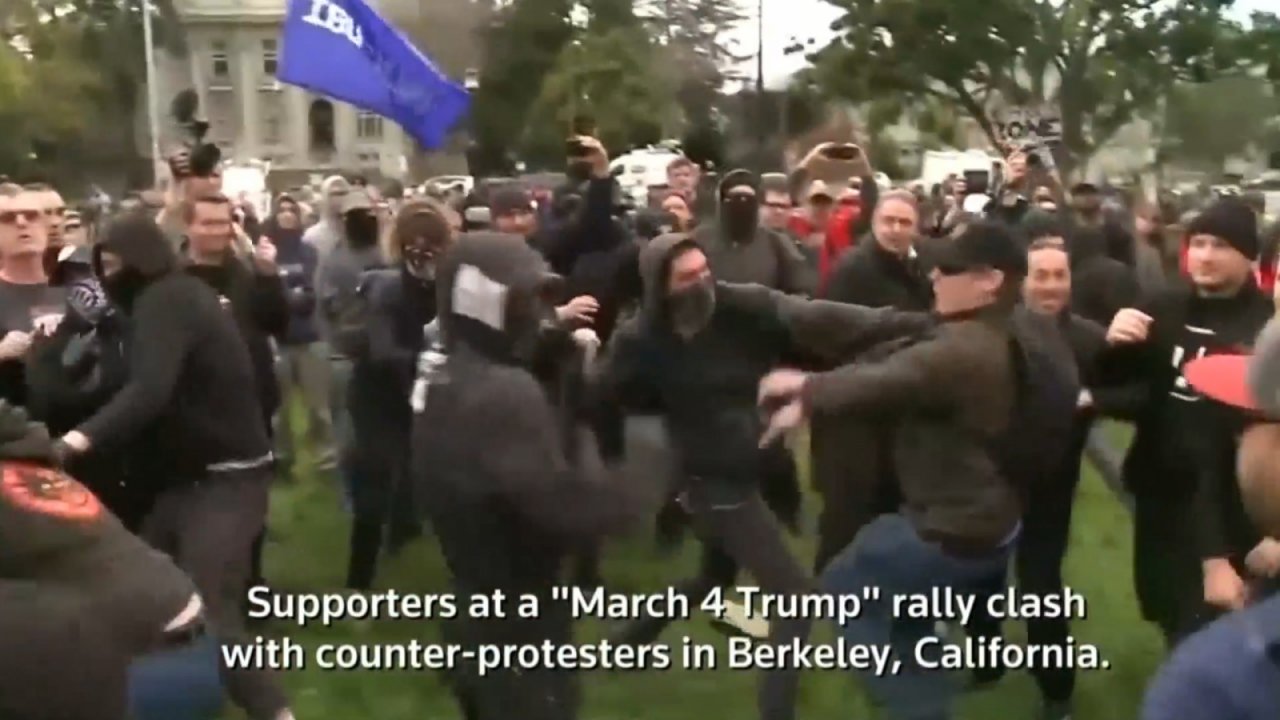 March 4
In Berkeley, California, a pro-Trump march was violently disrupted by Antifa rioters. According to The Washington Post:
A planned "March 4 Trump" demonstration held at the city's Martin Luther King Jr. Civic Center Park — several blocks from the University of California at Berkeley campus — escalated after fights broke out between those who had shown up for the event and counter-protesters. …
Other items, such as bricks and baseball bats, were confiscated as well.
The Los Angeles Times writes: "Berkeley Police Officer Byron White said 10 arrests were made: one for resisting arrest, four for assault with a deadly weapon, including a dagger, and five for battery. About seven medical evaluations were made on the scene. None of the injured wanted to be taken to the hospital."
April 15

A Pro-Trump demonstration in Berkeley, California, was disrupted when black-clad protesters showed up.

According to CBS News:

Police in Berkeley, California, say 13 people have been arrested and knives and makeshift weapons confiscated after violence erupted at a park where factions that support and oppose President Trump gathered for Tax Day rallies.

...Officials say officers have confiscated knives, flagpoles, helmets and sticks with signs on them, things that were being used as weapons.

May 1

A May Day rally in Portland, Oregon, descended into chaos when the "anti-fascists" showed up, attacking police officers and setting fires.

NPR reports:

"Various fires were set in the street and in garbage cans, a police car was spray-painted and vandalized, and there were attempts to set at least one business on fire," according to Portland Police. "Numerous projectiles were thrown at or launched at police and firefighters including rocks, bottles, ball bearings, fireworks, smoke bombs, and road flares." 

25 arrests were made. NPR adds that Portland wasn't the only city in the pacific north west marked by violence on May 1:

Police in Olympia, Wash., say they were confronted with a "mob" of masked and violent protesters who threw rocks and used slingshots to target officers. The situation settled down after officers used "crowd dispersal devices" and arrested several people.

August 27

In the wake of the rally in Charlottesville in which white supremacists clashed with counter-protesters, Antifa has upped their game.

On Sunday, members of Antifa "barreled into a protest Sunday afternoon in Berkeley's Martin Luther King Jr. Civic Center Park," writes Kyle Swenson of The Washington Post.

Shortly after, violence began to flare. A pepper-spray-wielding Trump supporter was smacked to the ground with homemade shields. Another was attacked by five black-clad antifa members, each windmilling kicks and punches into a man desperately trying to protect himself. A conservative group leader retreated for safety behind a line of riot police as marchers chucked water bottles, shot off pepper spray and screamed, "Fascist go home!"

The Associated Press reports: "Six people suffered injuries, including two who were hospitalized, and one officer was injured while making an arrest and several others were hit with paint. ... There were 13 arrests on various charges including, assault with a deadly weapon."

The anti-Marxist rally in Berkeley was organized by Amber Cummings, a transsexual supporter of Trump. Citing the potential for violence, she canceled the event but said she would show up on her own. She was not seen there, though Gibson vowed to come and when he did anarchists set upon him.

They pepper-sprayed him and chased him as he backed away with his hands held in the air. Gibson rushed behind a line of police wearing riot gear, who set off a smoke bomb to drive away the attackers.

Separately, groups of hooded, black-clad protesters attacked at least four other men in or near the park, kicking and punching them until the assaults were stopped by police. The assaults were witnessed by an Associated Press reporter.

Interestingly, AP adds that "Berkeley Police Chief Andrew Greenwood said officers were told not to actively confront the anarchists. He applauded officers' restraint, saying it forestalled greater violence."

Conclusion

This is by no means an exhaustive list of Antifa-related violence. Milder skirmishes have taken place intermittently between the more large-scale events listed above.

As the tactics of Antifa are praised by mainstream progressives, their demonstrations will likely become more aggressive."






No feedback yet