Conservative Champion "Media Research Center" Slays Progressive "Media Matters" in Pushing USAA To Restore Hannity Ads
May 30th, 2017
Conservative Champion "Media Research Center" Slays Progressive "Media Matters" in Pushing USAA To Restore Hannity Ads
Posted by:
Barry
Published on May 30th, 2017 @ 07:05:00 pm , using 834 words,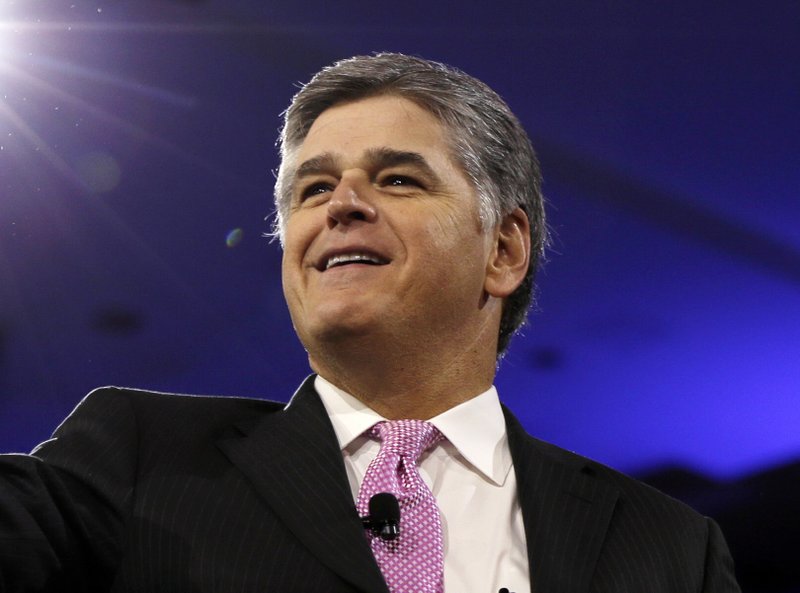 CRN Politics
By Barry Secrest
It seems to be happening more and more.
It usually involves an anti-American impetus emanating from one of the many George Soros-funded progressive/globalist advocacy groups who, at the urging of Democrat/Left-Wing power-players, pressure advertisers or sponsors to pull advertising from any number of conservative radio and TV shows.
In this case,  it involved an initially successful progressive campaign to shame insurance company advertiser, USAA, into taking down its ads from Sean Hannity's Fox News show.
These left-wingers, further, seem to focus on Big-Corp crony capitalist companies which, in most cases, appear to be all onboard the globalist train in the new age spirit of "corporate enlightenment."
The anti-freedom-of-speech progressives' goal lies is in trying to stifle and/or shut down all opposition political and cultural speech and, at least for now, they're moving hard against the biggest voices; in this case, conservative champion Sean Hannity, whose Fox colleague, Bill O'Reilly has already been taken down.
media matter's left-wing hack, David Brock
These left-wing groups are usually responding to something that can ultimately do damage to their often mysterious political agenda, in this case, the Seth Rich murder investigation, which involves a substantial amount of insidious evidence that could, in fact, destroy the entire upper-echelons of an already wounded Democrat party.
The progressive-left, in the past,  seems to have won more of these contests than they've lost, however, this time, conservative media group MRC, led by Brent Bozell, has turned the tables on the progressive fascists and produced its own stunning conservative counter-victory.
USAA, in the midst of a heated conservative boycott effort, was forced into restoring the Hannity ads or suffer the extreme consequences.
Moreover, it should be noted, that Despite ultimately restoring USAA insurance ads on Hannity's show, USAA's initial actions, at least to our way of thinking, still remains highly suspect, especially in their singling out of conservatives, in their hostile takedown of Hannity ads, while initially favoring the liberal left and its hyper-anti-Trump docket.
USAA, an insurance writer primarily for home and auto insurance, caters to current and former military members and their families, who tend to be conservative more often than not, which then lends even more consternation towards USAA's initially clueless actions.
But, then, the other side of this story speaks to the facts surrounding the deafening uproar, elicited by the political left, over the investigation into Sean Rich's murder.
It's gotten to the point that almost every single American who might have only been wondering before, is now almost certain that something, indeed, must be afoot with the bizarre case, in fact, so much so, that the co-opted mainstream media adamantly refuses to even report the story.
The Associated Press Has the rest of the splendid details on this conservative victory:
"NEW YORK (AP) — The USAA financial services firm is reinstating its advertising on Sean Hannity's Fox News Channel program after receiving heavy criticism for its initial decision from many of the military members and veterans that it serves.
The San Antonio, Texas-based company said Tuesday it will also start advertising again on other programs where it had suspended ads, including "Hardball" and "The Rachel Maddow Show" on MSNBC, and Jake Tapper's "The Lead" on CNN.
Following Hannity's reporting on a discredited conspiracy theory involving the death of a Democratic National Committee staff member, the liberal advocacy group Media Matters last week posted a list of his show's advertisers — and USAA was one of 10 to say it was pulling its commercials. At the time, the USAA said the company's policy was to avoid politically opinionated shows.
But many of USAA's customers reacted angrily, and it didn't help when the company's advertising on other opinion shows was pointed out.
USAA said it wasn't trying to favor one set of political views over another.
"We heard concerns from many members who watch and listen to these programs," USAA said in a statement on Tuesday. "Our goal in advertising has always been to reach members of the military community who would benefit from USAA's well-known commitment to service. Today, the lines between news and editorial are increasingly blurred."
The advertising is returning while the company reviews its policy about avoiding the opinion shows.
Hannity was due to return to Fox Tuesday following a brief vacation. He had said he would no longer talk about the shooting death of Seth Rich last year following pleas from the man's family, although his network had retracted an online story about Rich because it hadn't met its reporting standards.
Brent Bozell, president of the conservative Media Research Center, said he wasn't surprised by USAA's decision, "given the avalanche" of protests. His group was behind mobilizing that backlash, and said its members generated more than 1,600 phone calls to USAA within 48 hours.
"They did the right think in going back on that show," he said, "and so long as the other side isn't participating in personal smears, they should participate on those shows, too."
Angelo Carusone, president of Media Matters, said the incident illustrates his belief that Hannity is volatile and dangerous for advertisers to be involved with.
"Many are currently experiencing firsthand that doing business with Hannity means subjecting your brand to one potential PR crisis after another," he said."
1 comment
Comment
from:
Kathie Bischoff
[Visitor]
Finally a group who understands the frustration of the public. When will these people grow up and work for a better country. Keep up the good work
Kathie
06/02/17 @ 11:04