September 9th, 2016
Posted by:
Barry
Published on September 9th, 2016 @ 07:57:00 pm , using 224 words,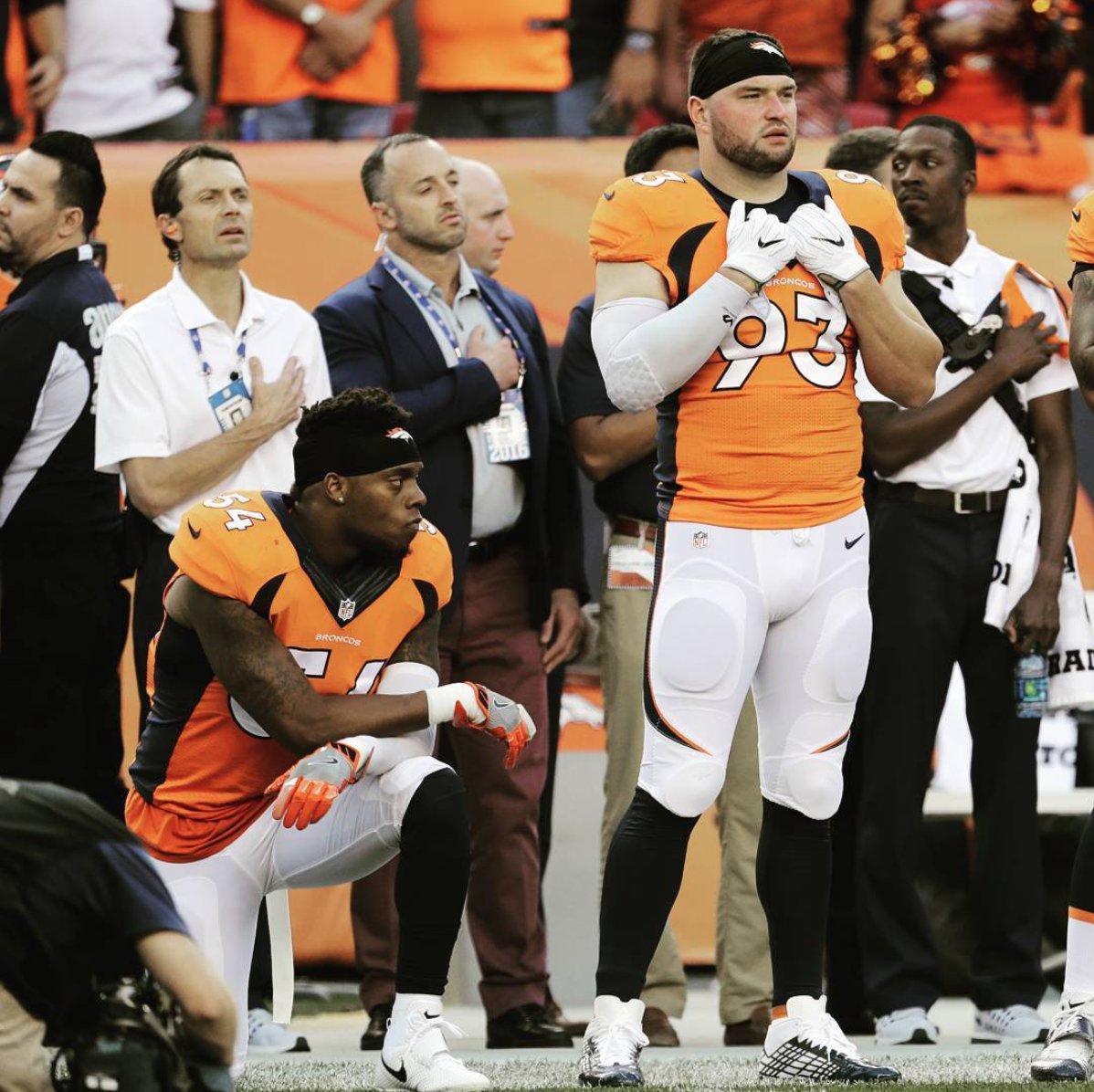 DENVER (CBS4) – Broncos linebacker Brandon Marshall is out a sponsorship deal after he kneeled during the national anthem before Thursday night's game against the Carolina Panthers.
Air Academy Federal Credit Union posted to Facebook that, "although we have enjoyed Brandon Marshall as our spokesperson over the past five months, Air Academy Federal Credit Union (AFFCU) has ended our partnership."
"I'm not against the military," Marshall said after the game. "I'm not against the police or America. I'm just against social injustice."
San Francisco 49ers quarterback Colin Kaepernick's decision not to stand for the anthem during the preseason, a protest against the way African-Americans and other minorities are treated in American society, has had a ripple effect throughout the NFL, with other players following suit. 
 RELATED: Kaepernick's No. 7 Now 3rd Most Popular Jersey Among QBs
"Colin is my fraternity brother, my ex-teammate, and I believe in what he's trying to do. I believe in his actions. So I definitely want to stand by him," Marshall said.
"While we respect Brandon's right of expression, his actions are not a representation of our organization and membership," AAFCU posted. "We wish Brandon well on his future endeavors."
The Denver Broncos released a statement about the matter to NBC, the network that broadcasted the game:
While we encourage members of our organization to stand during the national anthem, we understand and respect it being a personal decision.
On Friday Broncos Coach Gary Kubiak addressed the kneeling, saying Marshall "has a right to his beliefs, and I'm going to keep us focused on football."
June 3rd, 2016
Posted by:
Barry
Published on June 3rd, 2016 @ 12:27:00 am , using 371 words,
You may rest assured that if Hillary or even Bernie Sanders were to be elected President, America's first and second amendments will have been either massively watered down or even hastily defeated, within the first 5 years of their taking office.
Regarding a massive increase in social media arrests in the UK–What happens in the UK and Europe, under the purview of the Luciferian Globalists, eventually winds up here in America.
I feel for our friends and kin in the UK, while noting that change is but one simple voter revolution away.
In fact, political correctness is indeed a European Import.
Of further particular note is the fact we never, ever, hear of  purveyors of anti-Christian language being prosecuted and or imprisoned, however, anti-Islamic language in the EU is simply not tolerated.
Now, why do you suppose that is?
~ Refocus Notes
Vocativ
By Allee Manning
If you can't do the time, don't … eh… tweet carelessly in London? London is increasingly slapping people with prosecutions for reckless, aggressive or plain hateful language on social media.
"Online crimes of speech" are landing a growing number of people in London's courts, according to data reported by the city's police force in response to a Freedom of Information Request. While these types of arrests seemed to be on the decline between 2010 and 2013, a surge was observed again last year.
The Register reports that the number of arrests made for obscene, anxiety-causing, and otherwise offensive messages has increased by 37 percent since 2010. The most common type of these arrests is for "Sending messages intended to offend or menace," accounting for over 60 percent of all crimes included under Section 127 of the Communications Act 2003.
This controversial bit of legislation broadly defines illegal communication as "using public electronic communications network in order to cause annoyance, inconvenience or needless anxiety," a definition that could, frankly, apply to pretty much every website on earth at some point, particularly Britain's own Daily Mail. Violating this law can carry a six-month prison term or fine of up to the equivalent of $5,500.
In more recent years, the legislation has been used to arrest Twitter users responsible for making racist or anti-Muslim comments. Among the scores of those recently arrested for inflammatory posts was a Scottish resident who had been using Facebook as a platform to espouse his disdain for Syrian refugees.
Meeting the problem at its source, some British police departments have taken to social media platforms to remind citizens to "think before" posting offensive material….