Trump DOJ Arrests Islamic Detroit Physician For Performing Barbaric Procedure of Female Genital Mutilation on Two 7-Year Old Girls
April 14th, 2017
Trump DOJ Arrests Islamic Detroit Physician For Performing Barbaric Procedure of Female Genital Mutilation on Two 7-Year Old Girls
Posted by:
Barry
Published on April 14th, 2017 @ 12:30:00 am , using 697 words,
The Trump administration appears to be reigning in some of the ridiculously barbaric multicultural practices that the media & law enforcement have been largely turning a blind eye to…as a result of the 3rd world Islamic refugee influx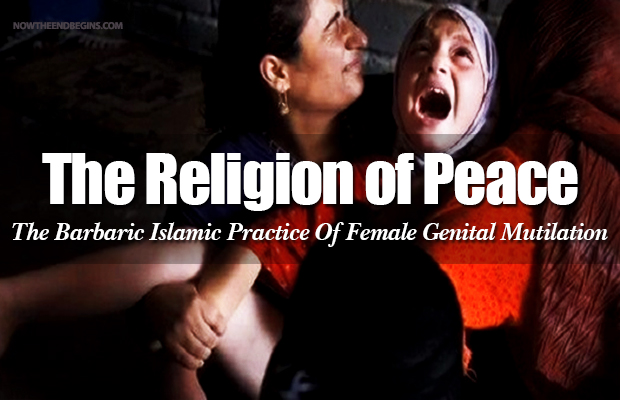 While this story is about an almost purely Islamic practice, a vast number of references consistently try to cover up the Muslim dimension of female genital mutilation or FGM, and this is largely due to the politically correct agenda of trying to sugarcoat the evils prevalent within Islam.
Millions of Islamic women have suffered as a result of the barbaric practice which essentially seeks to deny any form of pleasure to females within Islam, especially as it regards sex, in the realm of complete subservience to men.
Whether the practice originates among Shia or Sunni, its prevalent with regard to the Hadiths, which are the various extra-Quranic writings which seek to explain what Muhammad might have meant.
Perhaps even more interesting, within the below story from Detroit News, in addition to so many others featuring this story, is that few if any actually indicate that FGM is a practice that emanates predominantly from the religious practice of Islam.
~ Refocus Notes
By Robert Snell 
Detroit — A Detroit emergency room physician was charged Wednesday with mutilating the genitalia of two 7-year-old girls in what is believed to be the first case of its kind brought under federal law.
Jumana Nagarwala of Livonia was charged with female genital mutilation, a five-year felony, and transportation with intent to engage in criminal sexual activity, a 10-year felony, according to a complaint unsealed Thursday in U.S. District Court.
Jumana Nagarwala of Livonia
"According to the complaint, despite her oath to care for her patients, Dr. Nagarwala is alleged to have performed horrifying acts of brutality on the most vulnerable victims," Acting Assistant Attorney General Kenneth Blanco said in a statement. "The Department of Justice is committed to stopping female genital mutilation in this country, and will use the full power of the law to ensure that no girls suffer such physical and emotional abuse."
Nagarwala was arrested Wednesday night and arraigned in federal court Thursday.
She was dressed in a light-colored, matching dress and khimar, or veil that covered her head, neck, and shoulders.
Magistrate Judge Anthony Patti scheduled a detention hearing in the case for 1 p.m. Monday. Her attorney and the government will argue over whether or not Nagarwala should be held in prison while she awaits trial.
In the meantime, Nagarwala will be held in jail until Monday's hearing.
Her attorney, Shannon Smith, who has offices in Bloomfield Hills, declined to comment on the case Thursday.
Nagarwala's employer is not identified in court records. But a 44-year-old emergency room physician with the same name is listed on Henry Ford Health System's website with hospital privileges in Detroit and West Bloomfield Township.
A Henry Ford spokesman confirmed that Nagarwala works for the hospital system and said she has been put on administrative leave.
"The alleged criminal activity did not occur at any Henry Ford facility," health system spokesman David Olejarz said Thursday. "We would never support or condone anything related to this practice."
The FBI investigation alleges Nagarwala removed clitoral skin from two girls who were brought to Detroit earlier this year, activity that violates both federal and state law regarding female genital mutilation.
Female genital mutilation is an internationally recognized violation of human rights and is popular among certain religious and cultural communities, according to the FBI. The procedure is believed to initiate girls into adulthood and ensure their marriageability, according to Human Rights Watch, a New York nonprofit human rights organization.
The practice is most common in parts of Africa, the Middle East and Asia, along with migrants from those regions, according to the World Health Organization.
Worldwide, an estimated 140 million women and girls have undergone the procedure, according to the World Health Organization. More than 3 million girls in Africa undergo the procedure each year.
"Female genital mutilation constitutes a particularly brutal form of violence against women and girls," Assistant U.S. Attorney Daniel Lemisch said in a statement. "It is also a serious federal felony in the United States. The practice has no place in modern society and those who perform FGM on minors will be held accountable under federal law."
No feedback yet