Bizarre New World Order Pope Condemns All Skeptics of Climate Hoax Saying 'Each Will Be Judged' While Vindicating & Absolving Unbelievers of God
September 12th, 2017
Bizarre New World Order Pope Condemns All Skeptics of Climate Hoax Saying 'Each Will Be Judged' While Vindicating & Absolving Unbelievers of God
Posted by:
Barry
Published on September 12th, 2017 @ 08:10:00 pm , using 1085 words,
CRN Politics/Religion
By Barry Secrest
While most conservative devotees of both Catholicism and the Evangelical Christian movement have been increasingly stunned by the Pope's heretical musings, over the past several years, one of the most alarming of the Pontiff's recent edicts concerns the Pope's more earnest devotion when it comes to all things of a Globalist nature, and even more singularly, the Pope's complete and utter devotion to the planetary climate change movement.
In fact, it's no longer a dirty little secret that most non-ecumenical originalists, when it comes to belief in Christ, view the planetary Globalist movement, including the climate change hoax, as  dogmatic subsections of what will ultimately become the final emergence of the much-prophesied age of the antiChrist, which is, even now, taking effect all across the globe.
This new age spiritual movement, fully endorsed and approved by the Papacy, will eventually translate into a secular falling away from the traditional faiths, which will then gradually morph into a cult-like belief system grounded more in a pagan-theosophical new age movement comprising a cross-section of faiths and beliefs, with the basic cultural facets consisting of the political, religious, economic, and even the ecosystemic.
Moreover, this replacement cultural-belief system, which will usher in a new, and for many, extremely troubling age, will not end well at all, according to most Biblical and eschatological experts.
In fact, these same experts seem to further believe that this paradigm change will take place in the same generation which saw Israel become a nation again, in a dynamic convergence that will fatefully arrive before many recognize it for what it is.
An increasingly secular Europe and the Eurozone seem to be the initial breeding grounds for this new paradigm of belief, as typified by European officials who condemn and even lock up anyone criticizing the faith of Islam while simultaneously granting absolution and often even approval for anyone condemning members of other faiths, most especially that of Christians, but only because of Christianity's non-violent belief system.
In essence, all of these subjectivities, including recent violent weather events, that have been recorded going all the way back to 1780 and beyond, appear to be what lately motivated the Pope to oddly enough, condemn any and all members of humanity, including a vast number of climate scientists, who do not at all believe in the pop-science of climate change.
The irregularities of the Pope's strong condemnation of climate skeptics, in particular, essentially belies the Pope's anything-goes approval of almost all other matters against the foundations of traditional faith which both the Christian and Catholic Bibles have sternly taught and even warned against, throughout the ages since the first millennium.
In effect, the same Pope Francis who condemned climate cult skeptics by stating the following:
"History will judge those who failed to take the necessary decisions to curb heat-trapping emissions blamed for the warming of the Earth."
"For those who have denied climate change, or delayed actions to counter it," he responded with an Old Testament saying: "Man is stupid."
Is the same Pope who has also stated these following words of extreme anti-wisdom if not total nonsense: 
"The issue for those who do not believe in God is to obey their conscience. Sin, even for those who have no faith, exists when people disobey their conscience."
"The safety of the Mideast immigrants should "take precedence over national security concerns."
"In fact, one can see an emerging requirement for a body that will carry out the functions of a kind of 'central world bank' that regulates the flow and system of monetary exchanges similar to the national central banks."
"Populism is evil and ends badly as the past century showed."
"It is true that the idea of conquest is inherent in the soul of Islam. However, it is also possible to interpret the objective in Matthew's Gospel, where Jesus sends his disciples to all nations, in terms of the same idea of conquest."
See what we mean? Notably, we have sourced and referenced each of these quotes back to the global media, which can be easily verified by clicking on the hyperlinks–the quotes are real, and they are exactly what the Pontiff stated.
So, while the Pope forgives skeptics of belief in God and the Pontiff's judgment against a vast array of traditional Biblical teachings, that same Pope elevates history, which is man's subjective recording of past events, as the preeminent judgment, thereby ultimately placing Man above God.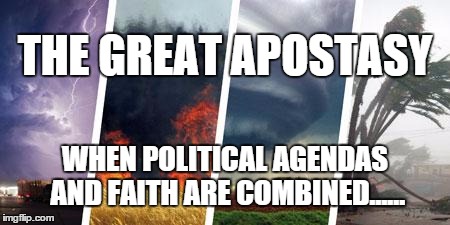 Moreover, this is but one of quite a many bizarre teachings of what one ancient scribe described as being"The Last Pope" and for good reason, it seems.
Francis has become a principal arbiter of what the Bible describes as the great falling away and the rise of the false church which embraces another type of belief system, altogether.
The rest of this story has been related by the Associated Press, and rather gleefully at that, it should be pointed out:
POPE BLASTS CLIMATE CHANGE DOUBTERS: CITES MORAL DUTY TO ACT
" ABOARD THE PAPAL PLANE (AP) -- Pope Francis has sharply criticized climate change doubters, saying history will judge those who failed to take the necessary decisions to curb heat-trapping emissions blamed for the warming of the Earth.
Francis was asked about climate change and the spate of hurricanes that have pummeled the U.S., Mexico and the Caribbean recently as his charter plane left Colombia on Sunday and flew over some of the devastated areas.
"Those who deny this must go to the scientists and ask them. They speak very clearly," he said, referring to experts who blame global warming on man-made activities.
Francis said scientists have also clearly charted what needed to be done to reverse course on global warming and said individuals and politicians had a "moral responsibility" to do their part.
"These aren't opinions pulled out of thin air. They are very clear," he said. "Then they (leaders) decide and history will judge those decisions."
Francis has made caring for the environment a hallmark of his papacy, writing an entire encyclical about how the poor in particular are most harmed when multinationals move into exploit natural resources. During his visit to Colombia, Francis spoke out frequently about the need to preserve the country's rich biodiversity from overdevelopment and exploitation.
For those who have denied climate change, or delayed actions to counter it, he responded with an Old Testament saying: "Man is stupid."
"When you don't want to see, you don't see," he said."
Related: 
No feedback yet