What The Media Won't Report: The Strange But Telling History Between James Comey, The Clintons, & The FBI in General
May 15th, 2017
What The Media Won't Report: The Strange But Telling History Between James Comey, The Clintons, & The FBI in General
Posted by:
Barry
Published on May 15th, 2017 @ 07:59:00 pm , using 966 words,
CRN Politics
By Barry Secrest
There is a strange range of history between the Clintons and the FBI going all the way back to 1993....
But first, a post from back in 2002:
"The federal government has closed its probe — with no charges filed — into former President Bill Clinton's grants of clemency to four men accused of bilking the government of millions of dollars, authorities said Thursday.
U.S. Attorney James B. Comey said his office's investigation into other pardons that Mr. Clinton issued just before leaving office will continue.
Comey's decision to end the investigation of clemency for the men from the Rockland County Hasidic community of New Square takes the spotlight off Sen. Hillary Rodham Clinton, who received overwhelming support from the insular community in her 2000 bid for the Senate.
During the election, she won 1,400 of New Square's 1,412 votes. Two months later, over the objections of prosecutors, President Clinton commuted the sentences of four men from the village who had been convicted of stealing from federal anti-poverty programs.
The 1999 convictions that underlie the probe stemmed from the misappropriation of tens of millions of dollars in federal aid intended for housing, education, and business. Federal prosecutors said the four men used the money to enrich their community and themselves."
"WASHINGTON — The F.B.I. director, James B. Comey, on Tuesday, recommended no criminal charges against Hillary Clinton for her handling of classified information while she was secretary of state, lifting an enormous legal cloud from her presidential campaign less than two hours before she boarded Air Force One for her first joint campaign appearance with President Obama.
But on a day of political high drama in Washington, Mr. Comey rebuked Mrs. Clinton as being "extremely careless" in using a private email address and server. He raised questions about her judgment, contradicted statements she has made about her email practices, said it was possible that hostile foreign governments had gained access to her account, and declared that a person still employed by the government — Mrs. Clinton left the State Department in 2013 — could have faced disciplinary action for doing what she did.
To warrant a criminal charge, Mr. Comey said, there had to be evidence that Mrs. Clinton intentionally transmitted or willfully mishandled classified information. The F.B.I. found neither, and as a result, he said, "our judgment is that no reasonable prosecutor would bring such a case."
The Justice Department is highly likely to accept the F.B.I.'s guidance, which a law enforcement official said also cleared three top aides of Mrs. Clinton who were implicated in the case: Jake Sullivan, Huma Abedin, and Cheryl D. Mills. Attorney General Loretta Lynch said last week that she would accept the recommendation of the F.B.I. and career prosecutors in the case after a storm of criticism about an impromptu meeting between her and former President Bill Clinton on an airport tarmac in Phoenix.
Mr. Comey's 15-minute announcement, delivered with no advance warning only three days after his investigators interviewed Mrs. Clinton in the case, riveted official Washington and is likely to reverberate for the rest of the campaign. In offices across the capital, all eyes turned to television screens to hear the outcome of a yearlong investigation that could have thrown the 2016 presidential election into disarray and changed history."
But, even James Comey is under investigation by the DOJ Inspector General's office after his odd spate of wearing a variety of hats for the US government's justice division, as Prosecutor, Defense Atty, Acting Atty General, and even Judge....
Justice Department inspector general to investigate James Comey and FBI Actions on Hillary Clinton email case 
"The Justice Department inspector general will review broad allegations of misconduct involving FBI Director James B. Comey and how he handled the probe of Hillary Clinton's email practices, the inspector general announced Thursday. 
The investigation will be wide-ranging, encompassing Comey's various letters and public statements on the matter and whether FBI or other Justice Department employees leaked nonpublic information, according to Inspector General Michael E. Horowitz. 
The inspector general's announcement drew praise from those on both sides of the political aisle and again put a spotlight on Comey, who emerged as a controversial figure during the 2016 race. Democrats, including Clinton, have blamed the FBI director for the Democratic candidate's loss, arguing that the renewed email inquiry and Comey's public missives on the eve of the election blunted her momentum."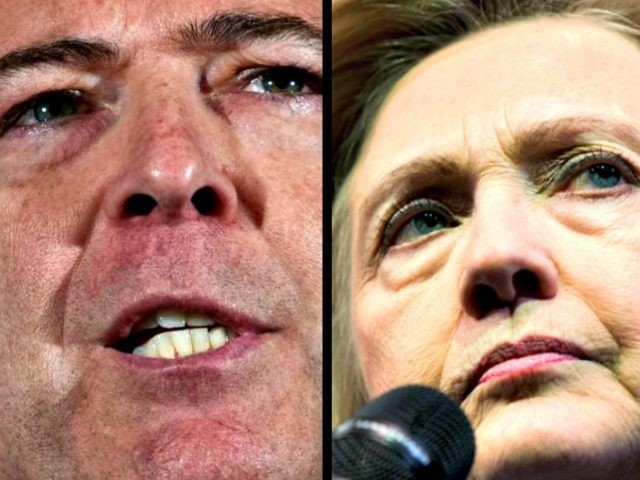 From Breitbart: 
"…A review of FBI Director James Comey's professional history and relationships shows that the Obama cabinet leader — now under fire for his handling of the investigation of Hillary Clinton — is deeply entrenched in the big-money cronyism culture of Washington, D.C. His personal and professional relationships — all undisclosed as he announced the Bureau would not prosecute Clinton — reinforce bipartisan concerns that he may have politicized the criminal probe.  These concerns focus on millions of dollars that Comey accepted from a Clinton Foundation defense contractor, Comey's former membership on a Clinton Foundation corporate partner's board, and his surprising financial relationship with his brother Peter Comey, who works at the law firm that does the Clinton Foundation's taxes."
From 1993....The last time an FBI Director was fired, it was Bill Clinton who ordered the firing
Filegate ~ 1996
"Hundreds of FBI background files on officials in previous Republican presidential administrations were improperly given in 1993 and 1994 to Craig Livingstone, the director of White House security who was a Hillary Clinton favorite. No illegal activity was ever proven, and Livingstone ultimately resigned. "
Lost Rose Law Firm billing records ~ 1996 
"Congressional and Justice Department investigators began issuing subpoenas in 1994 for Hillary Clinton's billing records as a partner in the Rose law firm at the center of the Whitewater scandal. She said her role was incidental, but when the records mysteriously turned up in the White House in 1996, they showed she met repeatedly with key figures in the scandal."
These FBI-related instances do not include other (of a great many) investigations where the Clinton's had stumbled into legal shenanigans, but, somehow, always got free of them, with of course, a great deal of help from the media.....
No feedback yet