George Soros' Trojan Horse "Project Syndicate" Now Playing in America: Why International Left-Wing Demands Islamic Insurgence
January 29th, 2017
George Soros' Trojan Horse "Project Syndicate" Now Playing in America: Why International Left-Wing Demands Islamic Insurgence
Posted by:
Barry
Published on January 29th, 2017 @ 07:42:00 pm , using 2024 words,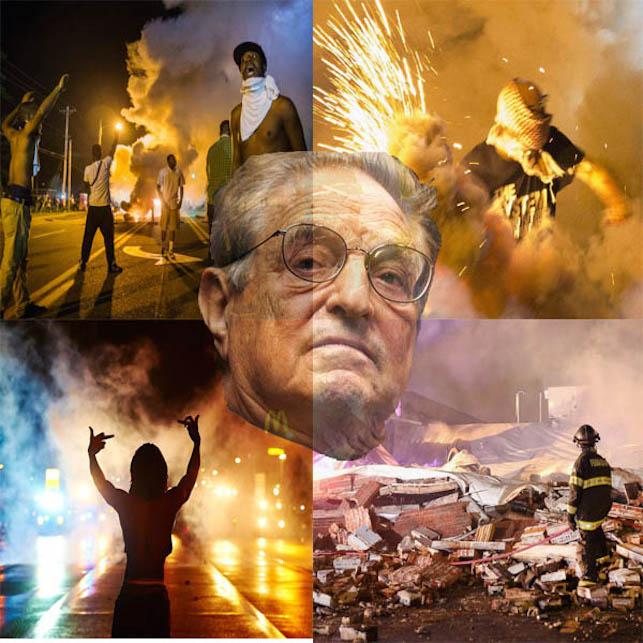 Direct evidence that the global elites have been using the political system of Islam in order to achieve global dominance is no longer within the realm of conspiracy theory....rather the contention has now achieved the status of fact after a series of hacked leaks.....
Now as America's left erupts in protest towards Trump's travel ban, we can begin to see George Soros shady "Project Syndicate" being played out here, in America.....like no other time before
CRN Politics
By Barry Secrest
Globalist George Soros, an open borders proponent, has now found himself on the wrong end of an "open email" scandal that ended up severely damaging Hillary Clinton's campaign for president, which, by the way, received millions from Soros' largesse. 
Cyber hackers illuminated, via sorties into Soros' secret email files, what many conservatives have been warning the world about, for at least the last decade.
One warning being that the Islamic refugee crisis, rather than being a disaster that Soros and other global elites are merely trying to react to, is instead a fully advantaged Islamic invasion of the west being wrought under the stealthy manipulations of the global elite led by George Soros. 
It was only a few years earlier when Soros, in an effort to take down Syria, primarily, but also other nations, established a coalition of the usual globalist suspects, to bring the West into its current hellish straits.
 The Soros effort was comprised of The Council on Foreign Relations (CFR), The Bilderberg Elites, and of course, the establishment global elites housed imperiously within the US government, among others. Their overall goal was a sibling-impetus to the Arab Spring Movement known as "the Arab Reform Initiative," in essence, a western alternative but similarly aligned agenda to the Arab Spring chaos.
The funding for this start-up coalition came from none other than the establishment's George W. Bush administration, initially, which, by no accident, was the same administration that put into effect an agenda to completely take down seven Mideast nations, much earlier on.
The impetus, as described by General Wesley Clark shortly after 9/11, speaks to an actual coup that took place in the US government, back in 2001, which has changed everything across the entire planet, and perhaps more than any other event in modern history, is the very agenda that has led to a current Mideast conflagration spreading into the Eurozone.
According to General Clark, America's military leadership was presented with a timeline, from on high, of the US government's intention to overthrow seven Mideast nations, for reasons unknown to the military leaders themselves.  The overthrow of these nations, according to the General's Pentagon source, had nothing to do with the 9/11 attacks, and yet without the 9/11 attacks, the impetus for the Mideast topplings would have never been possible.
Seven Mideast Nations 
Interestingly, of those seven nations under the agenda to be toppled, the three of them currently at play at this moment are Syria, Iraq, and Libya.  The Sudan, Somalia, Lebanon, and Iran have yet to be attended to, however, we can see the foundations of their impending destabilization already being laid out.
Moreover, within all of these machinations, Soros, along with his globalist masters, appears to have been playing an integral part of this effort, going all the way back to 2001, with companies such as the Carlyle Group, a major investment house for the military / industrial complex specializing in defense contracts which, by the way, has performed lavishly in the wake of the 2001 terrorist strike.
In effect, the US has spent trillions going down the rabbit hole of Mideast hegemony.
Even further, Wikileaks has released a telling 2011 email from Globalist George Soros directing Secretary of State, at the time, Hillary Clinton, to stage an intervention in Albania due to violence between the Albanian government and riotous protestors.
Hillary, as US Secretary of State, willfully complied with George Soros' commands. 
A similarly consigned radical multi-cultural/Neo-fascist Movement chiefly sponsored by Global Elites and also led by Open-Borders frontman George Soros has continually sparked violence in both the US and the EU aimed at achieving cultural chaos, if not far worse.
The Neo-fascist movement, which seems to have sprung from the Occupy Wall Street protests, in the US, along with the multi-cultural militants supporting the insurgency of Islam, in Germany and elsewhere, are even now also being funded by George Soros.
Soros, as repeatedly stated and documented, is also one of the primary funders of both Hillary Clinton & Barack Obama in both of their presidential exploratory committees, in addition to a vast amount of funding after each's campaign got underway. 
Soros also funded the disastrous Ferguson protests, which saw heavy violence, death, racial unrest, and massive property damage, in Missouri, in 2015.
Soros, in fact, has already admitted to being heavily involved in the migrant crisis in both the EU and the US, and even announced the funding of upcoming riots and protests, in the US, in the amount of $ 15 million dollars, which was announced just days before violence broke out at a Chicago Rally for Donald Trump, in early 2016.
Soros, whose overall goal appears to be a Cloward-Piven style collapse of the entire west, has funded billions of dollars towards his heavily veiled "Open Borders Society" which actually seeks the complete erasure of national cultural identities and the downfall of individual nation-states across the West.
Soros, along with Henry Kissinger,  and numerous other elites and politicos, are successfully trying to convince other  world leaders towards the belief that a vast UN controlled centralized government, via heavy internationally prescribed redistribution, is the key to both peace and alleviating poverty, free will, & even cultural identity, across the planet.
Moreover, now, the proof of Conservative's warnings about Soros and Hillary Clinton are finding new purchase.
"A leaked memo from the left-wing financier's Open Society Foundation is arguing that Europe's refugee crisis should be accepted as a "new normal," and that the refugee crisis means "new opportunities" for Soros' organization to influence immigration policies on a global scale.
OSF program officer Anna Crowley and program specialist Katin Rosin co-authored the May 12 memo, titled "Migration Governance and Enforcement Portfolio Review." The memo focuses on an OSF program called the International Migration Initiative, which aims to influence immigration policy.
The nine-page review makes three key points: OSF — which doles out millions to left-wing causes — has been successful at influencing global immigration policy; Europe's refugee crisis presents "new opportunities" for the organization to influence global immigration policy; and the refugee crisis is the "new normal." 
Open Society Foundations is successfully influencing global immigration policy
One of the purposes of the review, Crowley, and Rosin write in the introduction, is to "consider the effectiveness of the approaches we have used to achieve change at the international level."

A section of the review titled "Our Work" describes how America's least transparent think tank has worked with "leaders in the field" to "shape migration policymaking and influence regional and global processes affecting the way migration is governed and enforced."  
In a section titled, "Our Ambitions," the authors explain: "Our premise for engaging in work related to governance was that, in addition to mitigating the negative effects of enforcement, we should also be supporting actors in the field proactively seeking to change the policies, rules, and regulations that govern migration."
 So, what the mainstream media has continually referred to as "conspiracy theories" are even now being proven as hardened facts.
Namely, that George Soros and his groups who call themselves elites, are fully behind the refugee crisis and will use the crisis to force their damaging Islamic blitzkrieg into every western nation, amounting to a successful invasion of the West without a shot ever having been fired.
An Anti-Christ Movement to defeat Christendom
Soros, also, in an effort to defend the Islamic brutes barging into the West, has begun a targeting campaign against political commentators and even private individuals who seek to expose the truth about Islamic supremacism, and the Islamists' overall goals for conquering Christendom. 
In fact, we recently 

received direct evidence

 that the global elites, led by Soros, have been using the political system of Islam in order to achieve global dominance. The argument, in fact, is no longer within the realm of conspiracy theory....rather the contention has now achieved the status of fact after a series of hacked leaks.
The leaks revealed that Soros, a principle backer of both Hillary Clinton & Barack Obama, actually funded the left-wing political group "Demos"   to design software which would root out, target, and then attack any individual or group who either questioned or criticized the religion of both Islam and radical Islamists, via social media.
Then, as things predictably went south with the refugees, Soros actually took to blaming the increasingly destabilized EU for letting them in, as if Soros had no part in the initial plot.
These same refugees who're even now wreaking cultural havoc across Europe will ultimately result in the need for a European National Police force or even military, and thus the root beginnings of a firmly centralized  New World Order government, with its requisite military arm in place, is now being tabulated.
Even more interesting might be the fact that Soros has never let out even so much as a peep when stable Mideast nations within the refugee areas have continually refused to let any refugees in, even while the international media has also ignored this simple fact.
Why Europe?
Why is it that Soros always insists on Europe first? Oh, and by the way, the depopulation arguments proffered by Soros can easily be corrected without bringing in millions of cultural cave dwellers, by the overarching government installing controls such as stipends for newborns and the complete curtailing of abortions, among many other fixes.
However, now, Soros, seemingly in a pique of irritation, has traveled all the way back to square one, in effect, to try and complete his overall mission of taking down Christendom, in one fell swoop.
Of course, the Soros agenda is to always comprise a Hegelian dialectic construct targeted towards his victim nations and predicated primarily on an impending outcome of fear and destruction, if his advice is not put into motion. 
The only thing that the naive Euro-folk have yet to understand is the fact that Soros' most needful goal, in all things, tends to be the very thing he's warning against--it's a basic precept of hedge fund investing, in that the goal is not to profit from the building-up, but rather, the treasure  lies within the tearing down.
Some of the latest evidence, outed by the group "DCLeaks," proves that Soros has, indeed, been at least one of the major shadowy figures behind a worldwide effort aimed at battling against any and all criticism of Islam, including the ad hominem persecution & attack of individual critics of Islam.
Moreover, the evidence also reveals the engendering of a highly complicit media, owned primarily by global interests, also taking part in the ruse.  
The leaks further reveal that Soros, once again, a principle backer of both Hillary Clinton & Barack Obama, actually funded the left-wing political group "Demos"   to design software which would root out, target, and then attack any individual or group who either questioned or criticized the religion of both Islam and radical Islamists, via social media.
These latest revelations also reveal that "Demos," which conversely promotes itself as enlightened enablers of multi-cultural diversity and Democracy, is in fact, a radical group seeking to flush out and isolate any who question the religion of Islam and the resulting downward spiral of cultures infected by the plague of Islamism.
In essence, "Demos," as with most beneficiaries of Soros' largesses, operates under Saul Alinsky's "Rules for Radicals" except in a more stealthy & politically correct mode.
At a minimum, Demos, at the direction of Soros, appears to be utilizing Alinksy's* RULE 10: "If you push a negative hard enough, it will push through and become a positive" which points to Demos' efforts at trying to camouflage the brutality of most Islamic-oriented cultures, by characterizing Muslims as cultural victims rather than cultural invaders seeking conquest & territory.
As to the question of why the American Left is behind this movement? Easy, George Soros is the titular head of international Left-Wing politics, including here in America, and the collective rationale is always shrouded in the talking points of the day, I.E. racism, misogyny, bigotry, etc, it's just that simple.
All in all, It's Luciferian Left-Wing Capitalism at its abject worse applied to social-political constructs, and it's been dubbed, chillingly enough, "Project Syndicate" by none other than George Soros and his globalist cabal.
So, why Project Syndicate? Because they believe that much of the world is well beyond stupid and singularly naive, and, outside of the Trump win and Brexit, they may, in fact, be correct.
No feedback yet