Eyes Wide Shut: Stunning Koch Brothers GOP Nod To Hillary Clinton Exposes Ruling Class Deceptions
May 1st, 2016
Eyes Wide Shut: Stunning Koch Brothers GOP Nod To Hillary Clinton Exposes Ruling Class Deceptions
Posted by:
Barry
Published on May 1st, 2016 @ 07:46:00 pm , using 2083 words,
CRN Politics
By Barry Secrest
When the high-powered pundits tell us that the GOP leadership's reluctance to opposing Obama is anchored in fears of being accused as racists, most political watchers nod their heads, in agreement, as if that must indeed be it.
But, then, what it that's really not, at all, the true reason for the political opposition's having adopted nearly all of Obama's transformational agenda?
What it the real reason for the Establishment GOP's go-along attitude, with Obama, has more to do with agreement in principle, overall, rather than irrational political fear?
Just as people see the world in different ways, so it is that they also see the power-lines of politics in different  ways.
In America,  a deeply scrutinized establishment political class has been found to be wanting across both parties to the point that most Americans are now collectively seeking a shatter point that will reset the dangerously wobbling systemic dysfunction. 
In the GOP, fed-up Conservatives & Independents have found anti-Globalist Trump to be the best possible answer and let's not even talk about what the Dems have predictably found.
The problems going forward, for America, are beyond well known, as a massive debt, ongoing economic downturn, growing US trade deficit, crumbling health insurance, and even never-ending illegal alien surges across the border, have left both a feckless GOP establishment & Obama's disastrous leadership trying to evade bipartisan culpability.
Like it or not, with the GOP Establishment's full funding of Obama's agenda, there's something far worse than insidiousness at work, within American politics, and it seems to fall under the globalist construct of improbity.
Which then brings us to the GOP political establishment and its ongoing issues that seem to be more about maintaining their own power base than what's truly right for America.
If the country is to survive without becoming part of some internationalist construct aka the "North American Union," America's government must change its way of doing business in the certifiably insane ways that it has over the past 15 years; and therein lies the rub, at least as it concerns the establishment ruling class and their power-hold on America's governance.
Moreover, there's one very significant & very powerful group, at the heart of the GOP. that funds a massive cadre of Neo-conservative websites and political interests, across the board, and that group has held massive sway of the GOP for many years now, and few within the political right will even dare to question their agenda.
The powerful group is called the Koch Brothers.
Red Rover Red Rover Send Hillary On Over
The Koch Brothers, like it or not, are at the very center of the GOP's ring of power and while most conservatives have always thought of the Kochs as American greatest political heroes, now, with the Koch's at the center of the GOP establishment universe, it may be time to start asking a few piercing questions about the Koch's overall worldview.
First, if indeed the Kochs are all about Conservative causes, Liberty, & America first, then why did they recently give a nod towards the Political Establishment's ultimate inside player, Hillary Clinton?
Clinton, an avowed disciple of the Left, sees eye to eye only with those who subscribe to her love of money, empowered government, and her all-encompassing progressivism, to the exclusion of all else.
According to Reuters, "Billionaire industrialist Charles Koch, a key source of financing for conservative Republican causes, along with his brother David Koch, actually stated that Democrat Hillary Clinton might make a better president than the candidates in the Republican field."
Seriously?
The Koch Brothers, then, in light of the anti-establishment atmosphere poised at taking over, are actually moving towards statements favoring the Saul Alinsky-worshiping candidate, Hillary Clinton, who's recently tried to out-socialist even socialist candidate Bernie Sanders.
The Reuters story recounts the Koch exchange, as follows:
"Koch, in an interview to air on Sunday on ABC's "This Week" program, said that in some respects Bill Clinton had been a better president than George W. Bush, who Koch said had increased government spending. Then when asked if Hillary Clinton would be a better president than the Republicans currently running, he said, "It's possible, it's possible." 
Asked if he could support Clinton over the Republicans, Koch responded, "We would have to believe her actions would be quite different than her rhetoric. Let me put it that way."
While Koch defends his statements referencing various candidate's rhetoric expounding on the possible need to register Islamic adherents and carpet-bomb ISIS, the Kochs have apparently missed out on much of Clinton's New World Order based authoritarianism, which includes limiting traditional religious freedoms, free speech. and completely removing guns from the hands of Americans.
But, maybe those things just aren't quite as important as maintaining maximum profit within the global trade that's made Koch Industries the second largest privately held conglomerate in the US, and easily one of the largest international companies, on the planet.
Things are really getting odd out there, or are they really?
We know that the establishment has big problems, but this then, by default, most likely means that the Koch Brothers may have even bigger problems since they are the ever-present ringleaders of the GOP ruling class who stand to lose if Trump wins big.
But then, what are  some of the things, that the Kochs have done in order to  maintain both their wealth & power within the establishment?
From espousing an open borders policy, pushing amnesty for illegals, and even halting states from positively identifying/labeling of Genetically Modified Foods ( GMO's) to even freezing Trump out of their political operations, completely, there appears to be more to the Koch brothers than meets the conservative eye, just as it is with so many other political power-players within both parties.
So, while the Kochs claim to be fully at odds with all of Obama's policies, their financial investments and policy stances seem to be fully in agreement with a substantial portion of Obama's overall agenda.
Now, does the GOP Establishment's backing of Obama, as funded and controlled by the Kochs in many cases, make just a little more sense?
Coming Out
In that vein, 2016, it would seem, has truly been the year for coming out in American politics, as the anti-establishment surge of America-first citizens has been treated to a vast panoply of eye-opening events & revelations.
But, it's not only in politics, it's also socially, in that even the mentally insoluble transsexuals have come out in their restroom derring-do and have largely succeeded in foisting mental disarrangement on a forever susceptible, if not perpetually inscrutable, segment of the US population.
Here, the slippery slope of gay marriage being forcibly instituted on an increasingly  wary populace  has predictably fractalized into all sorts of perverted eventualities that we all saw coming, with more on the way.
It's gotten so strange, now, that it  often seems that America's citizens have managed to stray into a sort of  wild but strangely macabre party, that's perversely fascinating on the one hand, but simultaneously life threatening in another, and in ways that most of us cannot even begin to fathom.
We often feel like strangers in a strange land, and for good reason, in that the promise of transformation, announced back in 2008, has been all but fully realized in 2016.
It's truly getting downright peculiar, but, the insanity ignited by Obama's ascendance has only heightened across an impossibly diverse range of fronts as Obama's secondary & lesser demons continue the roil.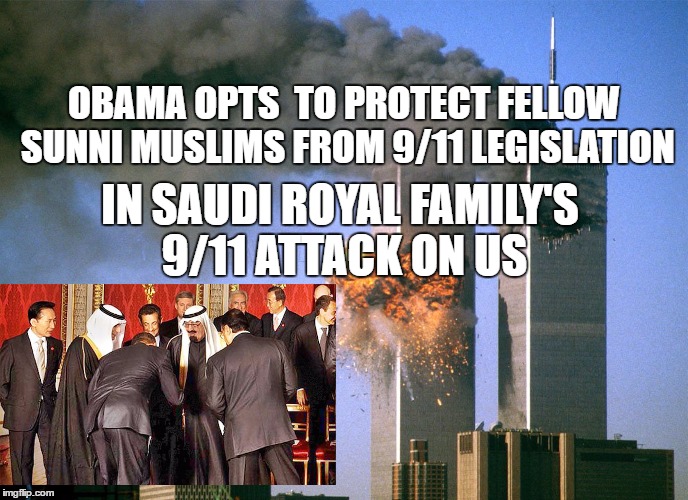 Indeed, from the word coming out on Saudi involvement in 9/11  to  the fact that Saudi involvement was completely covered-up by the Bush Regime, and then doubled-down upon by Obama's following act.
The 28 pages of redacted details, from a 14-year-old congressional investigation, has actually led to Saudi financial threats against America and even a special Obama trans-Atlantic visit to the Royals in order to apologize for the fact that America now knows of their criminal complicity.
Are We in Hell or Merely Closing in?
Granted, someone needed to apologize, however, Obama's insistent confusion when it comes to anything foreign policy, has become almost legendary, at least outside of the US, where chaos rules, undaunted.
Meanwhile, America, in the interim of the 9/11 attacks, has instituted a vast and much-vaunted security state leaving the GOP & Democrat establishment with the longest case of oddly jubilant priapism, in US history.
Even as the doors to America's borders hang loosely on rusty hinges, banging loudly in the desert winds.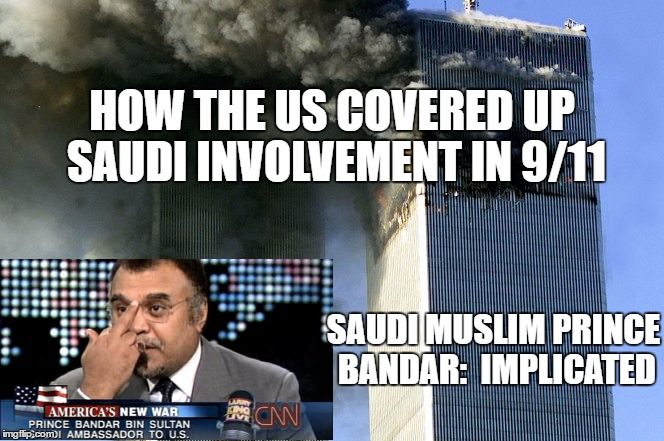 With the Obama Regime, collectively, following through on the Bush scheme to keep Americans out of the loop on who actually attacked us, on 9/11, it almost seems as if the two [supposedly] completely at odds regimes of Obama and Bush have been operating on common ground, all along.
Maybe Bush has been quiet, concerning Obama's transformation, only because he fully approves?
Duly noted again is the fact that the Establishment GOP, still dominated by Bush's globalist installers, has followed-through on & even funded the installation of virtually every single one of Obama stated campaign goals, including even some of the non-stated ones, as a sort of term-ending bonus.
Speaking to the Globalist infiltration, and the Koch Brothers, our impending Cloward-Piven collapse of the US economy, after the installation of two more NAFTA-style trading agreements  (The TTIP & TPP) should finally leave America gasping in the dust of transformation we simply cannot survive.
And with regard to these NAFTA-style "Free Trade" deals that are more about trans-national panels of global corporatists calling the shots than actual free trade, the rumblings once again, appear to be highlighting the Koch Brothers as the insider power players possibly pushing the anything-but-free trade, agenda.
Globalist Designs
From their indirect support of the TPP & the TPIP via the Cato institute which the brothers fund, and is a big supporter of both "free trade" & any mega-globalist trade agreements, to their recent bout of conjectured lobbying of the EU, for TPIP passage.
The interesting thing, within all of this, might be Trump's attested knowledge of these facts and of greatest concern to the Establishment Globalists, is the fact that Trump does not approve, unlike nearly all of the other presidential candidates.
Speaking of Trump, we also have the establishment political machines in numerous states grinding into motion in order to feed sacrificed delegates to the sole-surviving Goldman Sachs globalist of the campaign, in Ted Cruz.
Trump is the hoped-for shatter point of American political dysfunction, which is why the ruling class has reacted to Trump in the often schizophrenic  way that it has. 
But, it's truly become as if the vast congregation of surreptitious players within American politics has been turned inside-out, for everyone to see in almost supernatural ways.
The Quickening
In essence, it's almost as if a quickening has occurred, across the planet, in which everyone has been yoked into their various  ideological positions for all to see and now none can escape their seminal positioning.
While the four horsemen of the apocalypse have seen constant debate on the exact meaning of each, Biblical expert Lee Daniel of the radio show CRLIve! believes that the 3rd horse of the apocalypse, a black horse bearing a rider holding the scales of balance, may represent this actual yoking of individuals into their various belief systems,for all to see.
Daniel asserts that several verses in Revelation support his theory, including Revelation 22:11 which states: 
 Daniel contends that the remarkable political race of 2016, in addition to the political chaos continually erupting across the planet could, in effect, be a symptom of this yoking into respective positions held by both politicians and even supporters.
Many  across the planet, in fact, can now only shake their heads, in complete astonishment, at the spectacle unfolding right before our eyes.
In essence, many facets of this yoking into place can now be seen, as even those once deemed as patriotic allies of the various political movements, before, are now in effect coming out of the closet in support of their ideological opposites, in many cases. The latest case of this theorized yoking was, rather astonishingly, announced by none other than Charles Koch, as stated before.
It further goes without saying that Daniel's theory would also, by default, entirely mean that both the First and Second Horsemen of the Apocalypse have already been released upon the world.
The first horseman being either conquest or pestilence, or perhaps even the anti-Christ, and the second is commonly perceived as war.
Can things get any stranger? 
Maybe, you see,  even stranger might be the  impossibly large contingent of America's vast array of political experts, conservative and otherwise, who while marching  forward semi-oblivious, dare not examine the odd positionings taking place, overall.
It's as if their eyes are wide shut to the larger picture of what's really happening, both in America and across the planet.
No feedback yet