US Building "Trump" Border Wall in Tunisia: Obama Funding $ 25 Million for Libyan-Jihadist Barrier (Youtube)
April 22nd, 2016
US Building "Trump" Border Wall in Tunisia: Obama Funding $ 25 Million for Libyan-Jihadist Barrier (Youtube)
Posted by:
Barry
Published on April 22nd, 2016 @ 09:37:00 pm , using 552 words,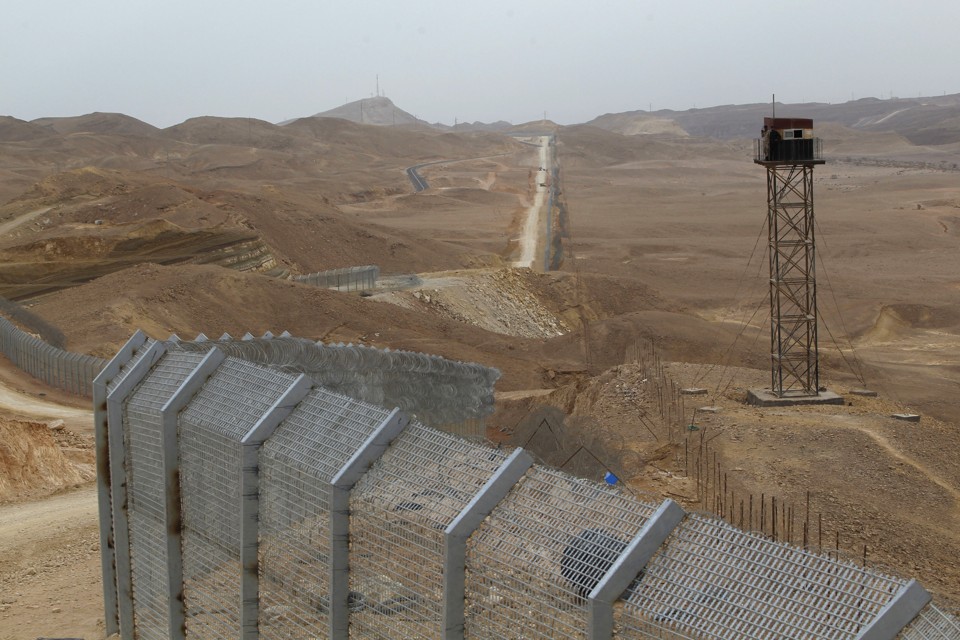 If a border wall between Mexico and the US, as conceived by Trump, is so "wacky and ridiculous,"  then why is Obama spending millions of dollars of US taxpayer money to build a border wall between Libya and Tunisia?
CRN
By Barry Secrest
While Obama, millions of progressives and the media have been laughing off  Donald Trump's plans to build a wall between Mexico and the US ( and making Mexico pay for it) according to recent breaking news the concept itself, is far from ridiculous.
In fact, the US is now funding a 125-mile long wall between the Tunisian border and Libya to the tune of over $ 25 million dollars to achieve just that, and the US is paying for the 'wacky' wall.
So, the Tunisian government is building a wall along its border with Libya, after the Obama regime militarily toppled the Libyan government in an exercise dubiously titled "Odyssey Dawn," and the US government is now paying for a wall that it has ironically stated would be ridiculous on the US border.
Once again, apparently, the concept is not only sound, it's in fact, being perpetrated against the Obama Regime by another country, and Obama's committed to willfully paying for it despite having absolutely nothing to gain for America.
On April the 5th, Obama called Trump's wall plan "wacky" and stated "good luck with that" while saying that both Trump and Cruz's border plans are "draconian & impractical."
It would seem that Obama believes that before Trump has his wall built, he must first topple the government next door to the victim nation, as Obama & Hillary Clinton did, in order to justify such a wall as in Tunisia.
The reason, by the way, for the wall's being built, is due to  Islamic terrorists, that according to Obama, do not exist and who are presently over-running the border of Tunisia while wreaking havoc in that small nation.
Now, what was that about Trump not knowing anything about foreign policy?
The rest of the story comes to us from the AFP:
"Tunis (AFP) – The United States has agreed to fund a multi-million-dollar project to install an electronic security surveillance system on Tunisia's border with strife-torn Libya, the US embassy said Friday.
In a statement, the diplomatic mission said that the US was disbursing the first installment of the $24.9 million project to strengthen security along the frontier.
The US Defence Threat Reduction Agency (DTRA) awarded the contract to American construction group BTP and consulting and engineering firm AECOM, a diplomatic source told AFP.
According to the embassy, the project involves the installation of an integrated surveillance system using sensors and regular security equipment.
The project includes training Tunisian forces to use the system, the statement added, without giving a start or completion date.
Tunisia has built a 200-kilometer (125-mile) barrier that stretches about half the length of its border with Libya in an attempt to prevent militants from infiltrating.
A series of deadly attacks by IS on foreign holidaymakers last year, which have dealt a devastating blow to the country's tourism industry, are believed to have been planned from Libya."
Related from Barry Secrest:  
1 comment
we have very little knowledge of what our house and congress are voting to spend money on. this will never change. they act as if the resources just never dry up, and they race to spend as much money as they can so someone else in the government does not spend it first! it is a race that never ends!
03/24/18 @ 06:58