Facebook Unpublishes 2 Million Bikers to DC's 15 Million-Reach Page as 2016 Election Looms
April 11th, 2016
Facebook Unpublishes 2 Million Bikers to DC's 15 Million-Reach Page as 2016 Election Looms
Posted by:
Barry
Published on April 11th, 2016 @ 07:25:00 pm , using 1546 words,
CRN Politics
By Barry Secrest
The ultra-Conservative and extremely popular 2 Million Bikers to DC group's fan page has been unpublished by Facebook officials for what Facebook has cited as repeat infractions.
Officials for the 2 Million Bikers organization have categorically denied those charges.
The 2 Million Bikers to DC organization is a patriotic biker movement which has frequently found itself in the eye of the "politically correct" storm while utilizing Facebook as its primary source of conveying information to its various members and fans.
Controversial due to its official stance as a liberty-loving biker organization which "tells it like it is" while publically opposing Barack Obama and other progressive ideologues, the Biker group has made its share of high-profile enemies along the way, inciting angst from most Soros-funded Progressive media outlets to even Westboro Baptist Church.
The rough and ready Christian-oriented Biker group, since 2013, has sent riders to Washington DC on 9/11 in order to commemorate those who lost their lives in the 9/11 Islamic terrorist attacks of 2001.
Who are the 2 Million Bikers  to DC?
As word of the 'Million Muslim March' rang out in 2013, an outraged counter-movement was sparked by a fed-up American named Bill Williamson, who sounded the alarm on Facebook , and with the expert help of event organizer-activist Belinda Bee, started a chain-reaction that would eventually send nearly one million bikers surging through the streets of DC on 9/11.
The ride, while debated as to the actual number of bikers, was ultimately viewed as an outrageous success even as the outcome of the Million Muslim March ended up being a smattering of individuals totaling only about a handful of Muslims, if that.
Since 2013, 2 Million Biker's organizers have arranged an annual event, on 9/11, sending bikers roaring through the streets of Washington DC, as both a commemoration of 9/11 and as a reminder to all Americans.
Their famous page, with an audience, often totaling three times that of Rush Limbaugh's show,  boasted a fan reach of as many as 15 million viewers, at times. 
The Facebook page was deleted on March 28th, 2016 for reasons that have largely mystified page editors and followers--at least-- with regard to questionable content on other pages, which remain published to this day.
According to Co-founder and organizer Belinda Bee, a conservative activist, the offending entry which attracted the attention of Facebook censors had to do with an entry on ADHD children who've allegedly been over-medicated by public school officials.
One of the members, who was previously removed for offensive language but added back later on, took issue with chief editor Bee, regarding schools systems nationwide and their aggressive use of ADHD narcotics, on Children; an outtake from the incident, pictured below, turned out to be the offending remark that resulted in the page being removed.
Within the post, that there was no use of any offensive language nor any premise of violence or otherwise, indicated
As a result of this spirited exchange, Facebook removed the page and indicated that the 2 Million Bikers page was no longer eligible for republishing.
Bias? 
The team of Facebook editors, still befuddled at the removal of the biker-page, have indicated that if fairness & equal treatment were the hallmarks for all pages on Facebook, with specific regard to the 2 Million Bikers' page, then most forum pages would have likely been removed long ago, especially if the same criteria used on the 2 Million Bikers group, were to be used on other pages.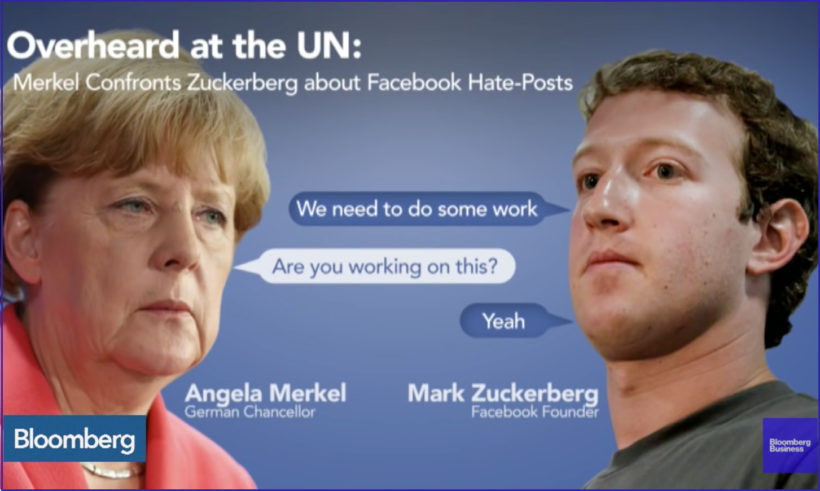 Moreover, a healthy number of 2 Million Biker fans believe that Facebook, a social media company now publically traded on the New York Stock Exchange, has long been in the tank for the Progressive movement.
With original ties going all the way back to the White House, Facebook's practice of removing highly effective conservative identities, along with pages being summarily deleted without notice, has continually sparked controversy concerning biased censorship due to political affiliation, in an open forum.
Facebook-Government Ties
Is Facebook guilty of singling out & potentially silencing what could amount to half of its audience, many of them even paid advertisers?
The answer is a parenthetical yes, in further noting that Facebook doesn't actually offer any sort of forum for dialogue, between those who contend unfair treatment by the Facebook organization, especially in lieu of their fan-based investment in Facebook's vast forum.
Hypothetically, why would Facebook risk angering better than half of their members when they could be jeopardizing their investor's bottom lines based on political ideology?
The answer might be easier to surmise than you think.
During Obama's 2008 campaign, Facebook was specifically utilized as a means to further the President's message via social networking.
In fact, Obama was the first Presidential Candidate to utilize Facebook "extensively" as a campaign medium, which attracted an estimated six million younger voters. The Obama Campaign actually brought onboard Chris Hughs, one of the three original Facebook founders, who was enamored of Obama in being a Candidate who could take advantage of Facebook's social networking while, apparently, feeding Hughs' ideological persuasion.
Hughs then started a highly successful website called mybarackobama.com, which is an online community dedicated to furthering Obama's ideology in all things.
Facebook later became heavily involved as a Washington insider on the how-tos of helping all manner of establishment politicians and lobbying groups further both their facebook presences and campaigns, online.
Since that time the conspiracy theories on possible connections between Facebook, government, and even CIA involvement, through its venture capital arm called In-Q-Tel, an investment arm of the super-secret agency, have become rampant.
The CIA's investment firm predicates its mission on gathering government data via new technology firms, by investing in them as start-ups and then plucking the fruits of their efforts, further on down the line.
Yes, indeed, for those who didn't know, the CIA now has a venture Capital arm.
In-Q-Tel bills itself as a "not-for-profit organization created to bridge the gap between the technology needs of the U.S. Intelligence Community (IC)" and,in fact, states that "more than 70 percent of our portfolio companies have never before done business with the government."
However, the other side of the story should be questioning the bias of US government collusion, in mandating special treatment by virtue of status, as a primary start-up government-influenced investor for all things related to domestic surveillance and security operations.
In-Q-Tel, by the way, recently made headlines with regard to its government excited investment in a skin-care company called Skincential Sciences.
Skincential is a beauty company which utilizes a website for its products dubbed "Clearista," which gathers cell samples from its customers in order to analyze and determine the best way to treat that particular customer's skin, in a custom manner.
What most customers don't know is the fact that their DNA samples may be accessible via a government biochemistry database, as a result of the In-Q-Tel connection.  
In addition, DNA touch technology, which utilizes those the same type of cell samples, has been successfully used as a methodology to determine hundreds if not thousands of criminal court cases.
Point being that since 2008 and the gradual globalization of US Congress members, corporate and online social forum entities have increasingly gotten in bed with all manner of government agendas, from LGBT & gun control issues and certainly campaigns, to freedom of religion, and all points in between.
The governmental incursions into both corporate & state interests, since Obama's ascendance, has become rampant and often even controlling.
The politically correct impetus from across the social medium spectrum, in recent years, and in conjunction with a government expounding on the social justice agenda, has nurtured an extraordinary bias leveled against individuals, groups, and even states exercising 1st amendment free speech rights.
Many individuals, working for either Big-Gov or even Local activist governments have been fired from their jobs for stating views considered impolitic.
When looked upon in this particular light, it increasingly becomes clear, that getting deleted out of social forums, like facebook for political or otherwise issues, has become almost as easy as gaining access to them.
Facebook, in effect, holds similar, if not identical, interests to the US political establishment, especially as it regards their domestic intelligence role on behalf, of both the state and US internal security.
That role, for a surety, extends across international lines and would also create similar intelligence conduits, via Facebook, into foreign governments and their personnel.
However, this especially holds true if an individual or entity comes in on the wrong side of the political tracks, on Facebook, regardless of their affiliations, in the US.
Granted, many Conservatives and otherwise religious individuals often go unbothered in their missions, by Facebook, to be fair, it should be noted.
In the 2 Million Bikers to DC case, the editors have appealed Facebooks ruling. However, as with most cases regarding Facebook, and despite being a paying customer of Facebook,  the online behemoth has not lowered itself into establishing any sort of dialogue with the 2 Million Bikers organization.
Operative, also, is the fact that as seen in 2014, the 2 Million Bikers Facebook page becomes an extraordinarily hot, anti-establishment, commodity, whenever any election nears, and the 2016 election promises to be one of the most controversial and rancorous, in a generation.
Much like the state, Facebook, more often than not, acts as the judge, jury, and executioner within their mini-directorate of ruling oligarchs, and if you can but just keep quiet about controversial issues, and be nice, while avoiding rocking the boat too much, most members (and their pages) should remain fine.
At least for now.....
No feedback yet