Killing America: A Shadow War Between Establishment Globalists & Citizen Insurgents Has Begun
February 1st, 2016
Killing America: A Shadow War Between Establishment Globalists & Citizen Insurgents Has Begun
Posted by:
Barry
Published on February 1st, 2016 @ 06:21:00 pm , using 2707 words,
 Conservative Refocus
By Barry Secrest
The internecine warfare from within the Right-Wing of American politics has now officially crossed over from being measurably zany, before, to certifiably bizarre, as of now, but who is it that traditional Americans are fighting this cultural, if not informational war, against? 
Is it just the political establishment, which traditional America is fighting against, or, is there a component missing which will allow us to more clearly paint the shadowy target?
Duly noted, is the fact that the Democrats have already been all but taken over by these agents of chaos, however, who exactly are they and what have we been missing?
The simplest and most effective Answer to this question is, it's a Globalists infiltration, and it is they who appear to be dictating their marching orders to America's Political ruling class, which then allows the overall picture to resolve into something more akin to HD quality.
From a dramatically altered US Chamber, to the Koch Brothers and their political machine, and at all points in between, largely populated by both GOP and Democrat leadership, something has gone seriously amiss, in the last five years, especially with those now supporting amnesty and open borders.
But then, to further grasp all of this, a little background, now, seems to be in order.
Most independent voters and certainly American traditionalists,  representing a massive sector of the American conservative vote, are understandably put out with pretty much every single elected politician on the planet-- including these politicians' paper-hanging allies.
And why not?
From Obamacare's sudden bi-partisan congressional acceptance by the GOP to the surreal and repetitively mystifying capitulations of America's opposition governance; where is the legislative balancing which was formerly known as dear old gridlock?
Beginning with the debt ceiling and extending to the funding of Obama's illegal alien amnesty program, the Republicans seemed to have almost completely adopted Obama's uber-Progressive agenda, and with only a few exceptions.
In fact, the GOP seems to be in favor, now, of nearly all of Obama's entire leftist agenda.
The main problem with that being that Obama's agenda hasn't effectively changed, which automatically translates to the fact that the GOP's certainly has, so, what happened?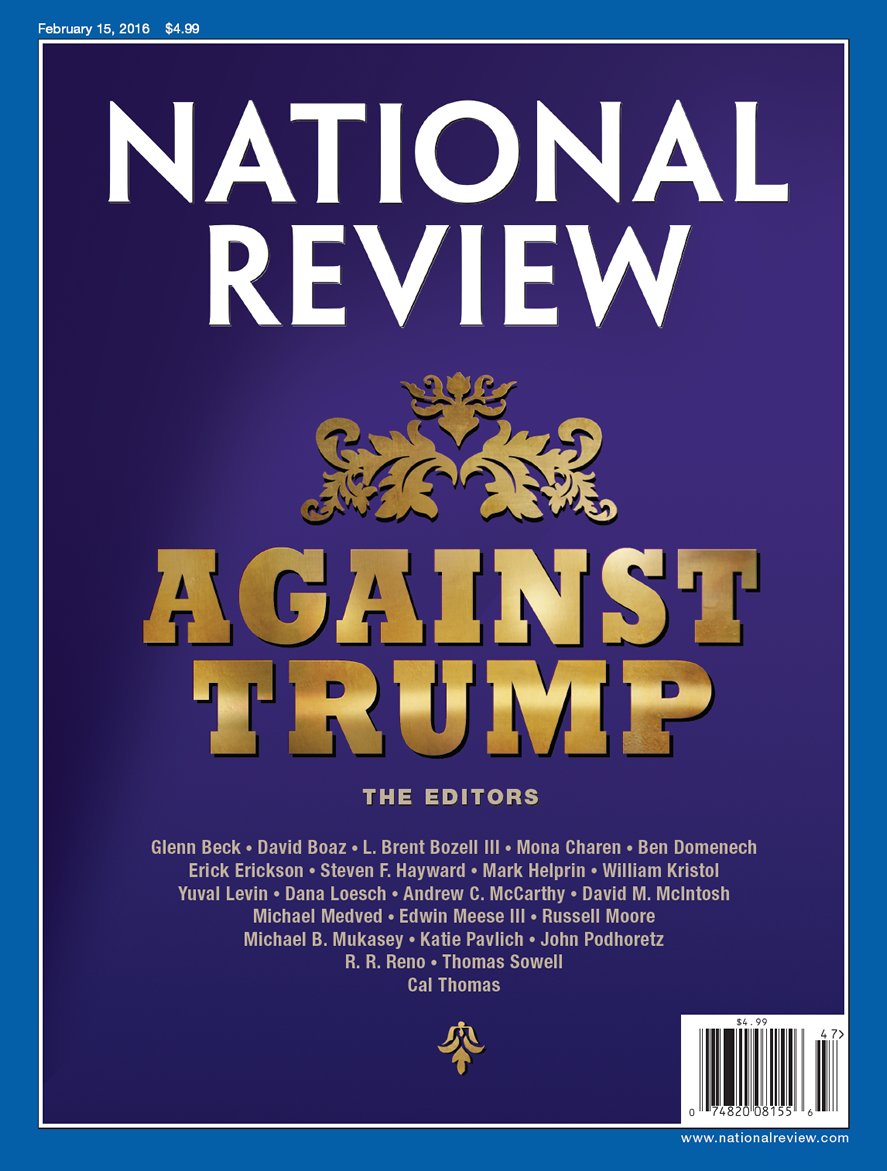 What in the world is going on with the Republican party, or better yet, where in the world have they disappeared to and what of an entire Right-Wing magazine's alienation of itself, despite its own previous flip-floppery?
The Neo-Con magazine "National Review" is a perfect example, of this "Globalist" inspired phenomena.
None of us, point-in-fact, can remember any sort of magazine cover from these folks directly stating "Against Obama," in the near or distant past, just simple allusions possibly towards that ideal, but not any glaring statement that we can find.
Indeed, before finally understanding all of this, many of us had been growing exceedingly weary of it....this undefined civil war in the Republican Party created largely by the media; but then exacerbated by the anchor-babies of the movement, in print.
Especially for those of us who have supported the Tea Party from day one, our collective weariness was predicated upon overall confusion at resolving the simple differences present in the Conservative movement. Now, we can begin to understand that those differences were, before, missing an entire dimensional aspect.
Now, the globalist dimension, within all of this can be seen, and it pretty much changes everything.
We've gone from this:
Is Fox News Out of Touch with Conservatives?
To now, this:
Fox News Owner Rupert Murdoch Outed as 'Open Borders' Globalist Seeking Erasure of US Borders
Related: Open Borders Globalist George Soros Donates $ 6 Million to Hillary Clinton Super-Pac
Meanwhile, after having spent nearly eight long years of battling mightily against the hardcore radical Leftist regime of Obama and his minions-- that-- in addition to the constant excoriation of the establishment ruling class, both in DC and even locally, including tirades from the media, many of us (according to the Trump-haters) --suddenly--don't understand a thing about Conservatism or politics.
In answer to all of this and like it or not, the anti-Donald Trump club consists of the mainstream media, most Democrats, many Socialists, virtually all Liberals and Progressives, virtually the entire establishment wing of both Republican and Democrat parties, and Obama:
The question now becomes, who wants to be a member of that particular Club?
Moreover, what if it's we who do understand, well beyond clearly, what is actually going on, and it's they, including many of the editors at National Review, who've lost their way-- or worse, while they simultaneously cast desperately about--trying to exhibit what amounts to a legion of fictional strawmen holding America under siege. 
In essence, what about the below story?
 Davos elite alarmed at prospect of nominee Trump | Reuters
 America, in answer to all of this, is certainly under siege, we are endangered probably unlike any other time since WW2, but we have learned only recently how to positively identify the true enemy to America and its way of life.
It's the globalists agenda's impending and incredibly dour impact on  the US and the free world.
Martial law has already been declared in France, as a result of the Islamic terrorist attacks, and may soon be declared in other European nations, as the impact from incoming Mideast and North Africa refugees grows ever more dour.
Now, they're pushing to bring hundreds of thousands of these Islamist refugees here, to America, despite all the chaos being reaped in Europe.
So, what if the real battle that we're ideologically fighting as traditional Americans, is no longer truly about Republican versus Democrat or Liberal versus Conservative?
What if it is this, as the base-indoctrinated myth, of "it's my party against your party or my ideology against your ideology, do or die," that is what the ruling political class needs you to believe, in order for them to win the day?
What if it is they, the ones who mindlessly opine on behalf of the Global Elitist agenda, which also operates within the halls of the politically Naive, if not culpable, in addition to the Leftwing and mainstream media, of the US?
In fact, we're referring to those in the GOP sector, many of them at venues like National Review by the way, who deny all things clearly pointing towards the World's global elites as enemies, also known as the "New World Order" types.
Point-in-fact, when we observe that what has been mysteriously happening recently, with the GOP, just as has already happened with the Democrats, back during Obama's ascendance if not long before, we can begin to see that the only grand difference between the leadership of these two parties, now, is what they say and what they try to sell to their constituents; what they ultimately do appears to be one in the same, at least in the end.
Within this end-game, regardless of ideological stance, the global agenda seems to now win the day with the political class, as if the players, when it comes to some integral part of the agenda, no matter whether they be Liberal or Conservative, Democrat, or Republican, will suddenly coalesce into lockstep, if only for a few needful moments, then it's back to the stagecraft for our own political amusement.
For example, why not take a look at the original "Obama fanboys," during Obama's ascendance to the throne.
Early on in 2009, after being invited to a dinner meet and greet at George Will's House, with Obama as the starring guest, here's what the political establishment stated, afterward:
Rich Lowry of The National Review:"the only presidential candidate from either party about whom there is a palpable excitement".
Charles Krauthammer of the Washington Post: "Obama would be a president with the political intelligence of a Bill Clinton harnessed to the steely self-discipline of a Vladimir Putin", who would "bestride the political stage as largely as did Reagan."
Bill Kristol of The National Review:"I look forward to Obama's inauguration with a surprising degree of hope and good cheer."
Larry Kudlow, CNBC Network: "[Obama] loves to deal with both sides of the issue." "He revels in the back and forth. And he wants to keep the dialogue going with conservatives."
But it gets worse......
For instance, what  about some of the more ridiculous articles they have published in trying to cannibalize their truest enemies?
Such hits as:
National Review: Is Trump a Double-Agent For The Left?
George Will: Stopping Trump More Important Than Stopping Hillary
National Review: Donald Trump the Anti-Corporatist Candidate
Moreover, if they're so damn good at all of the old-guard semi-right-wing opinion factories; then why is it that nothing meaningful began to take hold of an unraveling American political process, going all the way back to 2006, until those of the Tea Party, finally burst meaningfully onto the scene, in 2009?
National Review: We Must Invade Now
Indeed, when Iraq was invaded, we tried to tell them even then, but back in that time we didn't possess the websites or the necessary publicizing skills, to announce to the American people that things were rapidly going awry, in America, and our reasons for knowing why.
National Review: Patriot Without Tears
When they passed the Patriot Act, back in 2001, we issued a primal scream of fury, only to be told that we were paranoid and that the sacrifices of liberty for the sake of security, was well worth the rewards, and even then, we were being buffeted and overrun by a border more porous than swiss cheese.
National Review: Collecting Metadata Isn't Spying
When it was announced that while America's borders were being left wide open to any terrorist who wished to saunter over, even for those who were only just now learning to walk, we were told that both we and the NSA must forget about the border, and listen into every single American telephone conversation, because it was a matter of life and death and real, everyday Americans are the true risk, and security must be foremost!
Heil!
But, when the Conservative movement refused to listen to these paper warriors, in the current day, most of  those scribes, by the way, having never even served in the military nor even ever probably stopped to think about it; those of the NR and numerous others began pitching an editorial temper tantrum while seeking to exact extreme damage, on Trump, as the now heavy favorite and frontrunner in the GOP.
National Review: GOP Overestimates Conservatism of Base for Backing Trump
And yes, even in 2010, as we of the true Conservative movement finally began winning the day, we were excoriated, by both the establishment pundits and by the media in general, and yes, even by the US government,itself and yet, we persevered where they rarely (if ever) have.
Indeed, the Tea Party even aided the establishment GOP, to our utter chagrin, in taking back over both the US House and the US Senate, even through their inconsolable whining, that the Tea Party was unrealistic and far too radical.
Granted, some within that number of Tea Party electees were eventually co-opted, a few even of late, but the tide continues to turn in the Conservative Movement's favor.
So, what if it's they, that being those who're constantly trying to own a false definition of American Conservatism, who are the ones who fail to truly understand where America itself actually lies at this notably odd juncture in both world & US history?
Perhaps the best overall example towards the overall mindset of today's "National Review."  and many others much like it, was represented by none other than a recent study conducted by the University of Washington.
In the study, The publications and writings of the Tea Party, across a wide assortment of large and diverse Tea Party organizations, was scrutinized and assessed against articles found in The National Review (which represents the Establishment GOP) in order to ascertain where, exactly, the Tea Party lies within its political acumen.
What the study found was well beyond revealing of not only towards The National Review but also of the prevailing mindset of the Establishment Republican Party, today.
Some key findings from the study:
-14 percent of Tea Party content focused on the size of government compared to 39 percent of National Review content.
In the Tea Party this particular subject is a core foundation of the Tea Party's belief system; in essence, it goes without saying, however, at the National Review, the argument is still being bounced around, as undecided.
-24 percent of Tea Party content focused on conspiratorial themes (for example, socialism or communism overtaking America), compared to 5 percent of National Review content.
The question of Socialism or Communism, in America, as a conspiracy subject, is well beyond ridiculous, in that it's now a known fact! The Dems have a Socialist running hard, for the Presidency, the US Healthcare system is now being run by the US government, along with all housing loans, all banks, all student higher-learning college loans, and this, just to name a few areas.
-10 percent of Tea Party content focused on patriotism and "taking back our country" compared with less than 1 percent of National Review content.
Self-explanatory
-19 percent of Tea Party content consisted of attacks on illegal immigrants, criticism of the gay community, racially derogatory commentary, or personal criticism of President Barack Obama compared with 10 percent of National Review content.
Notice how the university study couples racial derogatory commentary as also personal criticism of Obama? The Tea Party itself despises political correctness, so therefore, any truth about race, or cow-towing to the secular-progressive/gay movement, would, in fact, be considered derogatory by most politically correct universities, and of course, probably many writers at the National Review.
These comparative points fully emphasize the full play of where we are within the Conservative movement as opposed to where the establishment GOP, including the National Review, currently resides, and this is due largely to the infiltrative aspect of the Globalist movement.
9/11/2001: The Day That Changed Everything
For those who believe that this summation constructs a conspiratorial aspect to the American political process, we would merely point those individuals towards  one of the top Generals in the United States, General Wesley Clark, who continually speaks to the fact that an actual coup took place in the US government, back in 2001, which has changed everything.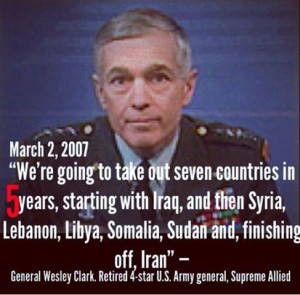 General Clark, in his presentation, explains that according to a highly-trusted source, that a Top-Secret memo received from on high, at the Pentagon, described how America's military leadership was presented with a timeline of the US government's intention to overthrow seven Mideast nations, for reasons unknown to the military leaders themselves. 
The overthrow of these nations, according to the General's Pentagon source, had nothing to do with the 9/11 attacks.
General Clark's expanded commentary on the US government Coup
But, then, when we look at the upheaval caused by the refugee crisis that has ensued, as a result of these regime topplings, we can begin to see a grand design at play that has threatened the entire free world, as it turns out.
ISIS, which came predictably into being after the US vacated Iraq along with its super-caliphate goals, was birthed and began to tyrannically dominate the region while continuing its demonic march spurring the refugee exodus. The actions, meanwhile, from a sitting (Islamist sympathizing) US President have been well beyond telling, in that Obama continually refuses to even acknowledge the terrorists' ideological underpinnings of Islam and Shariah, within ISIS.
Some have even stated that Europe is on the verge of collapse, as a direct result of the EU Islamic refugee influx that was enabled, if not demanded, by the Global Elites, while America is even now experiencing an ideological Civil War of rhetoric and court cases being fought between opposing sides, concerning federal authority on forced migrant refugee relocations.
Oh, and by the way, of those seven nations, the three of them currently at play at this moment are Syria, Iraq, and Libya.
The plan, while behind in the overall timeline, is nearly half completed, even as Syria lies in near ruin.
But, first, how is it that the US government can possibly explain the General's account, and second, why has this plan continued from the Bush regime throughout the Obama regime?
The question, next, becomes, what happens after these seven Mideast nations fall?
What happens next when the "conspiracy," currently being played out, becomes the scandalous truth, and what part of this scheme have the global elites played towards arriving at their final endgame?
Whatever it is that these agents of chaos have planned for us next, we can be sure that it's slowly killing America.
1 comment
User ratings
5 star:

(1)
4 star:

(0)
3 star:

(0)
2 star:

(0)
1 star:

(0)
Kim?
Please remove the brown background from this comment box… thanks
Now, to your article: While I agree with your premise, there are evil people who have plans to take over the world, they can never succeed. Human nature, being what it is, will never allow itself to be enslaved for long, by any force. We hear a lot of talk these days about Martial Law. Now, I'm near 70 years old, and have seen a lot, talked to a lot of different people, from all walks of life. Did my time in the Military, I joined at 17 in 64. My faith stands in two places, first and foremost, in G_D, but also my faith in the American spirit is unshakeable. We Americans have done extraordinary things in a very short time. We twice saved the world from the evils of soulless men, intent on enslaving their fellow man. I cannot see many of our boys turning their backs on fellow Americans, especially patriots. Besides, Americans make up the largest standing army in the world, by far. 70+ million firearms and 7 trillion rounds. How many spec-oops, Green Berets, Navy SEAL/s, Army Rangers, not to even mention the Marines, how many of these guys would follow that illegal order?
I'm more worried about the enemy within, the establishment.
03/25/16 @ 05:57