Conservative Refocus: Eleven Proven Climate Change Lies the Media Has Told You
May 26th, 2015
Conservative Refocus: Eleven Proven Climate Change Lies the Media Has Told You
Posted by:
Barry
Published on May 26th, 2015 @ 03:20:00 pm , using 1319 words,
Conservative Refocus
By Barry Secrest
We're doomed, they say.
If we don't do something now, we'll  be consumed by fire in a virtual hell on earth, and it will be the unbelievers' fault.
If ever you've wondered what happened to old time religion, it seems you don't have to look very far, these days.
The cult-of-Climate Change is now the new age "old-time religion" of the modern-day and it's filled with fiery, government-report-thumping disciples wielding loosely transcripted pseudo-scientific reports, as if chiseled by the almighty, himself.
The climate change commandments are  brought down to us from a mythic, storm-ravaged,  mountain of false data located somewhere in Switzerland, and loosely referred to as the IPCC (Intergovernmental Panel on Climate Change). The devotees of this particular faith are nothing if not brain-washed alter-poppets yearning to be free from the Lucifer they now commonly refer to as modern industry and capitalism. 
Their voices , crying from a crumbling urban wilderness, demand "set my earth free!" (or else)
The messiah of this newly constituted faith comes to us in the form of a legion of government bureaucrats, struggling to make "settled science fiction" known to all man, and quickly before it's much too late. Their gospel is a collection of graphs and "customized"  thermodynamic data which only they,  the Pharisees and deacons of statism, can accurately disseminate to the uncleansed and unknowing masses.
In fact, there are even tithes for this new "old-time religion," slated to be gathered by the world's governments in the form of new taxes and fees  collected from the worst of the original sinners.
 The  Arc of the New Government Covenant 
Their heavily concealed goal is to spread the Gospel of Climate Change across every corner of the Earth, so that we might all be saved, and it's one very grand and completely adulterated lie, designed for one all-encompassing agenda.
The climate change mandate has been formulated to eventually control virtually very facet of industry,  while redistributing wealth from the first world to the second and third worlds on a basis unparalleled in human history.
However, when each argument of the present climate change agenda is carefully scrutinized on the basis of fact rather than hyperbole, their flimsy doctrines  fall apart, quite easily.
But, where to begin?
First, the nexus of Nasa's most recent report, as described by CNN, is a story which we're highlighting,  that trumpets the highest temperatures ever for March 2015, across the planet.  
However, when looked at very closely,  a different story emerges which speaks to an overall decrease in March 2015 temperatures:
From Climate Depot:
'Both satellite datasets have been released for March, and show a drop in global temperatures for the second month running. According to both UAH and RSS, current temperatures are now below where they were at the start of last year.  1998 and 2010 temperatures remain well above anything seen in the last year.'
So, which is it? The answer glaring back at us reflected only the fact that Nasa's dataset looks at only small regional variations, more often than not described as weather, while the University of Alabama at Huntsville dataset actively looks at global temperatures overall.
CNN, in this recent marquis report titled "New Temperature Records Highlight Global Warming's Continued Rise,"  has,  in fact,  thoughtfully provided us with a climate change cross-section of arguments which  can, more often than not, be easily be laid to waste.... as we will dutifully explain, point by excruciating point:
Myth (1) Melting Polar Ice Caps will raise sea levels
The consequences of climate change goes far beyond warming temperatures says CNN.
This particular man-made argument revolves around the myth that as polar ice caps melt-- sea levels rise; but what if the ice caps aren't truly melting?
According to global sea ice records going all the way back to 1979, total sea ice area hasn't changed in well over thirty years.
"Ice isn't melting Thanks to a rapid rebound in recent months, global sea ice levels now equal those seen 29 years ago, when the year 1979 also drew to a close. In fact, the rate of increase from September onward is the fastest rate of change on record, either upwards or downwards. The data is being reported by the University of Illinois's Arctic Climate Research Center, and is derived from satellite observations of the Northern and Southern hemisphere polar regions (Daily Tech)."
But, what about all the ice cap melting reports constantly appearing all over the media? The answer is mererly that  sea ice loss  in one area typically gets reported like a grisly murder, with alarms sounding and front page reports attracting gobs of media attention. But, just as with the birth of a newborn infant rarely attracting front page attention, new ice gains are never reported simply because they fail to attract any attention.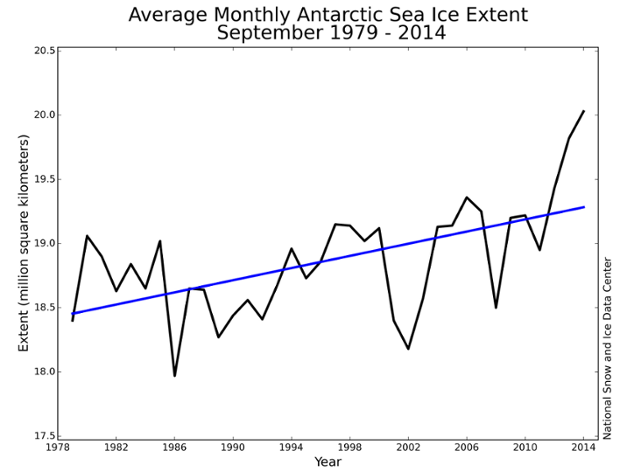 The losses and gains, when it comes to sea ice and most other discernable effects, are cyclical and always have been. But, the main thing to remember is that according to the unaltered data, the big melt just isn't happening.
For those who may yet doubt, there is but one more central fact that might convert even the most skeptical of warmers, this story from the UK Guardian:
"Sea ice around Antarctica is currently at record levels for May, part of a trend of increasing ice around the frozen continent making it harder to resupply and refuel research stations. More than 50 scientists are gathering in Hobart in Tasmania this week for a series of workshops on techniques to more accurately forecast sea ice levels in the polar region, aiming to save millions of dollars in shipping costs.
Article: Sea ice around Antarctica is currently at record levels for May, part of a trend of increasing ice around the frozen continent
"They will also hope to avoid a repeat of the problems suffered by the Akademik Shokalskiy, the research vessel caught in a sudden freeze in December 2013. Rod Wooding, from the Australian Antarctic Division, said last year ships "couldn't get anywhere near" the Australian research site, Mawson station, requiring a year's worth of supplies and fuel to be flown in by helicopter."
There are no melting ice caps, period.
 Myth (2) Megadroughts lasting decades predicted
The coming megadroughts, as a result of warming, will  last 10 years or more, or at least so say the IPCC computer models.
We're seeing hints of this all over the world, they will say.  The answer? When have we not, in human history,  seen hints of droughts and full-blown droughts, for that matter, all over the world?
In the 1930's it was the great Dust Bowl Drought.
In the 1950's it was the Great Plains Drought.
In the 1960's it was the NorthEastern Drought.
In the late 80's was the Northern Great Plains Drought which affected 36% of the nation.
Have you detected a pattern emerging, thus far?
The point is, there have always been droughts and there will always be droughts, it's as simple as that. Nor is it just in the US, but rather it's everywhere in one region and nowhere in another, and it's been this way throughout history.
According to recent official reports at odds with the climate change agenda:
"Global drought has not increased significantly over the past 60 years, a report in Nature has found.
Previous assessments of global drought have relied on the Palmer Drought Severity Index, which only accounts for temperature, and does not consider sunlight, humidity or wind. These assessments have falsely indicated that global drought will increase as the planet warms.
The paper's authors show that when these additional factors are included, worldwide drought has actual changed very little since 1950."
In the present-day it's the California Drought in the US, that attracts our attention, but now we have an actual cause that we can point to when the troposphere throws us a curve and  it's called "Climate Change."
When the unfortunate strikes, it's as if we have angered the "God of Climate,"  and woe be unto we,  the suppurating pustules of climate sinfulness.  The only question is who or what will be sacrificed to this particular demigod, as determined by our ever-earnest Sadducees of the day?
There has been no increase in droughts, in fact, according to Nasa, the Earth is greener now than ever....
No feedback yet