The False Prophets of Climate Change: Eleven Proven Climate Change Lies the Media Has Told You
May 19th, 2015
The False Prophets of Climate Change: Eleven Proven Climate Change Lies the Media Has Told You
Posted by:
Barry
Published on May 19th, 2015 @ 06:59:00 pm , using 4973 words,
Conservative Refocus
By Barry Secrest
We're doomed, they say.
If we don't do something now, we'll  be consumed by fire in a virtual hell on earth, and it will be the unbelievers' fault.
If ever you've wondered what happened to old time religion, it seems you don't have to look very far, these days.
The cult-of-Climate Change is now the new age "old-time religion" of the modern-day, and it's filled with fiery, government-report-thumping disciples wielding loosely transcripted pseudo-scientific reports as if chiseled by the Almighty, himself.
The climate change commandments are brought down to us from a mythic, storm-ravaged,  mountain of false data located somewhere in Switzerland, and loosely referred to as the IPCC (Intergovernmental Panel on Climate Change). The devotees of this particular faith are nothing if not brain-washed alter-poppets yearning to be free from the Lucifer they now commonly refer to as modern industry and capitalism. 
Their voices, crying from a crumbling urban wilderness, demand "set my earth free!" (or else)
The messiah of this newly constituted faith comes to us in the form of a legion of government bureaucrats, struggling to make "settled science fiction" known to all man, and quickly before it's much too late. Their gospel is a collection of graphs and "customized"  thermodynamic data which only they,  the Pharisees and deacons of statism, can accurately disseminate to the uncleansed and unknowing masses.
In fact, there are even tithes for this new "old-time religion," slated to be gathered by the world's governments in the form of new taxes and fees collected from the worst of the original sinners.
 The  Arc of the New Government Covenant 
Their heavily concealed goal is to spread the Gospel of Climate Change across every corner of the Earth so that we might all be saved, and it's one very grand and completely adulterated lie, designed for one all-encompassing agenda.
The climate change mandate has been formulated to eventually control virtually every facet of the industry while redistributing wealth from the first world to the second and third worlds on a basis unparalleled in human history.
However, when each argument of the present climate change agenda is carefully scrutinized by fact rather than hyperbole, their flimsy doctrines fall apart, quite easily.
But, where to begin?
First, the nexus of Nasa's most recent report, as described by CNN, is a story which we're highlighting,  that trumpets the highest temperatures ever for March 2015, across the planet.  
However, when looked at very closely,  a different story emerges which speaks to an overall decrease in March 2015 temperatures:
From Climate Depot:
'Both satellite datasets have been released for March, and show a drop in global temperatures for the second month running. According to both UAH and RSS, current temperatures are now below where they were at the start of last year.  1998 and 2010 temperatures remain well above anything seen in the last year.'
So, which is it? The answer glaring back at us reflected only the fact that Nasa's dataset looks at only small regional variations, more often than not described as weather, while the University of Alabama at Huntsville dataset actively looks at global temperatures overall.
CNN, in this recent Marquis report titled "New Temperature Records Highlight Global Warming's Continued Rise,"  has,  in fact,  thoughtfully provided us with a climate change cross-section of arguments which  can, more often than not, be easily be laid to waste.... as we will dutifully explain, point by excruciating point:
Myth (1) Melting Polar Ice Caps will raise sea levels
The consequences of climate change go far beyond warming temperatures says CNN.
This particular man-made argument revolves around the myth that as polar ice caps melt-- sea levels rise; but what if the ice caps aren't truly melting?
According to global sea ice records going all the way back to 1979, total sea ice area hasn't changed in well over thirty years.
"Ice isn't melting Thanks to a rapid rebound in recent months; global sea ice levels now equal those seen 29 years ago, when the year 1979 also drew to a close. In fact, the rate of increase from September onward is the fastest rate of change on record, either upwards or downwards. The data is being reported by the University of Illinois's Arctic Climate Research Center, and is derived from satellite observations of the Northern and Southern hemisphere polar regions (Daily Tech)."
But, what about all the ice cap melting reports constantly appearing all over the media? The answer is merely that sea ice loss in one area typically gets reported like a grisly murder, with alarms sounding and front page reports attracting gobs of media attention. But, just as with the birth of a newborn infant rarely attracting front page attention, new ice gains are never reported simply because they fail to attract any attention.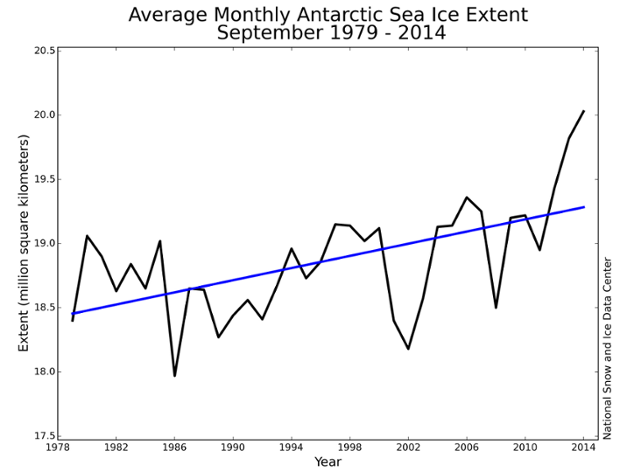 The losses and gains, when it comes to sea ice and most other discernable effects, are cyclical and always have been. But, the main thing to remember is that according to the unaltered data, the big melt just isn't happening.
For those who may yet doubt, there is but one more central fact that might convert even the most skeptical of warmers, this story from the UK Guardian:
"Sea ice around Antarctica is currently at record levels for May, part of a trend of increasing ice around the frozen continent making it harder to resupply and refuel research stations. More than 50 scientists are gathering in Hobart in Tasmania this week for a series of workshops on techniques to more accurately forecast sea ice levels in the polar region, aiming to save millions of dollars in shipping costs.
Article: Sea ice around Antarctica is currently at record levels for May, part of a trend of increasing ice around the frozen continent
"They will also hope to avoid a repeat of the problems suffered by the Akademik Shokalskiy, the research vessel caught in a sudden freeze in December 2013. Rod Wooding, from the Australian Antarctic Division, said last year ships "couldn't get anywhere near" the Australian research site, Mawson station, requiring a year's worth of supplies and fuel to be flown in by helicopter."
There are no melting ice caps, period.
 Myth (2) Megadroughts lasting decades predicted
The coming megadroughts, as a result of warming, will last ten years or more, or at least so say the IPCC computer models.
We see hints of this all over the world, they will say.  The answer? When have we not, in human history,  seen hints of droughts and full-blown droughts, for that matter, all over the world?
In the 1930's it was the great Dust Bowl Drought.
In the 1950's it was the Great Plains Drought.
In the 1960's it was the NorthEastern Drought.
In the late 80's was the Northern Great Plains Drought which affected 36% of the nation.
Have you detected a pattern emerging, thus far?
The point is, there have always been droughts, and there will always be droughts, it's as simple as that. Nor is it just in the US, but rather it's everywhere in one region and nowhere in another, and it's been this way throughout history.
According to recent official reports at odds with the climate change agenda:
"Global drought has not increased significantly over the past 60 years, a report in Nature has found.
Previous assessments of global drought have relied on the Palmer Drought Severity Index, which only accounts for temperature, and does not consider sunlight, humidity or the wind. These assessments have falsely indicated that global drought will increase as the planet warms.
The paper's authors show that when these additional factors are included, worldwide drought has actually changed very little since 1950."
In the present-day it's the California Drought in the US, that attracts our attention, but now we have an actual cause that we can point to when the troposphere throws us a curve, and  it's called "Climate Change."
When the unfortunate strikes, it's as if we have angered the "God of Climate,"  and woe be unto we,  the suppurating pustules of climate sinfulness.  The only question is who or what will be sacrificed to this particular demigod, as determined by our ever-earnest Sadducees of the day?
There has been no increase in droughts, in fact, according to Nasa, the Earth is greener now than ever,
Myth (3)  Wild Fires are increasing due to climate change
Despite the fact that even the prophets of climate change have yet been unable to specifically draw a true theoretical connection between wild fires and global warming, everything unfortunate that occurs simply must be connected to climate change, in some way. Therefore, whenever a wild fire eventually appears, as they always have, it's naturally due to conditions brought about by man-made global warming, they will say.
In diametric opposition, however, the US government itself has indicated the following about climate change and wild fires:
"Government wildfire data shows that the scale of U.S. wildfires had decreased dramatically since 1930 when wildfires burned more than four times the amount of acreage burned in 2012. In 1930, wildfires consumed more than 50 million acres of land, but in 2012 wildfires only burnt up 9.2 million acres."
But, wait! That's a drop ten-fold of what the climate cult is trying to tell us; how can this possibly be true?
To be sure, bizarre connections  fabricated to the feed the climate change beast states that Global warming could, hypothetically, cause stronger winds which ultimately fuels faster flames, however, stronger winds more often than not also characterizes storm activity......
But, as they say, time is the fire in which we all burn and given enough of it, the techno-priests will eventually formulate a hypothetical bit of data between that which is 2nd most feared, being fire -- and that which is foremost feared being climate change.
The fact is, wild fires have markedly decreased in the last half century.....
Myth ( 4)  Coral Reefs are dying from global water temperatures
The researchers, who never want to leave any bit of the planet untouched about global warming canon, also insist that in the last century ocean temperatures have risen by more than one degree, causing some coral reefs to dry up and die.  Unfortunately for both CNN and the climate change disciples, the US Government's Nasa recently indicated that sea water temperatures have not changed since 1995.  In an October 2014 report, Nasa stated that following:
 "The cold waters of Earth's deep ocean have not warmed measurably since 2005."
Wait, no sea water changes in the last decade? So why are CNN and the government telling us one thing, and Nasa another? But, what about that bit of sea coral off Bangladesh, that died from global warming? Well, the simplest answer is coral reefs can die from many causes, both natural and unnatural. Agricultural runoff, commercial fishing, pollution, biological changes in native habitat, natural diseases--in fact--the thing that they don't wish you to know is that  coral, when it decomposes over millions of years, formulates what eventually becomes one of the most useful elements known to man, among many, that being phosphorus.
Then,  there was this bit of news about temperature change and coral reefs:
Ross J. Jones of Australia's Queensland University reported coral bleaching on a portion of the Great Barrier Reef just after average daily sea temperatures rose by 2.5 degrees Celsius in eight days. (388) However, Canada's D.R. Kobluk and M.A. Lysenko found severe coral bleaching in the Caribbean after the water temperature declined 3 degrees Celsius in eighteen hours. 
So, once again, dying coral reefs as a result of climate change is nothing more than a compelling myth--there is no massive coral reef die-off, period.
5)  Food Prices are rising due to climate change
According to CNN, a United Nations panel has found that climate change--mostly drought--is affecting the agricultural food supply which will "most likely" push food prices upwards. But, food prices --as a direct result of the current drought-- have not yet changed.
In fact, we've already shown that droughts are running along at about the same level that droughts always do on the planet historically, so what's really happening? 
According to the USDA, which monitors food prices continually, not much, in fact.
The following is a USDA report from February 2015:
"Despite the effects of the 2014 drought in the Southwest and California, retail food price inflation rates approached the 20-year historical average of 2.6 percent per year. In 2014, the food-at-home CPI increased 2.4 percent.
The most notable annual inflation increases were seen in the perimeter of the grocery store—retail beef and veal, pork, eggs, fish and seafood, dairy, and fresh fruit experienced above-average price increases.
Alternatively, items in the center aisles of grocery stores experienced below-average inflation or, in some instances, even deflation. In 2014, prices fell for fresh vegetables, sugars and sweets, and nonalcoholic beverages. While overall food price inflation was close to its 20-year historical average, inflation across food categories covered a broad spectrum."
Hmm....okay, so prices are nominally unchanged, but what about the UN prognosis that prices would necessarily increase, due to global warming? Turns out, not so much.....
"Looking ahead to 2015, ERS predicts that supermarket (food-at-home) prices will see normal to slightly-lower-than-average food price inflation, increasing 2.0 to 3.0 percent. Beef and veal prices will likely continue to experience the effects of the Texas/Oklahoma drought, as farmers' decisions on calving and herd sizes are felt down the line due to the 6- to 18-month production process. "
So, the connection between food price increases due to global warming is pretty much non-existent.
Maybe the UN and the US should decompartmentalize all of their data to get the story straight, because as it stands, the US government believes that food prices will either stay the same or drop, in direct opposition to the global warming agenda they keep trying to push.
Food price increases as a result of global warming, according to the government's own data, is a myth.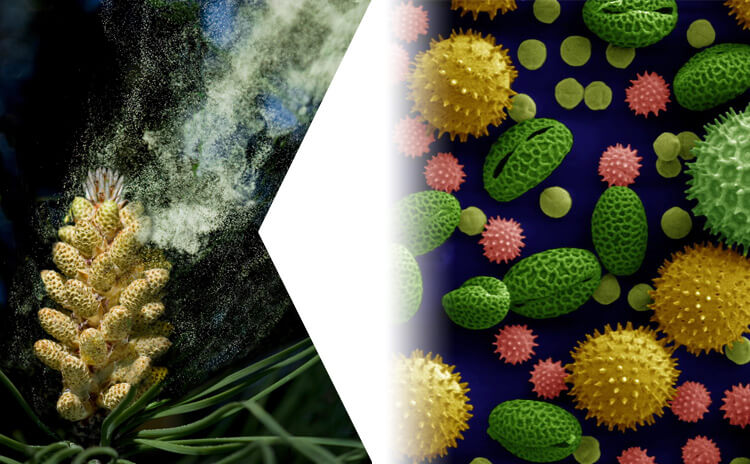 Myth ( 6) Pollen Allergies are reaching epidemic proportions due to warming
Now, the spring of 2015 has brought us reports that both the media and Obama have pushing the contention that allergies, as a result of global warming, are far worse this year than in years past. Phantom rising temperatures and phantom increases in carbon dioxide are making it difficult for us all to breath.
So, is it true? Er...not so much.
In fact, it's not global warming that causes horrible allergies in the spring--it's global cooling. Yes, you read that right.
According to the highly popular WebMD website, it's the bitterly cold and long winters that actually heightens allergies:
"WebMD News Archive March 27, 2014 -- A bitterly cold winter followed by a sudden spring warm-up might spell massive misery if you have allergies. "When pollen has been held up by cold weather, you can get a flood of pollen as the weather warms up," says allergy researcher Kraig Jacobson, MD. "And that may indeed be happening now."  "In parts of the Midwest, where many states have experienced some of the most brutal winters in history., reports of extremely high pollen counts are already coming in.  One expert predicts a "super bloom" of pollen as temperatures rise suddenly."
So, it's not the warm weather that causes massive allergy increases; rather it's the long, brutal winter that brings about a super bloom when the cold finally abates.
Moreover, while many have brought into the notion of increased carbon dioxide emissions, as it relates to allergies, a report titled the Bombshell from Bristol indicates that overall levels of carbon dioxide have remained about constant, since 1958.
"CO2 is not increasing "...there is the contention by Wolfgang Knorr of the Department of Earth Sciences at the University of Bristol in England that carbon dioxide levels in the atmosphere are about where they were 160 years ago." (as quoted by Ken Ward Jr.)
The 'airborne fraction' refers to the amount of human CO2 emissions remaining in the atmosphere. Approximately 43% of our CO2 emissions stay in the atmosphere with the rest being absorbed by carbon sinks. But is the airborne fraction increasing? A paper published in November 2009 found no statistically significant trend (Knorr 2009). Anthony Watts labeled this result the "Bombshell from Bristol" - A potentially devastating result for anthropogenic global warming.
Was it such a shock? The 2007 IPCC verdict on the airborne fraction was "There is yet no statistically significant trend in the CO2 growth rate since 1958 ... This 'airborne fraction' has shown little variation over this period." (IPCC AR4) I'm not sure the move from "not much happening" "to "still not much happening" warrants the label "bombshell."  
 The simple fact is, brutal winters are the main culprit for the allergy super bloom of recent springs, not global warming, and the US has been experiencing brutally cold winters over the past five years.
Myth ( 7)  Deforestation is occurring  due to climate change
According to the media, global warming has not been kind to the plant life, despite the fact that their arguments appear to be self-defeating when we stop to mull the fact that so-called increased carbon-dioxide outputs should make the plants just dizzy with added growth from their chief source of breathing.
However, no says CNN, it's the increased population of beetles that are killing trees in the US as a direct result of CO2 increases. But, is that true?
Not so much, once again, in fact quite the opposite. The US has more trees now than it did 100 years ago. The Mother Nature Network states the following:
"In the United States, which contains 8 percent of the world's forests, there are more trees than there were 100 years ago. According to the Food and Agriculture Organization (FAO), "Forest growth nationally has exceeded harvest since the 1940s. By 1997, forest growth exceeded harvest by 42 percent and the volume of forest growth was 380 percent greater than it had been in 1920." The greatest gains have been seen on the East Coast (with average volumes of wood per acre almost doubling since the '50s) which was the area most heavily logged by European settlers beginning in the 1600s, soon after their arrival. "
Well, but what about Europe? Not so much, once again, you see by the year 1900 most of Europe's forests were almost completely wiped out, however, the Europeans then began a massive reforestation program that has spanned over 100 years.
So much so that now, in fact, Europe has far more forests than it did a century ago.
Deforestation as a result of global warming is pure myth, and even while the government and Nasa insist that deforestation is occurring--they will simultaneously tell you that increased carbon output is making the earth warmer and greener: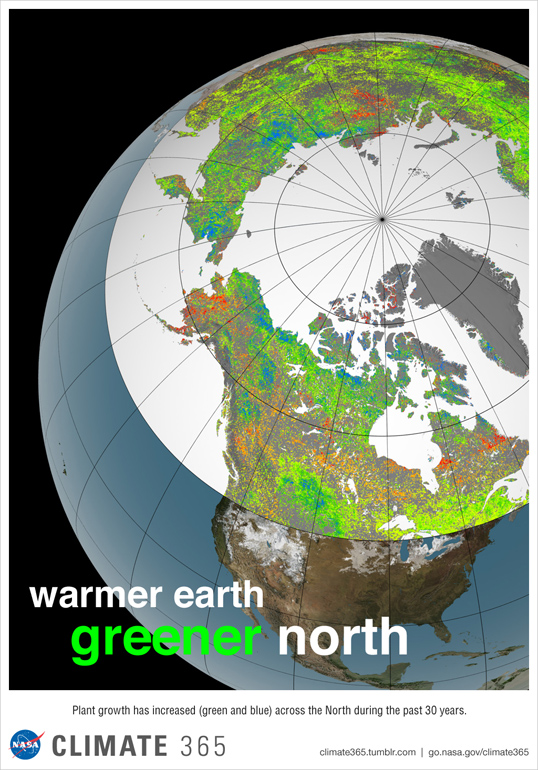 See what we mean? How can the Earth be greener in the more developed north while deforestation as a result of climate change is simultaneously wrecking everything? 
When facts surrounding a particular argument become juxtaposed, the argument must be flawed.
Myth ( 8) Mountain Glaciers are melting due to global warming
 The media has always turned to ever-shifting mountain glaciers to point out the horrors of global warming.
In our particular case, CNN gives as its evidence of withering mountain glaciers across the planet, only one example, that being Mount Kilimanjaro in Africa.
Studies, they say, have indicated that Kilimanjaro's glaciers will be all but melted away in the next 15 years.
But, is is true? Well, renowned America climatologist Lonnie Thompson stated in 2002 that Kilimanjaro's glacier would be melted by 2015.  Unfortunately, at least for the proselytizing warmers, Kilimanjaro's glacier is still alive and doing quite well, with no effective destabilization occurring.
According to international travel website  ETN,  "12 years down the lane now, local ecologists who have been monitoring the trend say the ice, in fact, remains steady and it is nowhere near extinction. "
"There are several ongoing studies, but preliminary findings show that the ice is nowhere near melting," said Mount Kilimanjaro National Park (KINAPA)'s Ecologist, Imani Kikoti.
So, once again, even the most renowned climatological prognostification's end up being wrong and without fail.
 But, what of the world's other glaciers? Perhaps even more interesting might be the fact that the world's glaciers rather than retreating, are actually expanding in numerous cases.
Asia's glaciers, in a 2014 report titled "Why Asia's Glaciers are Mysteriously Expanding," are actually increasing in size. The report from LiveScience emits a tone of complete bafflement that the second highest peak on the planet is actually gaining ice, despite hypothesized global warming across the globe.
In another report from CNS News in 2014, we find that glaciers in the Himalaya's are also stable, "They're Not Melting."
In fact, most of the claims of glacial melting were released in the already proven fraudulent IPCC report from 2010. Where the world was effectively misled on glacial melting. On the contrary, in fact, nearly all of the world's  glaciers are actually growing rather than retreating.
There is no massive glacial die-off occurring on planet Earth, the entire argument is based on a meticulously flawed report filed in 2010, and later proven to be fraudulent.
 Myth (9) Climate Change is Endangering Species
From polar bears to reptiles and birds, global warming is "wreaking havoc" on the world's species, states the media.
But, is this claim true?  Not according to Danish researchers who found a record number of new species in 2014.
In fact, the Danes actually counted over 140 new species. So, doesn't finding record numbers of new species effectively dampen the claims of climate alarmists? But, it's not just the Danes, the world's researchers are reporting a 3,000% increase in the overall numbers of species:
"The BBC reports on a new study that suggests many European species of animals and birds have seen their numbers rebound dramatically. And that recovery has been going on for quite some time. In fact, many of the species studied had seen their numbers increase by as much as 3,000 percent since the 1960s." 
Indeed, even the most famous of global warming victim-critters, the polar bear, has become so populous in Canada that overpopulation is becoming an actual problem. So, if animal populations are not being wiped out, then why all the media reports to the contrary? The original co-founder of  Greenpeace has the answer, in this Climate Depot article: 
Greenpeace Co-Founder and ecologist Dr. Patrick Moore, slammed a new study claiming a dramatic and irreversible mass species extinction. "This [journal Nature] article should never have made it through the peer-review process," Moore toldClimate Depot in an exclusive interview. "The fact that the study did make it through peer-review indicates that the peer-review process has become corrupted."  
Moore, who also takes issue with the climate change alarmists, asserts that the animal mass extinction stories are simply not true science and further states:
"Since species extinction became a broad social concern, coinciding with the extinction of the passenger pigeon, we have done a pretty good job of preventing species extinctions."
There are no mass extinctions taking place on planet Earth, period.
Myth (10) Animal Migrations have changed due to global warming
In CNN's story, animal migrations are changing due to what they infer as increasing temperatures across the planet.
In this particular account from CNN, the media tosses out the "Icelandic black-tailed godwit" as a creature being forced to seek haven elsewhere, due to a warming planet.
 However, most of the true scientific data points to the fact that global temperatures haven't increased in over 18 years, so if indeed we were to accept the difficult to prove argument that migratory fowl routes have changed to some degree over the last 20 years, then what might be the actual reason?
The answer to the question tends to be more compelling than any treatise on climate change, and it involves something unique only to migratory birds. The Earth's magnetic poles have been rapidly changing over the past twenty years, and it's these magnetic poles which actually aid migratory fowl while navigating towards their migrating grounds.
But how?
According to the UK Daily Mail, researchers in Frankfurt, Germany were able to prove, in 2010, that migratory birds can actually see the earth's magnetic fields, and use the fields as a primary navigation aid, when migrating.
In their research, the scientists were able to prove that migratory birds can visually detect the Earth's magnetic fields in the form of both light and dark shadings that each can visually detect, as a result of receptor cells present in one of their eyes.
These light and dark shadings representing the Earth's magnetic fields, are what navigate the bird to their genetically predisposed location of breeding.
So, what affect does this have on our story?
Over the last twenty years, scientists have detected an accelerated change in the earth's magnetic field, which is now shifting magnetic North at a pace of as much as 35 miles per year, towards the East.
"Magnetic north is shifting all the time; it's a continuous process, not an event," said Jeffrey Love, a geophysicist with the U.S. Geological Survey Geomagnetism Program, based in Golden, Colo. Over the past century, the shift has been increasing in speed.
It went from creeping as slow as nine miles per year in the early 1900s to more than 35 miles per year in the 2000s. However, that acceleration also is part of natural cycle, Love said. "In 10 to 20 years from now, it might be slowing down," he said. Currently, the shift creates about a one-degree difference in compass direction every five years, Love said.
Accordingly, the Federal Aviation Administration evaluates airport runway numbers every five years, said Kathleen Bergen, FAA spokeswoman.  
So, could this not be the more likely culprit in establishing the answer as to why bird migratory routes are changing?
Migratory routes are not changing due to some manufactured connection to global warming, the more likely argument points to significant and natural changes in the Earth's magnetic fields and the altered position of magnetic North, which migratory birds use to navigate.
 Myth (11) Extreme Weather due to climate change is producing more tropical storms and hurricanes
The mythic gospel of global warming has been trying to convince various industry groups,  from insurance companies to banks, that global warming has increased incidents of violent storms and extreme weather, over the past several years, and these incidents will continue to increase every year.
But, is it true? Um...not so much, in fact, it's the exact opposite.
One look at the following graphic, from none other than the Washington Post, tells a decidedly different story altogether:
In direct opposition to the warmers gospel, incidents of violent storms like tornadoes have decreased markedly over the past five years.
But, it's not just tornadoes, that are becoming less numerous, it's also hurricanes:
Both the frequency and intensity of US hurricanes have dropped gong all the way back to 1880.
Moreover, according to Forbes, the decreasing number of hurricanes is setting a record for an actual lack of violent weather:
"New Records for Lack of Hurricanes Hurricane inactivity is also setting all-time records.
The United States is undergoing its longest stretch in recorded history without a major hurricane strike, with each passing day extending the unprecedented lack of severe hurricanes, according to National Oceanic and Atmospheric Administration data.
 Although global warming activists and their media allies often claim global warming is making extreme weather events more frequent and severe, virtually all extreme weather events are becoming less frequent and less severe as our planet gradually warms."
 So, if we are suffering from extraordinary increases in both storms and storm intensity, then where is the data to support these facts? The real answer is simply that the data is non-existent because the commentary is both flawed and fictional.
 There are no increases in incidents of violent storms, to the contrary, there are less violent storms now than ever
A Useful Lie
So, one might ask the question as to why are our leaders within the US government and the United Nations continually trying to force an argument based upon facts that either do not exist or are completely flawed?
The truest answer to this question comes to us from none other than an Australian government insider, named Maurice Newman, who is a chief advisor to Australian Prime Minister Tony Abbot.
Mr. Newman  stated the following, in answer to this most vital of questions, as published in the Sydney Morning Herald:
 "It's a well-kept secret, but 95 per cent of the climate models we are told prove the link between human CO₂ emissions and catastrophic global warming have been found to be in error.
"It's not surprising."
"Why then, with such little evidence, does the UN insist the world spend hundreds of billions of dollars a year on futile climate change policies? Perhaps Christiana Figueres, executive secretary of the UN's framework on climate change, has the answer?" "Global warming is a "hook" to install a new world order.
"Figueres is on record saying democracy is a poor political system for fighting global warming. Communist China, she says, is the best model."
"This is not about facts or logic.  It's about a new world order under the control of the UN."
As fantastic as it may seem, the elites of the world are undoubtedly joining up with the UN to propagate what has become one of the grandest government-sponsored hoaxes in world history.
Now, a top-ranking Australian official (and insider)  has come out and stated the facts about what the UN and its various sub-governmental leaders are trying to do, and our US President is one of the top offenders.
Even the Pope himself, in his world climate summit, has sought to now institutionalize the cult-of-climate change as a bonafide political belief system dependent solely on bureaucratic faith.  
 The question, now,  is one of understanding that if these facts as we present are indeed true, and we have proven that they are, then where in the world will all of these climate falsehoods, eventually lead?
 Sources:
CNN:  "New Temperature Records Highlight Global Warming's Continued Rise."
NOAA:  Selected Significant Climate Anomalies and Events March 2015
Climate Depot: Global Satellite Temperatures Fall Again in March (2015)
Wattsupwith that Blog: Global Sea Ice Area (National Snow and Ice Data Center)
Daily Tech
CR News: Fraudulent Nasa Study Ignores  Huge Gains in Antarctic Sea Ice
UK Guardian: Antarctica's Increasing Sea Ice Restricting Access to Research Stations
Graphic: NOAA: Chart of Drought Conditions from 1895 to 2011
Nature: Little Change in Drought Conditions Over the Past 60 years
Nasa: Global Climate Change: Earth Warmer and Greener 
The Daily Caller: Global Warming Not Causing More Wildfires
 Nasa:  Earth's Ocean Abyss has not Warmed
News of Interest: Coral Reefs not Endangered by Global Warming
USDA: Food Price Outlook 2015
WebMD: Spring Allergy Outlook
Skeptical Science: Bombshell from Bristol
Mother Nature Network: More Trees than 100 Hundred Years Ago
Nasa: Warmer Earth, Greener North
ETN: Kilimanjaro Glaciers Nowhere Near Extinction
LiveScience: Asia's Glaciers are Mysteriously Expanding
CNS News: Himalayan Glaciers Stable
IceageNow: World Misled over Himalayan Glacier Melt
Wattsupwithat: Declining Bird Populations Another False Global Warming Alarm
Wattsupwithat: Polar Bears Becoming a Problem
Climate Depot: Greenpeace Founder Slams Species Extinction Scare Study
UK Daily Mail: Birds Navigate by Seeing Earth's Magnetic Field
Liveleak: Magnetic Pole Now moving 40 Miles Per Year
Washington Post: US Tornado Numbers Among Lowest in Recorded History
1 comment
User ratings
5 star:

(1)
4 star:

(0)
3 star:

(0)
2 star:

(0)
1 star:

(0)
Comment
from:
john Hamann
[Visitor]
TThefacts are strong for those who truly seek the truth and not merely power.
05/09/16 @ 00:56