The Hegelian Dialectic and the Cult of Climate Change
February 18th, 2014
The Hegelian Dialectic and the Cult of Climate Change
Posted by:
Barry
Published on February 18th, 2014 @ 07:57:00 pm , using 2956 words,
Conservative Refocus
By Barry Secrest
Despite all of the problems associated with Obamacare, a $ 17 trillion dollar deficit, the mass of gainfully unemployed Americans, and myriad other concerns which have largely gone unnoticed by US leadership, in recent days the Obama regime has renewed its climate change rhetoric, and in the aftermath of one of the worst winter storms to hit the US, in at least a decade.
President Obama, in a bold effort to counter the snowpocalypse, which was unfolding on the East Coast, braved the icy runways of DC  and flew out west to California in order to offer up the (sort of) "Great California drought" as incontrovertible evidence of global warming.
However, as with all things Climate Change, the drought out west owes much more of its angst to environmentalist whackos than any actual drought.
IBD: California's Drought Isn't Due To Global Warming, But Politics
"Environmental special interests managed to dismantle the system [ of aqueducts for agriculture] by diverting water meant for farms to pet projects, such as saving delta smelt, a baitfish. That move forced the flushing of 3 million acre-feet of water originally slated for the Central Valley into the ocean over the past five years."
But, the President chose to ignore the actual facts because facts tend to bedevil the required climate change stigmata which naturally feeds into the Regime's overall agenda.
Stigmata
Moreover, in the Christian faith, stigmata refers to the five holy wounds originally suffered by Christ during the crucifixion, which Christ still bears to this day, according to the scriptures.
These marks or wounds bear evidence of Christ's crucifixion, but can also be experienced by normal everyday individuals,  according to thousands of documented cases throughout history.
These Individuals are referred to as stigmatics, and since climate change ostensibly requires enormous amounts of both faith and a system of beliefs not clearly in evidence, the Cult of Climate Change finds itself forever looking for the wounds of their belief system even upon the earth itself, which in climate change parlance, is the penultimate God of their cult of worship that one dare not ever challenge nor doubt.
These earth wounds of stigmata are evidenced by the merest of deviations or weather oscillations, from what is more often than not considered the norm, which leaves most climate cultists forever enmeshed within an environment suffused with stigmata.
Indeed, the President himself even proposed a Baal enticing sacrifice of $1 billion dollars (from other people's money) in order to placate the angry Gods of climate dysfunction currently residing in stigmata-rich California:
"Obama would spend the $1 billion to 'better understand the projected impacts of climate change,' encourage local action to reduce future risk, and fund technology and infrastructure that will be more resilient to climate change, according to briefing documents released by the White House."~ Washington Post
Fellow stigmatic and Secretary of State John Kerry, slightly later,  further cited global climate change as  "a weapon of mass destruction"  in a visit with the Indonesian government. Kerry went on to damn all the unbelievers of climate change, by stating "everyone and every country must take responsibility and act immediately."
"We simply don't have time to let a few loud interest groups hijack the climate conversation,"
Kerry stated, referring to what he indicated as "big companies" who "don't want to change and spend a lot of money."
Offerings
Granted, we knew the "M" word (meaning Money) would come to play at some point but rarely do climate change cultists come right out with their intent quite so avidly.  However, unlike most cults, rather than passing a glistening offering plate around, the Government Warming Cult has in mind a far different set of collection criteria, belonging mostly within the confiscation realm.
But why is it so important to pursue man-made climate correction, when few can truthfully agree that anthropogenic global warming actually exists? Despite all of the rhetoric, world temperatures have, in fact,  gone unchanged for the last 17 years.
So why are the powers that be so cultishly insistent about climate change?
It's all about control.
The Hegelian Dialectic
It's a concept referred to as the "Hegelian Dialectic" and, historically speaking, it's been around for quite some time, now. In 1821, George W. F. Hegel fomulated a concept by which a difference between opposing arguments could be mitigated by way of synthesis. It's the particular brand of synthesis which authoritarian governments the world over have utilized in order to achieve ends, more often than not, hardly in concert with those being governed.
For instance, the nexus of the Cult of Climate Change debate can easily be found within the Hegelian Dialectic in the following way:

It begins as a critical process in which the ruling elite create a problem, in this case,  climate change and temperature increases the world over, then, they anticipate in advance the population's reaction to this particular problem, by conditioning the masses that change is needed in order to avert an impending crisis.
Climate Chains
In this case, the change being sought after falls under five all-encompassing categories:
-Reducing vehicle emissions
-Advancing electric power grids,
-Capturing and storing carbon emissions
-Gathering greenhouse gas data
-Building efficiencies."
It's the all-encompassing methodology of achieving these particular ends that lead us into trouble, in that at least partial control over entire industries, is the initial goal being stealthily sought.
When the people are properly conditioned, eventually, the ultimate agenda item by the ruling elite is then presented as a solution. However, the solution isn't intended (nor will it solve) the original problem, but rather serve as the basis for a brand new problem often exacerbating the original crisis, as certified by the ruling class.
You see, taking the idea a step further, despite the specified agenda items eventually being achieved, the idea of an end to climate change can never actually be realized, simply due to the fact that the climate has always been in a constant state of flux, throughout history. This is due largely, if not mostly, to ever-changing solar cycles which have always modulated in intensity.
Nor is it a matter belonging solely to scientific eggheads, as they will invariably argue, but rather, it's simply a matter of applied common sense. Most meteorologists can't facilitate an accurate forecast beyond about 7 days, if even that long, so how can the Global Warming Cult be so outrageously certain of climate predictions spanning over twenty years?
So, the end will never be ultimately realized; however, the current fixes will prove to be a source of political irritation and monetary hardship  in the future, which will automatically require further meddling by the ruling government, which will forever be seeking a solution to a problem, which they themselves will have ultimately created in the first place.
"A crisis is a terrible thing to waste"~Rahm Emanuel, former White House Chief of Staff for Barack Obama
And there you have the emphasis on radical change as prefaced by the global warming cause [hoax], which is but one of many crises having been exploited by the governing establishment class.
The Hegelian Dialectic & The Healthcare "Crisis" of Control
We were in "Big Trouble" when it came to healthcare spending, stated both Obama and the mainstream media, with regard to the manufactured  US healthcare spending "crisis."
It was long past time for things to change, murmured the Democrats in responsive unison, and so in 2009, Obama, coupled with a government --then-- completely dominated by Progressive Democrats,  set out to change America's bloated health care system so that "everyone" would have access to quality medical care and so that it would be far cheaper and far more equitable in the future.
However, what they failed to mention, while spouting numbers designed to petrify the average low-information voter, was a massive disparity in logic so terribly stunning that it would have buried their collective argument before it ever got off the ground.
In 2012, America spent 17.9 % of  its total US Gross Domestic Product (GDP) on healthcare, but, what's left out is the fact that also in 2012, America spent a whopping 26.9 % of the total US GDP on Federal taxes.
So, is the question one of your government versus your life?
Bringing in the Hegelian Dialectic, once again, the ruling authorities indicated that health care spending was a crisis and that further, if the crisis wasn't immediately averted, prices would spiral out of control so horribly that health care would eventually collapse in, upon itself.
No mention was made of America's revenue spending crisis, despite the fact that Americans were spending 50% more on federal taxes than their own healthcare.
So, here once again the governing elite create a health spending problem, [30 million uninsured and lowering premiums by $2,500 per year] than anticipate in advance the population's reaction to the problem, then condition the voters that health care change is needed to avert the crisis. Once the electorate is mostly conditioned, nationalized health care was presented as the ultimate solution.
However, the solution isn't intended (nor will it solve) the original problem, but rather serve as the basis for many brand new problems which have hyper-exacerbated the original crisis, as originally manufactured.
The brand new problems, as evidenced four years later are as immediately profligate as the stars in the nighttime sky, in that not only have health premiums skyrocketed by $7,500 per year, on average, the original 30 million uninsureds will remain uninsured far into the future, and now most individual's deductibles are so high, that many simply cannot afford to obtain care.  Indeed, now the system has been turned upside down, so that the original costs have tripled, and we are now much farther away from the original problem than we were when the solution was originally rolled out.
In the end, it was all about completely controlling America's healthcare system.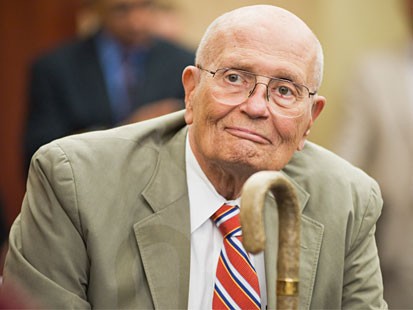 "It takes a long time to do the necessary administrative steps that have to be taken to put the legislation together to control the people."~Rep. John Dingell (D-MI) on the Affordable Health Act, 3/22/10
In essence, a perfectly executed Hegelian Dialectic agenda item, as initiated by the governing elites, dually noting that the ruling class, themselves, are not strictly subject to the Affordable Health Act, even while most of their premiums are paid by the government.
Meanwhile,  the media, while ignoring America's  most blatant issues, will continue posting story after story telling us how horrid both our healthcare costs are and our care is, especially when compared to most 2nd and 3rd world nations, yet they will never ask the most obvious question, that being:
"Is it that were we Americans are paying too much or is it that most other socialized medicine countries are paying too little?"
That, in fact, should have been the first question, shouldn't it?
So, if indeed, the 17.9% figure is far too much of an expenditure to keep Americans healthy and alive, then how is it that a massive 26.9% destined to fund an admittedly bloated bureaucracy, is well beyond fine and dandy, and perhaps should even be increased?
US Taxation Crisis?
Despite this admittedly blatant disparity in logic, the question as to why government outlays are not costing Americans too much, will continue to escape the media's overall propagandizing efforts, and yet, while the media is well beyond quick in pointing out US healthcare costs as compared to other nations, how about US taxation, as compared to other nations?
Top Four Most Populous Countries in Government Tax Revenue compared to population

#

Country

2012
Population

2012 Revenue

1

1.34 Billion

$1.9 Trillion

2

1.2 Billion

$173.6 Billion

3

314 Million

$2.5 Trillion

4

248 Million

$134 Billion
While the US media will constantly trot out every available measure known to man, when it comes to the US versus the world, they never seem to bring up taxes, so why is that?
The answer to that particular question lies firmly wrapped within an easily explainable irony. It's because the US taxes wealth at a rate so dizzying, even Midas himself would blush.
If we add the world's other top (3) most populated countries of China, India,  and Indonesia, with a total combined population of 2.768 Billion people,  as opposed to the US population of 314 million, total tax revenues of almost half of the world's population, would still not come even close to US tax revenues, with a total of $2.276 trillion for these three most populous countries against a US total of $ 2.5 trillion, for 2012.
So, does America actually have a health care crisis or is it that America actually has a taxation crisis?
The Other Side of The Evidence
While the Hegelian Dialectic has been extraordinarily overused by the Obama regime, and across a wide array of fronts (some successful and some not so much) the nexus of this information  outlining the use of Hegel's principles by those currently in power, can easily be seen in our recent report on Arctic and Antarctic sea ice.
In order for the cult of climate change to prove it's rather foggy points, they will more often than not travel to extremes in both geography and climate, in order to make their veiled Hegelian arguments, and in places not so easily sojourned by average Americans.
Should we think this just an accident?
In order to prove the tenants of their global warming belief system, the cult of climate change must have its stigmata easily viewable by virtually everyone. This is why we will both hear and see constant reports on either vanishing sea ice or increased poll temperatures, but only when a scintilla of evidence is found which proves that their beliefs are real, working in much the same way as finding an image of the Virgin Mary artfully emblazoned on a slice of wheat toast.
The following will point to those other facts as constantly left out of the evidence.
There have been dramatic increases in Antarctic sea ice extent, as reported by the National Sea Ice data Center, which indicated the following:
"Antarctic sea ice extent continues to track very high in January, reaching the second-highest monthly extent in the 36-year satellite monitoring record. "
As shown within the above graphic, sea ice extent can easily be seen to increase in most areas, while waning somewhat in others, which is a normal oscillation.
While we have heard numerous conflicting stories on Arctic sea ice and the apparent loss of volume,  as increasingly stipulated by the global warming crowd, the actual facts contradict that which the warmers have been arguing.
According to the
National Snow & Ice Data Cente

r
(NSIDC), what we've been hearing and what is truly happening, comes across as a tale of two data sets.
In fact, when we look at data which is not readily apparent, that being Arctic sea ice thickness, a set of contraindicating facts comes to the forefront.  The principal issue missing appears to be one of sea ice thickness as it relates to overall volume or extent.
In the following diagrams, we can see a considerable increase in thickness and the overall area of Arctic sea ice, as compared to recent years:
If Arctic sea ice is on the wane, then why is it considerably thicker than in years past?
According to the NSIDC, the ice is:
While current Arctic temperatures have been temporarily higher than average in February, a thing which the warmers have been touting, the overall data sets suggest something quite the opposite from recent overall temperature changes.
"Antarctic sea ice remains significantly more extensive than average."
According to the NSIDC:
"The retention of more sea ice in September 2013 has increased the overall thickness and volume of the ice pack compared to recent years. Antarctic sea ice remains significantly more extensive than average."
Not only that, when we view the actual extent of sea ice, as compared to historical averages, another more telling fact comes into play in which we see only minor variations in ice extent, while still noting the fact that overall the ice is far thicker.
More from the NSIDC:
While satellite observations have shown a decline in Arctic Ocean sea ice extent since the late 1970s, sea ice is highly mobile, and a decrease in extent does not necessarily imply a corresponding decrease in ice volume. Observations of thickness (which allows calculation of volume) have been limited, making it difficult to estimate sea ice volume trends. The European Space Agency (ESA) CryoSat satellite was launched in October 2010 and has enabled estimates of sea ice thickness and volume for the last three years.
Preliminary measurements from CryoSat show that the volume of Arctic sea ice in autumn 2013 was about 50% higher than in the autumn of 2012. In October 2013, CryoSat measured approximately 9,000 cubic kilometers (approximately 2,200 cubic miles) of sea ice compared to 6,000 cubic kilometers (approximately 1,400 cubic miles) in October 2012.
About 90% of the increase in volume between the two years is due to the retention of thick, multiyear ice around Northern Greenland and the Canadian Archipelago. However, this apparent recovery in ice volume should be considered in a long-term context.
So,  while the Cult of Climate Change will inevitably cherry-pick overall data, the real and true facts are in direct opposition to that which the warmers try to constantly characterize, concerning both poles being increasingly devoid of ice.
Nothing, in fact,  could be further from the truth.
Which is why the wise of America should always be watching for the next Hegelian advantage being sought by those in jealous power.  Over the past 75 years of US History,  if one but studies very closely, he or she will most likely find other extreme excursions, by those in power, into the principles as laid out by the Hegelian Dialectic and penultimately for nothing less than control.

NSIDC scientists provide Arctic Sea Ice News & Analysis, with partial support from NASA.
No feedback yet