February 23rd, 2013
Posted by:
Barry
Published on February 23rd, 2013 @ 04:49:55 pm , using 2914 words,
Conservative Refocus
By Barry Secrest
While President Obama continues his prolific efforts at spending America into third-world oblivion, and the Republicans appear almost ready to throw in the proverbial hat, there is one prominent individual, in particular, who can be depended upon to confidently recast the deficit argument into the fairy-light of radical ridiculosity.
That individual is none other than Left-Wing Economist Paul Krugman, a man who has never seen a government dollar go to waste, and who insistently wishes for an impending extra-terrestrial attack on earth, so that Obama can spend America into extra-galactic oblivion.
In his latest article, Krugman can be heard to be insistent on kicking the debt-can down the road, over the cliff, and into the dark abyss of shredded-up currencies, and perhaps even well beyond the boundaries of the galaxy, since the stupendous amount of $ 17 trillion just hasn't quite done the trick for the US economy as of yet.
The illustrious Krugman begins by citing Speaker of the House John Boehner:
John Boehner, the speaker of the House, claims to be exasperated. "At some point, Washington has to deal with its spending problem," he said Wednesday. "I've watched them kick this can down the road for 22 years since I've been here. I've had enough of it. It's time to act."

Actually, Mr. Boehner needs to refresh his memory. During the first decade of his time in Congress, (Early 1990's) the U.S. government was doing just fine on the fiscal front. In particular, the ratio of federal debt to G.D.P. was a third lower when Bill Clinton left office than it was when he came in. It was only when George W. Bush arrived and squandered the Clinton surplus on tax cuts and unfunded wars that the budget outlook began deteriorating again.
Now here is where the fallacies begin in earnest, for Krugman, and from there they never seem to stop, especially for a Nobel Prize winning Left-Wing anti-capitalist. Krugman begins by hearkening all the way back to Boehner's career while Clinton was in office in the early nineties and onward. However, what Krugman leaves out is the history of this period in the US. You see, the reason for that decade of fiscal balance was due to the Republican's "Contract with America," where the US government was shrunk down to size, the welfare state was largely done away with, and individual responsibility became the hallmark of governance brought under control.
The important thing to remember? Congress holds the purse strings, referring to the bicameral chambers of the Senate and the House, which have remained split, since the 2010 election. In essence, in the decade of the nineties, Clinton's comparably moderate hands were essentially tied in what he could spend, by Congress, hence Krugman's delight at naming Clinton as the budgetary savior, while forgetting the essential truths at play.
A Bit of History
At the time, it was 1994 when a debt-concerned America moved control of both the House and the Senate over to the Republican Party, and it was here that fiscal sanity was returned to America, at least for a time. The budget balancing under the Republican controlled chambers would continue for a decade, as the party of limited government would remain in control. It wasn't until 2001 when a Senate Republican would flee to the Democrat party that the Senate would come back under Democrat control, but only for a short time.
On September 11, 2001, America's walls would be breeched for the first time in the modern era by a group of religious radicals dedicated to the destruction of western civilization and its leader, the US. It was also here that America would first come head-to-head with the anti-Christ forces of fundamentalist Islam, conflict in which Krugman only seems to find contemptuousness towards the US, and for reasons already enumerated.
In 2004, control would revert back over to the Republicans. In fact, not until January 2007 would control go fully over to the Left-Wing of American politics, and this is where America's budgetary nightmare would begin, and in spades, as referenced in the below chart.
Note the spike beginning in 2007:
What's interesting is Krugman's use of the word "unfunded wars," above, as if anything that Obama and the Democrats have been doing "is funded?"
In fact, the problem is the yearly aggregation of all of these deficits, not the yearly deficit itself. Indeed, at a certain point of running these annual deficits, as they continue to stack up year after year, the total build-up becomes untenable, which is the essential problem, and which is also where we find ourselves in the America of today--a problem which Obama and Leftist "experts" like Krugman never seem to take into account.
Krugman haughtily continues:
But that's a secondary issue. The key point is this: While it's true that we will eventually need some combination of revenue increases and spending cuts to rein in the growth of U.S. government debt, now is very much not the time to act. Given the state we're in, it would be irresponsible and destructive not to kick that can down the road.
But, wait, Mr. Krugman. We have all been told by the mainstream media, and yourself, over the past 4 years that things are looking up, that the economy is improving and things will be right again very soon. Now, after the presidential election, the tune has seemingly become just a shade more realistic or should that be fatalistic?
Now you're telling us that things haven't really gotten better, despite all of the economic crowing in 2011 by the media, and we need to keep spending ourselves into just a little bit more of oblivion so things will then turn out, magically, just right?
Imagine that.
So, because these policies that Krugman has been espousing for the last four years have been working so infamously, we need to now hurry up and wait just a few years more to fix the problem. But, Krugman, dear man, what if the real problem is actually the fact that we're not doing anything to balance this outrageous debt in the first place, hmmm?
Krugman haltingly continues:
Start with a basic point: Slashing government spending destroys jobs and causes the economy to shrink.
This really isn't a debatable proposition at this point. The contractionary effects of fiscal austerity have been demonstrated by study after study and overwhelmingly confirmed by recent experience — for example, by the severe and continuing slump in Ireland, which was for a while touted as a shining example of responsible policy, or by the way the Cameron government's turn to austerity derailed recovery in Britain.
Indeed, that's not a basic point, but rather it's a fatally flawed point and is easily debatable. Government spending has to be taken from someone or something, Krugman, and if it's taken from someone, then that someone can no longer spend it. It it's taken from something, that being an bond invested in the government, then over 40% of the money taken now has to be repaid to the something or someone in the future, in the form of interest. With America's current load of debt, it becomes money that cannot be used by the very people who actually make the economy go forward.
In truth, if government spending is so absolutely fantastic, Krugman, then why don't we put everyone on unemployment and enjoy the crest of unbounded economic activity, that's sure to follow? Well, that's ridiculous, Krugman might say, and indeed, Krugman would be correct, which reflects the glaring flaw in his imperfect arguments.
Then Krugman trots out two Socialist forms of governments , in Ireland and Great Britain which have been overspending themselves to the same tune as Greece, and tells us that there spend-slashing is what has made their economies sink. However, how can you reach that particular conclusion?
Let's look below, and Behold! The period from 2002 onward represents a Left-Wing, Obama-style, aggregate of deficit spending, by a Leftist to be sure, that finally took its toll in 2009. While Krugman blames Cameron's reductions in deficit spending for the last several years, Krugman completely ignores the build-up of economic detritus that has been aggregated for the entire decade prior.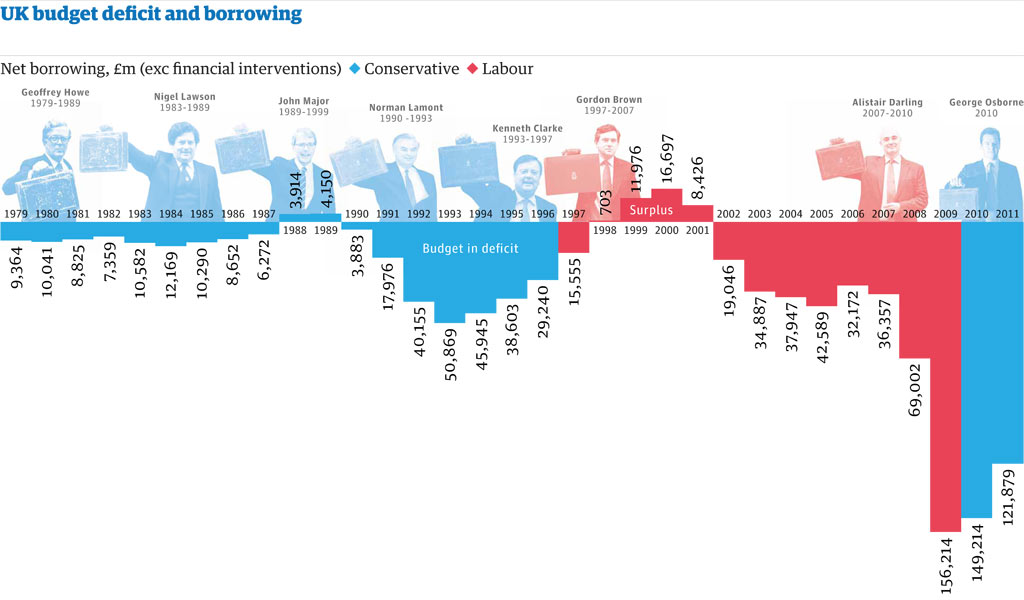 But what about Ireland, which is the other country that Krugman trots out? Oh, snap! Here, yet again, an aggregate of deficit spending that this tiny little economy could in no way overcome in just a few short years.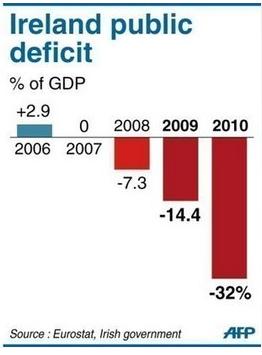 Krugman, dejectedly, continues:
Even Republicans admit, albeit selectively, that spending cuts hurt employment. Thus John McCain warned earlier this week that the defense cuts scheduled to happen under the budget sequester would cause the loss of a million jobs.
John McCain, Krugman? Seriously? The diminutive Ogre of the Tea Party's Hobbit-Land, as he calls it? Is he the absolute best that you can come up with on the Republican side, for God's sake? He can't even win a Presidential election against a radical Marxist in the Heart of world capitalism. The scrapings must be getting thin, indeed.
Krugman hesitantly continues:
It's true that Republicans often seem to believe in "weaponized Keynesianism," a doctrine under which military spending, and only military spending, creates jobs. But that is, of course, nonsense. By talking about job losses from defense cuts, the G.O.P. has already conceded the principle of the thing.
Weaponized Keynesianism? That would have to presuppose that the military makes money, somewhere along the way and it simply doesn't. Krugman is taking a government economic spending model called Keynesianism and slathering onto an entity that simply has no tangible way to produce an income, thus encompassing a sort of one-way military economy. Instead of "weaponized Keynesianism," lets try "weaponized imbecilism" which is apparently at the heart of Ole' Krugman's US economy-shattering attitude.
That dog simply won't hunt, Krugman. The military is not a micro-economy, although, that academian-acid you're hitting must be some pretty good stuff, I must point out.
Krugman woozily, continues:
Still, won't spending cuts (or tax increases) cost jobs whenever they take place, so we might as well bite the bullet now? The answer is no — given the state of our economy, this is a uniquely bad time for austerity.
As if there is a good time to throw-up, Krugman? In fact, austerity measures are undertaken by a State to avert an economic disaster, slated to happen somewhere down the road, you know, the road we're kicking the can down. If the economy has a stomach ache because of something that it has consumed which is causing extreme discomfort to that particular economy, then the economy needs to in essense, throw-up, and get whatever's causing the economic bellyache to go away.
Now, while throwing up isn't a pleasant thing, it's much better to take that little bit of discomfort now, rather than to allow whatever is hurting the economic body, to run its course and make the economy septic after being allowed to be absorbed throughout the entire body economic. Never mind what eventually comes out the other end of that same economy, which just so happens to be what we are only midly beginning to see right now in comparison to what may come.
Krugman grimaces onward:
One way to see this is to compare today's economic situation with the environment prevailing during an earlier round of defense cuts: the big winding down of military spending in the late 1980s and early 1990s, following the end of the cold war. Those spending cuts destroyed jobs, too, with especially severe consequences in places like southern California that relied heavily on defense contracts. At the national level, however, the effects were softened by monetary policy: the Federal Reserve cut interest rates more or less in tandem with the spending cuts, helping to boost private spending and minimize the overall adverse effect.
But wait, Krugman, didn't you, just a bit earlier, crow about how the decade of nineties was the greatest thing since Jiffy peanut butter? You know, while your greatest American hero, Bill Clinton, had his hand firmly on the tiller, and not a few other things , I might add? Wait, I shall go and fetch it for you...and voila' from just a few paragraphs up:
During the first decade of his time in Congress,(beginning in 1991) the U.S. government was doing just fine on the fiscal front. In particular, the ratio of federal debt to G.D.P. was a third lower when Bill Clinton left office than it was when he came in.
Okay, so now we all are confused Mr. Krugman.
In the first part you painted the decade of the nineties as the most wonderful time of the years. Now you're telling us it wasn't, except for an increase in private spending? That's not Keynesianism, that's Reaganism, and we all know how you feel about Reagan! Government spending is the thing you've been keying on throughout this entire article, especially when you continually bring up Keynesianism, so what gives, exactly?
Maybe it's actually you, Sir, who are confused.
Krugman warily continues:
Today, by contrast, we're still living in the aftermath of the worst financial crisis since the Great Depression, and the Fed, in its effort to fight the slump, has already cut interest rates as far as it can — basically to zero. So the Fed can't blunt the job-destroying effects of spending cuts, which would hit with full force.

The point, again, is that now is very much not the time to act; fiscal austerity should wait until the economy has recovered, and the Fed can once again cushion the impact.
Ah, but here, you see, the Fed has a bit of a problem. If interest rates naturally rise, ahead of the US Treasury's short-term treasury bonds, and eventually long-term bonds, then bond interest yields will be forced to rise also, over time. What if the markets dictate an interest rate rise ahead of the treasury's artificially set levels? Then, we could have what is referred to as a 'treasury bond bubble.'
In order to set treasuries at a level competitive with the markets, in this case, the interest rates that the US pays in debt could quadruple over time, essentially forcing the US into paying all of it tax revenue in bond debt, at some point.
Now, we all know what that means, right? The longer we wait to fix the problem, the worse these eventualities can and will become.
Krugman plows forward:
But aren't we facing a fiscal crisis? No, not at all. The federal government can borrow more cheaply than at almost any point in history, and medium-term forecasts, like the 10-year projections released Tuesday by the Congressional Budget Office, are distinctly not alarming. Yes, there's a long-term fiscal problem, but it's not urgent that we resolve that long-term problem right now. The alleged fiscal crisis exists only in the minds of Beltway insiders.
Indeed, America's financial security ratings have already dropped to an AA level for the first time in the nation's history. Is not that, alone, enough to say that America is in the midst of a financial crisis? But then, Krugman goes on to state that there is a problem, but it's not one that needs to be corrected anytime soon. In essence, if you're walking along on set of railroad tracks and a train rounds the corner, when should you step off? Should you immediately exit the tracks upon seeing the danger? Or, should you wait until the train is about to completely obliterate you, efforting a daring escape at the last possible moment?
Maybe Krugman just likes living dangerously....but what if the train speeds up? What if your foot becomes caught in the track? What if you pass-out in the ensuing excitement and unexpectedly collapse on the tracks? Why wait for a better time when we may, in fact, be within that better time before everything begins collapsing all around us?
Who, in fact, could actually know the answer to this question?
Krugman stays on-track:
Still, even if we should put off spending cuts for now, wouldn't it be a good thing if our politicians could simultaneously agree on a long-term fiscal plan? Indeed, it would. It would also be a good thing if we had peace on earth and universal marital fidelity. In the real world, Republican senators are saying that the situation is desperate — but not desperate enough to justify even a penny in additional taxes. Do these sound like men ready and willing to reach a grand fiscal bargain?
But...even Krugman himself earlier writes that now would be a bad time to correct our government spending due to the bad economy. Hasn't every economist in the land, including the President, told us that raising taxes in a bad economy is a horribly bad thing to do? My, we seem to have a bit of quandary embedding itself throughout Mr. Krugman's assertively confused opinion.
But Krugman intrepidly circles back around:
Realistically, we're not going to resolve our long-run fiscal issues any time soon, which is O.K. — not ideal, but nothing terrible will happen if we don't fix everything this year. Meanwhile, we face the imminent threat of severe economic damage from short-term spending cuts.

So we should avoid that damage by kicking the can down the road. It's the responsible thing to do.
So, in essence, stay on the tracks, ignore the train hurtling towards us, FORWARD...to the culmination of Obama's transformation of Amerika, got it!
Next stop? Procrasti-Nation Station...where living dangerously and spending other people's money, namely our children and grandchildren's, becomes the national pastime...move over football.
"All Aboard!!!"
February 7th, 2013
Posted by:
Barry
Published on February 7th, 2013 @ 05:34:55 pm , using 4996 words,
Liberal, UK Elitecompoop Piers Morgan ran the following diatribe in numerous media venues on December 29. Below is the full column, unedited, and our response, integrated within, presented much like a conversation, as it turns out...
May 18th,2013 update:
From the UK Daily Mail and Conservative Refocus
Piers: I have fired guns only once in my life, on a stag party to the Czech capital Prague a few years ago when part of the itinerary included a trip to an indoor shooting range. For three hours, our group were let loose on everything from Magnum 45 handguns and Glock pistols, to high-powered 'sniper' rifles and pump-action shotguns It was controlled, legal, safe and undeniably exciting.
CR: Now, to start, the writer is perplexingly telling us that since he has shot and held a gun at least once in his life, this makes him qualified to speak out on gun issues, one supposes? But he is also telling us that, by virtue of his going on a "stag party," he is "one of the boys." Wonder if Piers has issues with regard to his apparently waning masculinity?
At any rate, one must also suppose, then, that in order for Piers to view himself "qualified" to speak out on any subject, he first must have experienced that particular subject on a first-hand basis. Be sure and pay close attention to the remainder of his shows, therefore. They (the shows) could, in fact, become rather fascinating for a change, on that basis alone.
Piers: But it also showed me, quite demonstrably, that guns are killing machines.
CR: Did you then kill someone while on the targeting range, Piers?
Shall we need to contact the authorities?
On that basis, any visit to just about any venue one could care to name, could also be firmly ensconced into the suppository of deadly destinations. From a visit to your local Chinese food restaurant, which is filled with any manner of sharp, cutting, slashing and flesh-cooking devices, to even your local car dealership, which is filled with massive, steel and plastic blunt trauma devices, just itching to inflict mayhem and death at the drop of a hat, or in this case, a foot. To even your village hardware store, a veritable cornucopia of possible killing devices.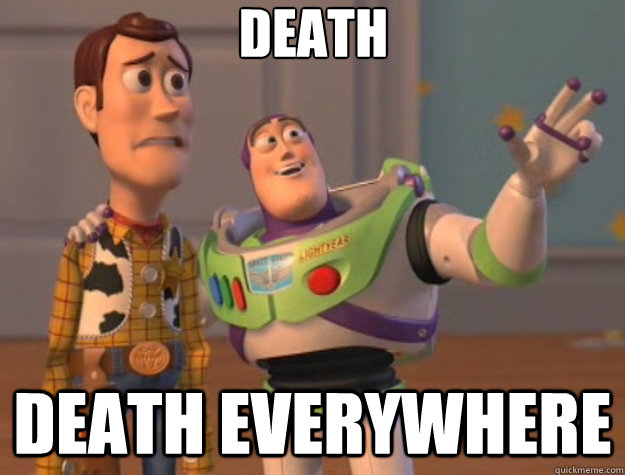 But let's not stop there, because virtually any and every residential building site is also fraught with the trappings of death, a dangerous world it is. Everywhere we look, as modern human beings the potential for death exists and always has. This is why training and knowledge with a healthy helping of common sense is so terribly important and always has been--a thing that most Liberals tend to either overlook or go completely bonkers over.
But at least we can see where Mr. Morgan is headed.
Piers: Rarely has the hideous effect of a gun been more acutely laid bare than at Sandy Hook elementary school in Newtown, Connecticut, two weeks ago – when a deranged young man called Adam Lanza murdered 20 schoolchildren aged six and seven, as well as six adults, in a sickening rampage.
CR: Keyword here being "Deranged"
Piers: The Sandy Hook massacre brought back such horribly vivid memories for me of Dunblane, the worst mass shooting in Britain in my lifetime I was editor of the Daily Mirror on that day back in 1996 and will never forget the appalling TV footage of those poor Scottish mothers sprinting to the small primary school, many already howling with anguish at the thought of what might have happened to their five-year-old children. It was a slaughter so senseless, so unspeakable, that it reduced even hard-bitten news reporters, including me, to tears.
CR: Now Piers is setting us all up for the punch by dissembling on what happened in his native country over 16 years ago, another tragedy by yet another deranged human being.
Piers: And as I watched the parents at Sandy Hook racing to try to find their children, I saw the same images, the same terror, that engulfed Dunblane. And I felt the same tears welling up.
Then, 16 five-year-old children were slain in their classroom. Now, 20 six- and seven-year-olds. Beautiful young lives snuffed out before they had a chance to fulfill any of their potential. It made me so gut-wrenchingly angry.
CR: It made me angry as well, along with 99% of the planet, so while Pier's point is well-taken and we now completely understand the fact the he is not some raving anti-social lunatic, let's get to the meat of his diatribe.
Piers: I have four children. And I still remember the blind terror I felt when I lost my son Stanley, then aged two, for half an hour at a cricket match on a field surrounded by a small running creek. I was sure he'd drowned. But I was lucky: he finally emerged from where he'd been hiding – big, cheeky grin intact.
CR: Well, if that had been my child, that "cheeky grin" would have been short-lived indeed. Hiding to the terror of parent in what could be a dangerous place only happened about once with any of my children, never to be repeated again. Nor did I consider the instances "cute," by the way.
Piers: Every parent has a similar story. To even try to conceive of how you would feel if your child was shot multiple times in the head by a Rambo madman at school is just impossible. I honestly don't know how you would ever carry on with life.
CR: Rambo madman? This guy was more of a Forest Gump madman than Rambo. Regardless, Piers is going just a bit far on the visual end of the spectrum, and yet, we all know that "a crisis is a terrible thing to waste" according to most Leftists....
Piers: But my anger turned to blind rage when I saw the reaction to this hideous massacre in America.
CR: Ahem...oh, on that we can both agree 100%, because the anti-gun nut-jobs were crawling out of the woodwork like hot-steel-eating termites on a search and destroy mission, even while we were simultaneously reading of a number of other assaults on children in other countries, by other means available.
Piers: Sales of the specific weapon used, an AR-15 military-style assault rifle, rocketed at gun stores all over America in the days following the Sandy Hook shooting.
CR: Because a number of fearful citizens wanted just a little more firepower for what they think might be coming in the near future, before it's too late. This, as the Leftists, with not a little help from the Republican Moderates, have all pushed the US over the brink into a fiscal nightmare that soon may spin dizzyingly out of control.
Piers: And the country's biggest gun supplier, Brownells, said it sold more high-capacity bullet magazines in three days than it normally did in three-and-a-half years. What is behind this apparently insane behaviour? The answer is, mainly, fear.
CR: Indeed, could that be the same fear that prompted numerous major civilian agency Departments of our Federal Government to purchase Geneva Convention outlawed hollow point bullets over the Summer, Piers?
-The Social Security Administration (SSA) confirms that it is purchasing 174 thousand rounds of hollow point bullets
Piers: The well-organised, richly funded, vociferous pro-gun lobby were straight out, on my CNN show and many other media outlets, declaring that the only way those schoolchildren would have survived is if their teachers had been armed.
CR: As opposed to the well-organized, richly funded, vociferous anti-gun lobby that also came straight out, including you, eh Mr. Piers? Oh, and by the way, did the pro-gun folks just walk up to your soundstage and plop right down, uninvited? Or, perhaps, you hand a hand in bringing them on for rating's sake?
Also, forgive me, but what is wrong with the point about some teachers being armed, because isn't it true? Or, do we also have a bunch of insane teachers running around...oh. Nevermind....
Piers: It's been their answer to every mass shooting. After the shootings at a cinema in Aurora, Colorado, in July – where 70 people were hit, the worst victim-count in such an incident in US history, and 12 people died – sales of guns in the state rose by a staggering 41 per cent in the following month as people bought into the theory that if everyone in the theatre had been armed too, they'd have stopped the shooter.
CR: Once again, in Aurora, we had another heavily disturbed individual who had repeatedly threatened others, still walking around while being protected by the very same Left that's now crying foul. And with regard to having an armed individual in the theater, the shooter probably would have been stopped when confronted with another armed individual, as in many other cases. But, why had not the exit been sealed? Was there a terrible security lapse at work, in this particular case, as with all?
Did you know, Piers, that the shooter was forced to drive much further away from his homeplace to his killing destination due to the fact that a closer theater permitted concealed-carry weaponry, a thing to be avoided by the criminal class?
Piers: Can you imagine the scene as 200 people pulled out guns and started blazing away in a dark theatre? The gun-lobby logic dictates that the only way to defend against gun criminals is for everyone else to have a gun, too. Teachers, nurses, clergymen, shop assistants, cinema usherettes – everyone must be armed.
CR: And if, indeed, they were, none of this probably would have happened, But no one has advocated for everyone to be armed. Simple hyperbole from the Left, yet again. What gun rights people have advocated for are willing individuals who have been properly trained, to be armed, in given instances.
In fact, something the media has not covered at all, was a rampage shooting that began in San Antonio on December the 17th, which was abruptly ended before it could be started by an off-duty Deputy who conceal-carried her weapon to the theater and dropped the deranged madman with one, non-fatal shot, while watching the movie, no less.
Piers: To me, this is a warped, twisted logic that bears no statistical analysis and makes no sense. Do you fight drug addiction with more cocaine?
CR: Oh, so now Piers is putting those unfortunate individuals addicted to drugs in the same column and comparing them to cold-blooded mass murderers?
Piers: Alcoholism with more Jack Daniel's?
CR: Does Betty Ford ring a bell? Who knew?
Piers: Of course not. But woe betide anyone who dares suggest this.
CR: Well, quite frankly you just did, Piers, but comparing drugs or alcohol abuse which are chemicals ingested to satisfy an addiction is a poor simile when compared to guns.
A gun is simply a tool used for either defense or hunting or military applications. If subverted, like numerous other tools including knives, cigarette lighters, and even automobiles, they can also be put to illegal purposes many and varied. Even money could be construed as tool to procure, which can also be subverted into nefarious purposes.
Shall we outlaw money as well, or perhaps that's on the way out too, eh Piers?
Piers: In the days following Sandy Hook, I interviewed a number of gun-rights representatives and grew increasingly furious as they trotted out these hackneyed old disingenuous lines.
CR: Well of course you grew furious. They didn't agree with your anti-gun views; don't you react similarly, no matter what the preface of disagreement, Piers?
Piers: Finally, I erupted at one of them, a man with the unfortunate name of Larry Pratt, who runs the Gun Owners of America lobbying group.
CR: Sounds like Mr. Pratt must have won the argument....well, let's take a look-see:
CR: Yep, he won....
'Piers: You,' I eventually declared, 'are an unbelievably stupid man.'
CR: Because you simply could not defeat his ideas in a public forum. Hey, I get mad too, but at Leftists like you, Piers, who want to outlaw every sharp corner in the universe, because corners can be dangerous and can kill and maim as well.
Piers: And that was the catalyst for the full wrath of the gun lobby to crash down on my British head A petition was created on an official White House website demanding my deportation for 'attacking the 2nd Amendment of the Constitution'. This, of course, is the one that alludes to an American's 'right to bear arms'.
CR: But, the 2nd amendment does not allude to a right to bear arms, it specifically grants it, whether you like it or not. And quite frankly, you signed up for this when you came into our country and started spouting your Leftists non-sense. Like we really need to import even more zombie Liberals, for Heaven's sake.
Piers: The concerted effort to get me thrown out of the country – which has so far gathered more than 90,000 signatures – struck me as rather ironic, given that by expressing my opinion I was merely exercising my rights, as a legal US resident, under the 1st Amendment, which protects free speech But no matter.
CR: Yeah...pretty cool, huh?
However, Piers seems to adore the 1st amendment, while simultaneously hating the 2nd amendment? Well, the Lord giveth and the Lord taketh away, as they say. But you should know that the reason we have a 2nd amendment is just in case someone tries to take away our first amendment, not as in the UK. Pier's country of origin has in place well defined hate speech laws which, not coincidentally, could have gotten him into trouble for going after those who love and revere their guns, with his own indelible form of venomous hate speech.
Piers: This gun debate is an ongoing war of verbal attrition in America – and I'm just the latest target, the advantage to the gun lobbyists being that I'm British, a breed of human being who burned down the White House in 1814 and had to be forcefully deported en masse, as no American will ever be allowed to forget – Special Relationship notwithstanding.
CR: Pier's nationality, beyond the fact that it's completely un-American, is not the issue here. Red or yellow white or black, Piers-was-asking-for-attack, for coming out, as a non-citizen, trying to tell Americans how to run or ruin our country, as the case may be. We don't much like that sort of thing, as Piers is now becoming well aware.
Piers: It's no exaggeration to say that America's unique fondness for guns pretty much got cemented by hatred of us Brits and the War of Independence. But the main reason the more fervent gun-rights activists give is a fear of their own US federal government using its army to impinge on their freedom.
CR: Not exactly true on the one hand, it's hard to make the case for an American hatred of Brits, when in fact we feel natively connected to Great Britain, out of history. The simple fact is that many US immigrants came from the British Isles back in the day. Piers might need to bone up on his American history just a bit, but on the other hand, his 2nd point is partially true. We Americans, after having fought numerous wars against Totalitarianism, one of which pulled his country's arse out of certain conquest, are well aware of what can happen with a too-powerful government.
Piers: The problem is that America's historical love of guns means the country is now awash with them – and with gun death. The bare statistics say it all. There are 311 million people in the United States and an estimated 300 million guns in circulation. (Between four million and seven million new firearms are manufactured in the US every year.)
CR: Oh, no, in fact. It's not America's love of guns that is the actual issue here. It's America's love of freedom and liberty and the right to pursue happiness unimpeded by charlatans, crooks and elite-compoops. Further, to thrive under the impetus of taking care of ourselves and defending our families, that is the issue. We understand, on an almost intrinsic basis, that firearms offer far more security across numerous fronts than the risk of not having them.
Piers: Take out children from the population figure, and that's comfortably more than one gun per person. Each year, on average, 100,000 Americans are shot with a gun. Of these, over 31,000 are fatalities, 11,000 of them murders and 18,000 suicides. More than a million people have been killed with guns in America since 1968 when Dr Martin Luther King and Bobby Kennedy were assassinated. The US firearm murder rate is 19.5 times higher than the 22 next most populous, high-income countries in the world.
CR: And each year over 1.2 million American children, alone, will be killed by intentional abortion which is over 10 times greater than those killed by guns including adults. Where is the angst for this horrible figure, Piers? What differentiates an innocent child in the womb from one in the classroom? Is it perhaps the ridiculous Liberal Agenda? Until we start hearing you people speak about these both forced and state-sanctioned deaths, it's quite difficult to take you people very seriously.
Piers: And a staggering 80 per cent of firearm deaths in the combined 23 countries occur in America.
CR: According to Pier's Own News Network, CNN, Here are the top 15 killers in America, ("Homicides fell from among the 15 leading causes for the first time since 1965.")
1. Diseases of heart
2. Malignant neoplasms (cancer)
3. Chronic lower respiratory diseases (such as chronic bronchitis, emphysema, and asthma)
4. Cerebrovascular diseases (stroke)
5. Accidents (any injuries that are unintentional)
6. Alzheimer's disease
7. Diabetes mellitus
8. Nephritis, nephrotic syndrome and nephrosis (kidney disease)
9. Influenza and pneumonia
10. Intentional self-harm (suicide)
11. Septicemia
12. Chronic liver disease and cirrhosis
13. Essential hypertension and hypertensive renal disease
14. Parkinson's disease
15. Pneumonitis due to solids and liquids
CR: So where is the Liberal angst over malignant neoplasms, or perhaps they are considered a close cousin to the Neo-Lib movement?
Piers: Since then, I've watched in despair as the volume of gun-related massacres has escalated. (Six of America's 12 worst-ever mass shootings have occurred since 2007, when I first came to America to work as a judge on America's Got Talent.)
CR: Really? But isn't it true that gun-related deaths have actually declined precipitously in the US? Or do the actual facts really screw up your arguments, Piers?
Piers: And I've been shocked at how America's politicians have been cowed into a woeful, shameful virtual silence by the gun lobbyists and the all-powerful National Rifle Association in particular. My brother's a lieutenant colonel in the British Army and has served tours of duty in Northern Ireland, the Balkans, Iraq and Afghanistan. My sister married a colonel who trained Princes William and Harry at Sandhurst. My uncle was a major in the Green Howards.
CR: And....your point is?
Piers: The NRA targets pro-gun-control politicians on every rung of the political system and spends a fortune ensuring they either don't get elected or get unelected. It's been a concerted, ruthless and highly successful campaign.
CR: As if the entire political Left has no lobbyists? Does the SEIU ring a bell, among thousands of others? Piers, did you know that the Unions spent over $ 500,000 billion to get Obama re-elected?
Piers: And to those, like me, who stand up to them, they sneer: 'You don't know anything about guns. Keep quiet.Well, I do know a bit about guns, actually
CR: Indeed, Piers used them once at a drunken stag party for several hours, thereby making him the penultimate authority on gun-play.
Piers: My argument with guns is not based on some universal, pathological hatred of them. I'm not a pacifist. Guns win necessary wars and defeat tyrannical regimes like the Nazis.
Nor do I have a problem with those who use guns for hunting or for sport. I also understand, and respect, how there is an inherent national belief in America, based on their understanding of the 2nd Amendment, that everyone should be allowed to have a gun at home for the purposes of self-defence. But where I have a big problem is when the unfortunately ambiguous wording of the 2nd Amendment is twisted to mean that anyone in America can have any firearm they want, however powerful, and in whatever quantity they want.
CR: Not true at all Piers. Certain weapons cannot be used at all in America. Possession of Automatic weapons such as a machine gun will net any civilian a massive fine and imprisonment of up to ten years. Nor are items like shoulder launched missiles or hand grenades legal in civilian hands.
Piers: This has led to the absurd scenario where I can't legally buy six packets of Sudafed in an American supermarket, or a chocolate Kinder egg, or various French cheeses, because they are all deemed a health risk. Yet I can saunter into Walmart – America's version of Tesco – and help myself to an armful of AR-15 assault rifles and magazines that can carry up to 100 bullets at a time.
CR: Did we miss something? Pier's apparent edit-out of words unseen led to a grand subject lurch, from high-powered guns to Sudafed, something most professional writers try to avoid. However, wagging the dog with knee-jerk legislation is something that Congress has become expert at while often causing more problems that the original problem itself.
Piers: That weapon has now been used in the last four mass shootings in America – at the Aurora cinema, a shopping mall in Oregon, Sandy Hook school, and the most recent, a dreadful attack on firemen in New York.
The AR-15 looks and behaves like a military weapon and should be confined to the military and police force. No member of the public has any need for a death machine that can fire up to six rounds a second when modified and can clear a 100-bullet magazine (as used in Aurora) within a minute. The only apparent reason anyone seems to offer up is that using such weapons is 'fun'. One gun-rights guy I interviewed last week even said admiringly that the AR-15 was 'the Ferrari of guns'
CR: So now weapons exhibit behaviour patterns? In truth, it's the mentally deranged and violent criminals who exhibit anti-social behaviour patterns, not inanimate objects such as a gun.
Piers: Well, I'm sorry, but 'fun' is just not a good enough excuse any more. Not when children are being killed by gunfire all over America. President Obama seems to agree it's time for action. After four years of doing precisely nothing about gun control in America, he finally snapped after Sandy Hook and said he's keen to pursue a ban on assault weapons and high-capacity magazines.
CR: Obama snapped? If pursuing an exorbitant Liberally derived agenda is referred to as snapping, then Obama snapped long, long before December. Maybe the actual snapping for the President came when he smoked all that pot with his choom gang. However the essential truth in this aspect is that Obama won his election and was now ready to implement this particular piece of his agenda. A crisis is a terrible thing to waste and all that.
Piers: And he wants a closure of the absurd loopholes that mean 40 per cent of all gun sales in America currently have no background checks whatsoever – meaning any crackpot or criminal can get their hands on whatever they want. These measures, which will be resisted every step of the way, won't stop all gun crime. Nor all mass shootings. There are too many guns out there, and too many criminals and mentally deranged people keen to use them. But the measures will at least make a start. And they will signal an intent to tackle this deadly scourge on American life.
CR: I would submit that until mentally retarded individuals are properly supervised and subjected to a common sense methodology by their caretakers, we will continue to see this sort of mayhem in a free country.Weaponry training is not a wise thing to teach to someone with obvious judgment issues as in the case of the Sandy Hook shooter.
Piers: Obama should follow up by launching a Government buy-back for all existing assault weapons in circulation (as worked successfully in Los Angeles last week). I would go further, confiscating the rest and enforcing tough prison sentences on those who still insist on keeping one Either you ban these assault weapons completely, and really mean it, or you don't--He should also significantly increase federal funding for mental health treatment for all Americans who need it. It's the lethal cocktail of mental instability and ready gun availability that is the key component in almost every American mass shooting.
CR: That last bit, for the first time, hit the nail directly on the head: "It's the lethal cocktail of mental instability and ready gun availability that is the key component in almost every American mass shooting." Perhaps Piers simply wants the equivalent of the dreadfully failed TSA agent to also implement draconian gun laws on the very people who do not even require such laws.
Piers: Nor do I think Hollywood or makers of violent video games should avoid any responsibility – their graphic images can surely only twist an already twisted mind.
CR: True again, but why not treat the symptom which would be the desire of the young and impressionable to play these violent games. No one with any sort of Constitutional adherence wants any kind of censure other than the type that a free market utilizes on a daily basis. Decency should be legislated by conscience rather than regulation. Perhaps common decency and morality, functions adherent to the Judeo-Christian ethos, should be a thing offered in schools to include the respect for life. Oops! I just went too far again, didn't I? Abortion, and God forbid -religion- pretty much negates any succession of the respect for life conversation, eh Piers? Well, unless we're speaking of "The Religion of Peace", but that's another argument.
Piers: I will not stop in my own efforts to keep the gun-control debate firmly in people's minds, however much abuse I'm subjected to. And let me say that for every American who has attacked me on Twitter, Facebook or Fox News this past week, I've had many more thank me and encourage me to continue speaking out – including one lady who came up to me in Manhattan just before Christmas, grabbed my arm, and said firmly: 'I'm with you. A lot of us are with you.' I genuinely think Sandy Hook will act as a tipping point. A Gallup poll released on Thursday showed that 58 per cent of Americans now support new gun-control laws, up from 43 per cent in 2011.
CR: Oh, and we Conservatives are never attacked by the likes of you and your ilk, Piers?
Piers: That's a big jump. The 'more guns, less crime' argument is utter nonsense. Britain, after Dunblane, introduced some of the toughest gun laws in Europe, and we average just 35 gun murders a year. Japan, which has the toughest gun control in the world, had just TWO in 2006 and averages fewer than 20 a year. In Australia, they've not had a mass shooting since stringent new laws were brought in after 35 people were murdered in the country's worst-ever mass shooting in Tasmania in 1996. Fewer guns equals less gun murder. This is not a 'pinko liberal' hypothesis. It's a simple fact.
CR: Really? But isn't it also true that in Australia while their gun violence dropped by a precipitous 3%, over the same period in the US, our gun violence dropped over 10% with no legislation at the time? And in Geat Britain isn't it also true that crime has increased as much as 40% with even the Cops growing ever more irritated at criminals who can act boldly while not worrying about the curse of ballistic injury from defending civilians, since guns were outlawed?
Piers: In conclusion, I can spare those Americans who want me deported a lot of effort by saying this: If you don't change your gun laws to at least try to stop this relentless tidal wave of murderous carnage, then you don't have to worry about deporting me. Although I love the country as a second home and one that has treated me incredibly well, I would, as a concerned parent first – and latterly, of a one-year-old daughter who may attend an American elementary school like Sandy Hook in three years' time – seriously consider deporting myself.
CR: Well, you may not have a choice Piers, the Brits,understandably, don't seem to want you back.
But, perhaps you can obtain a voucher and send your child to a private school if on that $12 million dollar annual salary you enjoy, you can't afford anything else. But if you do choose to leave, don't let the door hit your elitecompoop rear-end on the way out.
I'm just sayin'......you see:
Liberals function in much the same way as a debilitating, infectious disease. They ravage the areas in which they inhabit until all resources are depleted, then, much like an airborne plague, migrate to pristine, uninfected areas to repeat the devastation, once again.....
Related:

It was about 1:00 pm in a suburb of Loganville, Georgia .The mother of nine year-old twins noticed movement outside of her home as she glanced downward through a window in her upstairs office. Immediately alarmed, she moved...


December 30th, 2012
Posted by:
Barry
Published on December 30th, 2012 @ 03:21:58 pm , using 635 words,
Huffington Post
By Ryan Grimm
With Refutation from Conservative Refocus
By Barry Secrest
WASHINGTON -- Sen. Lindsey Graham (R-S.C.) used his "Fox News Sunday" appearance to congratulate President Barack Obama on his impending victory in the so-called fiscal cliff negotiations, predicting that tax rates will go up on people making more than $400,000 or $500,000 as a result of the coming Senate deal.
Refocus Notes: Graham was actually being sarcastic in his remarks, however, the rule with regard to political sarcasm requires commentary both out of character and highly outrageous with a tincture of midly displaced humor.
None of these elements are apparent when we take Graham's body of work as a whole, and as an establishment Moderate with inkling Conservative leanings.
When sarcasm fails tis a miserable thing to watch....
Grade: C-
"Hats off to the president. He won," Graham said. "What have we accomplished? Political victory for the president. Hats off to the president. He stood his ground. He's going to get tax rate increases, maybe not at [$]250[,000], but on upper-income Americans. And the sad news for the country is we've accomplished very little in not becoming Greece or getting out of debt. This bill won't affect the debt situation."
Refocus Notes: Once again and as you can see; Graham tries to employ sarcasm to get his points across, which indubitably falls on its face. You see, the mainstream media effectively cheers Obama on a wildly consistent basis, no matter what dubious achievement he efforts.
So, once again, while Graham's impetus is laudable, many will simply not pick up on his true intent.
Grade: D-
But Graham said he won't support a package that raises rates on income between $250,000 and $400,000 or $500,000, because he knows Democrats will cave and accept a higher threshold. He used the example of his fellow guest, Sen. Dianne Feinstein (D-Calif.). "No," he said when asked if he'd support the $250,000 level, "because she's willing to go for more, and why would I not find 4 or 500, because I know the votes are there for 4 or 500? But in the House, will the votes be there for 4 or 500?" Feinstein flinched and, when pressed, put the onus back on the president, who was the first to raise the compromise level to income over $400,000.
Refocus Notes: Now, the blasted Moderate Graham is employing an even more sophisticated brand of premised capitulation that he should never have accepted in the first place . No tax increases "Period" until spending cuts are brought to the forefront, should have been his answer.
Grade: F-
"We believe that the 250 threshold is the appropriate threshold. The president did make an offer, we understand, of 400,000, with a trillion in cuts accompanying it. That was turned down by the House," she said. "The time has come really to measure the absence of a deal against a deal. ... We have to solve this immediate situation." Asked whether she'd accept the higher level, Feinstein was quick to answer. "I could certainly live with it," she said.
Graham, meanwhile, called the chances of a quick fiscal cliff deal "exceedingly good." "I want to vote for it even though I won't like it," he said.
Refocus Notes: Of course you want to vote for it, you nit-wit Senator, thereby showing your cards to every single one of the immediate players, on national TV, no less. What, does this pinhead Moderate not understand that the opposition is watching and taking notes, for Heaven's sake?
I hope Sen. Graham never undertakes either poker or battlefield tactics, because on the one hand he would be broke and on the other, soundly defeated and probably without a shot. Nevermind the fact that he's also a Colonel in the reserve....God help us.
Grade: X-
See Huffington's 10 (Liberal) things to do without cutting Entitlements