May 26th, 2015
Posted by:
Barry
Published on May 26th, 2015 @ 12:54:00 am , using 1319 words,
Conservative Refocus
By Barry Secrest
We're doomed, they say.
If we don't do something now, we'll  be consumed by fire in a virtual hell on earth, and it will be the unbelievers' fault.
If ever you've wondered what happened to old time religion, it seems you don't have to look very far, these days.
The cult-of-Climate Change is now the new age "old-time religion" of the modern-day and it's filled with fiery, government-report-thumping disciples wielding loosely transcripted pseudo-scientific reports, as if chiseled by the almighty, himself.
The climate change commandments are  brought down to us from a mythic, storm-ravaged,  mountain of false data located somewhere in Switzerland, and loosely referred to as the IPCC (Intergovernmental Panel on Climate Change). The devotees of this particular faith are nothing if not brain-washed alter-poppets yearning to be free from the Lucifer they now commonly refer to as modern industry and capitalism. 
Their voices , crying from a crumbling urban wilderness, demand "set my earth free!" (or else)
The messiah of this newly constituted faith comes to us in the form of a legion of government bureaucrats, struggling to make "settled science fiction" known to all man, and quickly before it's much too late. Their gospel is a collection of graphs and "customized"  thermodynamic data which only they,  the Pharisees and deacons of statism, can accurately disseminate to the uncleansed and unknowing masses.
In fact, there are even tithes for this new "old-time religion," slated to be gathered by the world's governments in the form of new taxes and fees  collected from the worst of the original sinners.
 The  Arc of the New Government Covenant 
Their heavily concealed goal is to spread the Gospel of Climate Change across every corner of the Earth, so that we might all be saved, and it's one very grand and completely adulterated lie, designed for one all-encompassing agenda.
The climate change mandate has been formulated to eventually control virtually very facet of industry,  while redistributing wealth from the first world to the second and third worlds on a basis unparalleled in human history.
However, when each argument of the present climate change agenda is carefully scrutinized on the basis of fact rather than hyperbole, their flimsy doctrines  fall apart, quite easily.
But, where to begin?
First, the nexus of Nasa's most recent report, as described by CNN, is a story which we're highlighting,  that trumpets the highest temperatures ever for March 2015, across the planet.  
However, when looked at very closely,  a different story emerges which speaks to an overall decrease in March 2015 temperatures:
From Climate Depot:
'Both satellite datasets have been released for March, and show a drop in global temperatures for the second month running. According to both UAH and RSS, current temperatures are now below where they were at the start of last year.  1998 and 2010 temperatures remain well above anything seen in the last year.'
So, which is it? The answer glaring back at us reflected only the fact that Nasa's dataset looks at only small regional variations, more often than not described as weather, while the University of Alabama at Huntsville dataset actively looks at global temperatures overall.
CNN, in this recent marquis report titled "New Temperature Records Highlight Global Warming's Continued Rise,"  has,  in fact,  thoughtfully provided us with a climate change cross-section of arguments which  can, more often than not, be easily be laid to waste.... as we will dutifully explain, point by excruciating point:
Myth (1) Melting Polar Ice Caps will raise sea levels
The consequences of climate change goes far beyond warming temperatures says CNN.
This particular man-made argument revolves around the myth that as polar ice caps melt-- sea levels rise; but what if the ice caps aren't truly melting?
According to global sea ice records going all the way back to 1979, total sea ice area hasn't changed in well over thirty years.
"Ice isn't melting Thanks to a rapid rebound in recent months, global sea ice levels now equal those seen 29 years ago, when the year 1979 also drew to a close. In fact, the rate of increase from September onward is the fastest rate of change on record, either upwards or downwards. The data is being reported by the University of Illinois's Arctic Climate Research Center, and is derived from satellite observations of the Northern and Southern hemisphere polar regions (Daily Tech)."
But, what about all the ice cap melting reports constantly appearing all over the media? The answer is mererly that  sea ice loss  in one area typically gets reported like a grisly murder, with alarms sounding and front page reports attracting gobs of media attention. But, just as with the birth of a newborn infant rarely attracting front page attention, new ice gains are never reported simply because they fail to attract any attention.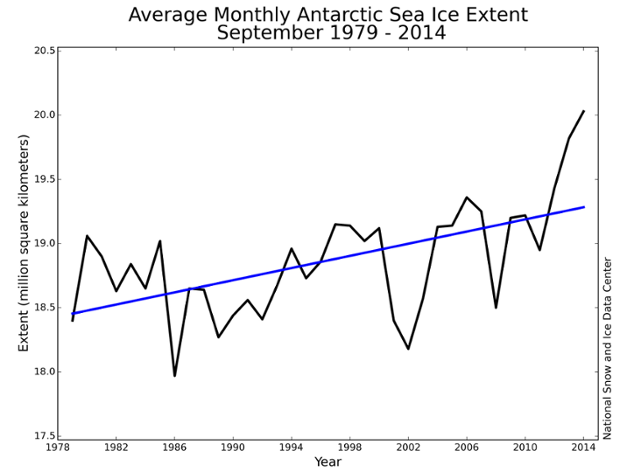 The losses and gains, when it comes to sea ice and most other discernable effects, are cyclical and always have been. But, the main thing to remember is that according to the unaltered data, the big melt just isn't happening.
For those who may yet doubt, there is but one more central fact that might convert even the most skeptical of warmers, this story from the UK Guardian:
"Sea ice around Antarctica is currently at record levels for May, part of a trend of increasing ice around the frozen continent making it harder to resupply and refuel research stations. More than 50 scientists are gathering in Hobart in Tasmania this week for a series of workshops on techniques to more accurately forecast sea ice levels in the polar region, aiming to save millions of dollars in shipping costs.
Article: Sea ice around Antarctica is currently at record levels for May, part of a trend of increasing ice around the frozen continent
"They will also hope to avoid a repeat of the problems suffered by the Akademik Shokalskiy, the research vessel caught in a sudden freeze in December 2013. Rod Wooding, from the Australian Antarctic Division, said last year ships "couldn't get anywhere near" the Australian research site, Mawson station, requiring a year's worth of supplies and fuel to be flown in by helicopter."
There are no melting ice caps, period.
 Myth (2) Megadroughts lasting decades predicted
The coming megadroughts, as a result of warming, will  last 10 years or more, or at least so say the IPCC computer models.
We're seeing hints of this all over the world, they will say.  The answer? When have we not, in human history,  seen hints of droughts and full-blown droughts, for that matter, all over the world?
In the 1930's it was the great Dust Bowl Drought.
In the 1950's it was the Great Plains Drought.
In the 1960's it was the NorthEastern Drought.
In the late 80's was the Northern Great Plains Drought which affected 36% of the nation.
Have you detected a pattern emerging, thus far?
The point is, there have always been droughts and there will always be droughts, it's as simple as that. Nor is it just in the US, but rather it's everywhere in one region and nowhere in another, and it's been this way throughout history.
According to recent official reports at odds with the climate change agenda:
"Global drought has not increased significantly over the past 60 years, a report in Nature has found.
Previous assessments of global drought have relied on the Palmer Drought Severity Index, which only accounts for temperature, and does not consider sunlight, humidity or wind. These assessments have falsely indicated that global drought will increase as the planet warms.
The paper's authors show that when these additional factors are included, worldwide drought has actual changed very little since 1950."
In the present-day it's the California Drought in the US, that attracts our attention, but now we have an actual cause that we can point to when the troposphere throws us a curve and  it's called "Climate Change."
When the unfortunate strikes, it's as if we have angered the "God of Climate,"  and woe be unto we,  the suppurating pustules of climate sinfulness.  The only question is who or what will be sacrificed to this particular demigod, as determined by our ever-earnest Sadducees of the day?
There has been no increase in droughts, in fact, according to Nasa, the Earth is greener now than ever....
February 15th, 2015
Posted by:
Barry
Published on February 15th, 2015 @ 11:43:00 pm , using 793 words,
Conservative Refocus
By Barry Secrest
"The invasion, evidently, has begun," says Michael Gergen, in his article titled "An Invasion of Artificial Outrage," even while affectionally grasping and stumbling along with his cumbersome liberty-snatching pod.
No, Michael Gerson, the invasion of  America has, in fact, been ongoing for some time now.
It's real-time forced "Climate Change" that is occurring all across America, and yet it has nothing to do with global warming, but everything to do with both a cultural and wealth dilution, of traditional America.
The funny thing is simply that the establishment GOP, including folks like Gerson,  have been infiltrated by closeted Leftists and  then politically geo-relocated, rather cleverly at least at first,  to fill the vacuum left  behind by the virtually extinct old-school Democrat party.
It reminds us of the old movie, "Invasion of the Body Snatchers" where undocumented aliens arrive from another world, in the form of seeds.
These aliens,  thinking to re-establish themselves under the vague auspices of peace and prosperity for mankind, do so by sucking out the essence of each human and replacing that human with an organically grown alien.
This, while simultaneously appearing as the old human it's replacing, but with a completely new mind and body, grown from a nearby alien pod.
In essence, this is what the establishment GOP is trying to accomplish with the Conservative base of the GOP, if not America as a whole, and it's a stolen idea from none other than Obama himself, under the imperative of "Change We can Believe in."
Now, the new Socialist-Democrat Party, which is populating Obama's  "transformational" political and social agenda, is filled with Neo-Liberals and militant Progressives, each having an axe (or sickle) to grind, against the successful, if not, traditional America of old.
All of this, even as many establishment Republicans, rather vacuously now, move themselves into these new voids, thinking to re-occupy and claim their newly carved-out  "reform Conservatism" positions.
What the establishment GOP doesn't understand is the fact that this should be viewed as a game of political whack-a-mole, by the now modern and re-educated (but still Conservative) American voter. The electorate, as we learned in the last election, will not easily allow these force-vacated pod-holes,  if you will, to be re-occupied.
Gerson continues--"What's not acceptable," Louisiana Gov. Bobby Jindal (R) explained recently, "is people that want to come and conquer us."
"Yes, the conquest of the United States: pretty unacceptable. "That's not immigration, by the way," he continued, "that's colonization." Ditto on being colonized, as the British learned to their chagrin. "If they want to come here and they want to set up their own culture and values, that's not immigration; that's really invasion ­— if you're honest about it."
U.N. to dump flood of Muslim refugees on U.S.
Here,  Gerson sets up the foundation of his rather obtuse argument in trying to, somehow, convince us that what is now actually happening in America,  isn't happening at all.
To paraphrase  Charles  Dickens, Gerson wishes us to think that our borderless quandary is  "just an undigested bit of beef, a blot of mustard, a fragment of underdone potato, there's more of gravy about this than [America's] grave," when nothing could be further from the truth.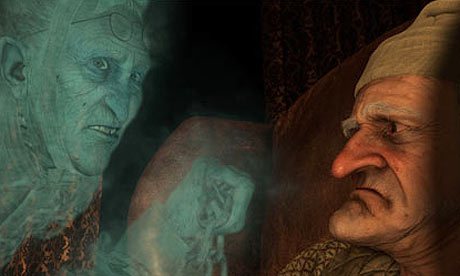 Under Obama, America has finally found its lost decade, and the establishment Republican party of the last four years is at least gestational, with regard to overall culpability.
Gerson:
""By all means, let's lay all the cards on the table. Jindal is talking about a Muslim fifth column, intent on establishing sharia law in unassimilated enclaves and eventually subverting the Constitution and conquering the country. A pretty serious charge against some portion of the several thousand Muslims living in Louisiana, for instance."
Here, Gerson tries to lambast Jindal for accurately describing what is happening in America across the entire fruited plain. Gerson sees no problem and,  therefore,  rejects Jindal's argument out of hand.
However, we've all grown increasingly aware of the radicalized menace growing like kudzu in various enclaves across America. Moreover, these Islamic refugees are, by virtue of the Quran, taught not to intermingle with the infidel culture of America.  This is how pockets of Sharia law are being established and allowed to proliferate against the prevailing culture of the rule of law and the US Constitution.
Thus, we have  a both growing and interdependent  refugee population which simply cannot be assimilated into the culture and population of America--a thing that Gerson somehow refuses  or wishes not to see--which we must then also financially support because many of these are ill-educated and have little to offer, beyond spewing welfare-ready offspring about like confetti on a blustery day.
Gerson's Sterling Record of Being Wrong
Indeed, Gerson, who rarely if ever gets anything right, is doubling down on his historical record of inaccurately or ignorantly understanding what is happening to both the population and cultural demographics of the powerhouse that was our (now-declining ) America of old.....
April 25th, 2014
Posted by:
Barry
Published on April 25th, 2014 @ 04:27:00 pm , using 1832 words,
Talking Points Memo's DYLAN SCOTT
Vs Conservative Refocus'  Barry Secrest
This post from TPM really caught our eye; join us as we completely burn down this particularly silly memo from Dylan Scott:
GOPers Oughta Love Obamacare: It Likely Encourages Entrepreneurship
So, now we have  Statist bureaucratic media stenographers trying to make the case for the White House's latest talking points on the "Greatness of Obamacare."
Enjoy....
Dylan: By offering people an alternative to employer-based insurance, the law could reduce what's known as "job lock," when people stay in a job largely because it's the only way they can get health coverage -- a goal that conservatives, too, have advocated for in the past.
Conservative Refocus: Aye, God....
Dylan, when one starts a business, one in effect becomes "an employer," with all the duties and respectivities associated with that title, including the ability to procure business health insurance, just like any other employer.  Dutifully noted that this fact can easily escape someone who resides firmly with the clutches of Wonderland's blithe embrace.
Dylan: The White House, in its growing effort to combat the GOP spin, forwarded that argument Thursday.
Conservative Refocus: More like the White House's ongoing effort to combat the truth, in that, the implication of the White House knowing about what's best for starting a business reads much like an arsonist knowing what's best in extinguishing structure fires.
Why would an arson care? Ditto the White House....
Dylan: "By increasing workers' mobility across jobs, secure access to health insurance helps them to find the job that is best for them," Jason Furman, chairman of President Barack Obama's Council of Economic Advisers, wrote in a blog post. "Moreover, reducing job lock encourages entrepreneurship, a critical ingredient for growth and job creation."
Conservative Refocus: Well, at least the apparatchiks of Obama's Leftist council on Commie economics got the job mobility part correct, if only partially.
There is, for a certainty, far more more mobility when on has to drive to 2 or even 3 different part-time jobs during the day and night than as opposed to when one is forced to drive to only one job, during the day.
Now that is, indeed, increased mobility.
Dylan: Outside the political realm, evidence does exist that Obamacare could be a catalyst for more entrepreneurship.
Conservative Refocus: Yes, speaking once again towards the real-world realm, the evidence suggests that because many businesses will be forced out of business, due to Obamacare, the vacuum left by missing small businesses could be partially subordinated by some even smaller micro-businesses.
But, we can be of help to the TPM cause, for instance, how does micro-employment opportunities sound, eh... pretty cool and high-tech, while meaning something else, entirely, huh?
You have my permission to use that, guys.....
Dylan: Three economists released an analysis in 2011 that concluded employment-based health insurance had a negative effect on business creation.
Conservative Refocus: Yes,  assuming that health insurance by employers has a negative effect on business creation, then by using equilateral reasoning--probably other employee benefits would  have a negative effect on business creation also, such as employment- based pay-raises, for instance.
Ergo, the more one pays his or her employees, the less apt that employee is to create his or her  own job....
Makes perfect sense in bizarro world.
So, why is the White House trying to raise the minimum wage, if employment gratuities such as health benefits and pay-raises, actually impair new business start-ups?
However, taken a step further, if job benefits have a deletorious effect on business creation, then why does not the White House eliminate all employment benefits for government workers, which, by using stated White House theory, would thereby create boundless employment opportunities in the private sector?
Hmm...?
Dylan: Because people tended to stay in their jobs to keep their health coverage, they were less likely to leave them and start their own businesses.
Conservative Refocus: Ipso facto, job pay-raises would also tend to keep people in their existing jobs making them far less likely to start their own jobs....So, in essence then, anything which an employer might do for the benefit of the employee in order to keep that employee , is creating less opportunity for job start-ups...
Er...right
Isn't this, once again, a lot like stating that "employers creating well-paying jobs actually impairs an employee's impetus to start his or her own job?" Even while we are currently hearing how not having to work for a business in order to get and keep health insurance allows someone a lot more time with their family
(Nevermind the fact of their having to live in a cardboard box, with their family, as a result because they have no job to support themselves...besides, one can tuck their children  in within an armslength away rather than having to go upstairs, and cardboard is easily obtainable and recyclable! Everybody wins!)
Dyan:  By reforming the individual and small-group insurance markets, Obamacare is intended to make the insurance offered there comparable to what large employers offer, giving people a legitimate alternative to employer-based coverage.
Conservative Refocus: Ah yes, and there is the crux of the thing.
Why continue to allow private businesses to help their employees and provide free benefits, when we can come up with a tremendously expensive, tax-payer funded subsidy program, which costs trillions, and which is  driven by forced mandates, which allows a much more beneficient government to take business'  place?
Well, my stars! Why didn't Marx think of that?...Oh, wait!
Dylan: They analyzed various scenarios to reach that conclusion: Do people who had access to insurance through their spouse create more businesses? Do people who turn 65 and enroll in Medicare found more companies than people who are a little younger than 65?
Conservative Refocus: What in the hell are these Progressives on?
Dude! People who turn 65 are mostly looking to retire after a lifetime of hard work, albeit most are not looking to go through the often heart-stopping, extraordinarily risky and stressful business of starting up a brand new enterprise.
There is no greater stress inducement that exists, while further noting that about half of all new businesses fail in the first year, or maybe you folks missed that course, in Alinsky economics 101...
[But, one must point out, has anyone noticed how these pitifully painful arguments seem to bounce all over the place, while simultaneously making little if any actual sense?]
Dylan: In both cases, they found that people without the alternatives -- those who couldn't obtain insurance through their spouse or couldn't enroll in Medicare -- were less likely to start their own business. That led to the following deduction:
Our estimates provide some evidence that "entrepreneurship lock" exists, which raises concerns that the bundling of health insurance and employment may create an inefficient level of business creation.
Conservative Refocus: Entrepreneurship lock? Seriously? Coming from the folks who bought us "You didn't build that, somebody else made that happen? Or my personal favorite "Belief in Capitalism is blind faith?"
Okay, we'll concede the point that people over 65 don't start businesses, but not because of entrepreneurship lock, you blasted fools, it's because starting a business requires enormous amounts of both risk, health, and energy, a thing which is not exactly synonymous with folks who find themselves at Medicare age.....and now, by the way, simply desire to spend more time on the shuffleboards of Florida, not that there's anything wrong with that mind you, in fact, those folks have ultimately earned their ultimate vacation.
Dylan: Not many people quit their jobs to start their own companies: about 3 percent, according to the study. But if they had that alternative means of obtaining health insurance, which Obamacare helps provide, up to 4 percent would, the report projected, which would equal a 33 percent increase in the number of people starting their own business.
Conservative Refocus: So, 3 percent of all folks start companies--and-- if they have health insurance,  that number would rise to 4 percent, a 33% increase, right Dylan?
So, on that same note and using the same reasoning, if we know that Obama discontinued the private health insurance of over 5% of the population, by mandate-- And--in as much as we assume that Dylan's report numbers are a fact, it would mean that Obama actually engineered a move which,  by Dylan's report numbers once again, has actually reduced job creation by over 165 percent, and by their insurance coverage having been cancelled,  if we use the study numbers.
Meaning 1 percentage point in increase or decrease is equal to about 33% of job creation or reduction.
Makes perfect sense.....Obama the job-slayer.
Dylan: When asked about what those findings meant for Obamacare, Susan Gates, senior economist at RAND and one of the study's authors, told TPM that the law should lead to more people creating a business.
"Our study would suggest that if people have access to an alternative form of health insurance that is closer to what they could get from an employer," she said, "that they're going to be more likely to make that leap. They're going to be more likely leave a wage-and-salary job to start their own business."
Conservative Refocus: The major catch being that sub-standard insurance, which is defined by high-out-of-pocket co-insurance costs, soaring deductibles, and horrid network access, is not at all synonymous with any employer healthcare plan, of the present day.
So, where does that leave us tomorrow?