Violence Erupts During Communist-Related Workers "May Day" Marches In US Transformed From Ancient Pagan Worship (Youtube)
May 2nd, 2017
Violence Erupts During Communist-Related Workers "May Day" Marches In US Transformed From Ancient Pagan Worship (Youtube)
Posted by:
Barry
Published on May 2nd, 2017 @ 12:16:00 am , using 564 words,
Portland
CRN Religion
By Barry Secrest
Wedged between New Age neo-paganism and old world pagan worship, today's May Day Workers Party marches represent little-known but age-old connections between communism and the New World Order which, unknown to many, mixes a number of pagan and new age influences.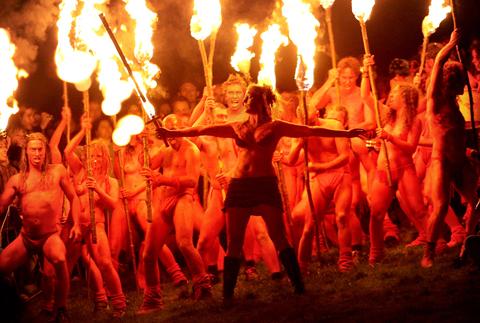 According to USA Today, "May Day — also known as International Worker's Day — has spawned protests around the globe in past years highlighting workers' rights. But on Monday, the impetus for the U.S. marches span from immigrants' rights to LGBT awareness to police misconduct.
"There's a real galvanization of all the groups this year," said Fernanda Durand of CASA in Action, which will lead a march of about 10,000 people for immigrants' rights through downtown Washington. "Our presence in this country is being questioned by Donald Trump. We are tired of being demonized and scapegoated. We've had enough."
Durand's protest is part of the Rise Up umbrella movement that promises 259 events in more than 200 cities in 41 states focusing on immigrants' rights, she said. 
Another widespread effort, dubbed Beyond the Moment, will feature a collection of racial justice groups and include protests and marches in more than 50 cities, from Portland, Ore., to Miami. 
Originally a pagan celebration dating back two millenniums and heralding the return of spring, May Day has morphed into a global observance of workers' rights. But its emergence as an international worker's rights day actually arose from a May 1, 1886, Chicago strike for the eight-hour workday."
France
Meanwhile, The Washington Post reports:
"In Oakland, California, four protesters were arrested for trespassing after sneaking past security at the Alameda County government building and unfurling a sign related to sanctuary cities, according to the sheriff's office.
 And late Monday, police in Portland, Oregon, and Seattle braced for the possibility of violence as far-left "anti-fascists" gathered to march, and Trump supporters and far-right activists prepared to counterprotest - a faceoff that has previously erupted in brawls in Berkeley, California, and Seattle."
Many believe that the modern neopagan movement marks at least one facet of what the Bible refers to as "the great falling away" from the Christian belief system, which ushered in the modern era.
Some refer to this mixing in of the old world belief systems as spiritism, and a good many people across the West have increasingly come under its spell prompting what the Catholic church has referred to as a plague of demonic possession not seen in modern times.
Los Angeles
This old world belief system, today, takes on many names including pagan, neo-druidism, Wicca, occultism, and certainly, even many new age influences encompassing the basic tenets of globalism's Gaia, a Goddess also worshiped and referred to as Mother Earth. Gaia worshipers represent a central core of the modern environmental movement as allied closely with the Democrat party which more often than not considers Christianity and its followers as mortal enemies.
This, by the way, might more easily explain the acidic political culture evolving in America and across the West, experienced in 2015 and 2016. There's also that case of the Democrat Party's booing of God as a part of the Democrat party platform, challenged at the 2012 Democrat convention, as held in Charlotte, NC.
But even more interesting is the fact that certain constants in the practice of Communism, the Jacobins of the French Revolution, Masons, and Neo-Pagan New Age religious practices, all come together in the now updated Communist-Pagan-political celebration of May Day, in the modern-day.
Isn't it intriguing how the media will acknowledge that  Communists always march on May Day, a pagan holiday, but serially avoids the question as to why?
No feedback yet