Unbelievable: Massive Variations Discovered in Christine Ford's Time-Lie of Events Leaves Credibility Under Severe Question
October 3rd, 2018
Unbelievable: Massive Variations Discovered in Christine Ford's Time-Lie of Events Leaves Credibility Under Severe Question
Posted by:
Barry
Published on October 3rd, 2018 @ 06:28:00 pm , using 271 words,
A thorough analysis of all the various documents related to Ford's "recollection" reveals  Ford's ever-changing timeline of events for the alleged groping incident has shifted from early 1980 all the way through to even 1986...
~ Refocus Notes
Powerline Blog
Christine Blasey Ford has been propelled forward into public view with the object of taking down Judge Kavanaugh. James Freeman observes that journalists seem to have lost interest in trying to ascertain whether Ford's testimony before the Senate Judiciary Committee was accurate.
Her story is shot through with holes.
One specific she offers in her story is the season and year of the alleged assault. A reader, however, writes to note the changes in Ford's timeline.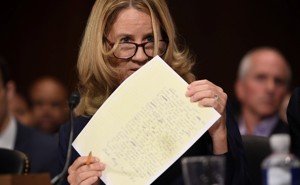 The reader calls himself an "engineer with a specialty in data visualization." He made the graphic illustration below drawing on public sources – "mainly the Washington Post and public legal documents."
The Alleged Incident Date column contains reported quotes from Ford. The reader notes "the sudden story change correlating with the time progression in the Story Date column (first column). For six years her story was 'mid-'80's.'"
"Why," he asks, "the sudden change within a few weeks after 7-6-2018? Answer: Dr. Ford came into the Democrat orbits of Rep. Anna Eshoo (D), Senator Dianne Feinstein (D), their staffs and highly partisan Dem lawyer Debra Katz (recommended by Feinstein).
Right after that, Dr. Ford changed her story two more times in two months – growing more specific – as they conspired to damage Kavanaugh.
In her 8-7-2018 handwritten note to the polygrapher, Ford crossed out the word 'early.'"
More from Powerline
No feedback yet