Pope Francis Often Referred to in Biblical Eschatology as The Last Pope Urges UN Shift Towards One-World Global Government
May 11th, 2019
Pope Francis Often Referred to in Biblical Eschatology as The Last Pope Urges UN Shift Towards One-World Global Government
Posted by:
Barry
Published on May 11th, 2019 @ 06:15:00 pm , using 463 words,
The New American
Written by  Joe Wolverton, II, J.D.
At a meeting of the Pontifical Academy held recently, Pope Francis advocated a policy of decreased national sovereignty and increased global unity. A shift toward globalism is necessary, he said, in order to fight climate change and other worldwide "threats."
"When a supranational common good is clearly identified, it is necessary to have a special authority legally and concordantly constituted capable of facilitating its implementation. We think of the great contemporary challenges of climate change, new forms of slavery and peace," his holiness told those gathered to discuss "Nation, State, and Nation-State," the conference theme.
Pope Francis meeting members of the Pontifical Academy of Social Sciences on May 2, 2019.   (ANSA)
Pope Francis put a pretty fine point on his message, claiming that planetary problems are exacerbated by "an excessive demand for sovereignty on the part of States."
He moved on to immigration, declaring that nationalism is too easily twisted into a doctrine repugnant to the welcoming of immigrants. "The Church observes with concern the reemergence, in many parts of the world, of currents that are aggressive towards foreigners, especially immigrants, as well as a growing nationalism that neglects the common good," Pope Francis said.
Our only hope for planetary peace and progress is to make room for "international organizations" to develop into governing bodies, supplanting the "state interests" with the will of the United Nations, he stated.
Speaking of the United Nations, Pope Francis announced his ardent support for the sine qua non of all globalists: "sustainable development."
He declared that if we hope to save the planet we must accept that we are one people and unite to create "a space for dialogue and meeting for all countries in a spirit of mutual respect," and must stop what "hinders the attainment of the sustainable development goals approved unanimously by the United Nations."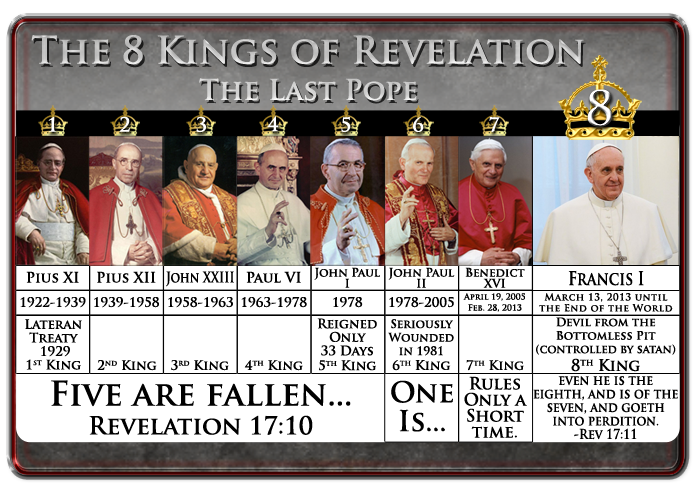 And the hits just keep on coming.
Pope Francis warned attendees that sovereign nations attempting to govern themselves will find they are unable to protect their populations from the myriad menaces abroad in the world. "The nation-state is no longer able to procure the common good of its populations alone. The common good has become global and nations must associate for their own benefit," Francis said. 
For our own benefit? Who benefits from the global government? Ask yourself this question: In the nearly 75 years of the United Nations' existence, have wars ceased? Has the number of wars decreased? Are the signatories to the UN Charter moved toward greater prosperity or toward deeper economic depression? 
Of course, there is no need to argue whether or not the United Nations has been a blessing to the nations of the Earth. It has undoubtedly been the source of bloodshed, violence, oppression, and Marxism.
His Holiness suggested that governments around the globe should "strengthen their cooperation by connecting certain functions and services to intergovernmental institutions that manage their common interests."  
No feedback yet