Anti-American Board of New York Fire District Demands Removal of US Flags From Fire Trucks
August 18th, 2016
Anti-American Board of New York Fire District Demands Removal of US Flags From Fire Trucks
Posted by:
Barry
Published on August 18th, 2016 @ 12:08:00 am , using 586 words,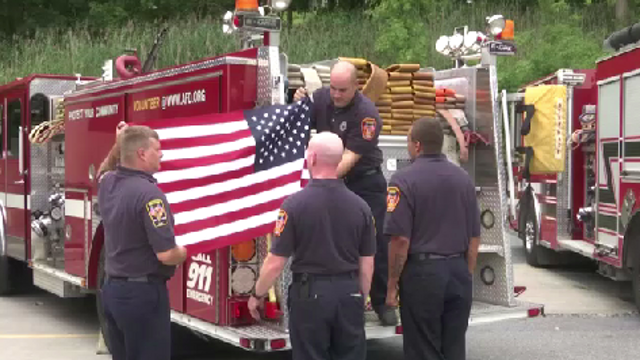 So, the board Chairman, apparent anti-American pinhead, Jim Beretta, felt as if the flags constituted a "liability," on the firetrucks, ostensibly because driver's attention might be distracted away by the flags, when in fact, the loud sirens, flashing lights, loud honking horns, and bright red paint jobs, synonymous with firetrucks, are intended to provide stealthy urban camouflage? 
Yet another example of the vacuous amplification of nonsensical, anti-American, political correctness…served globalist style
~Refocus Notes
By Nina Schutzman, 
Will flags return to Arlington Fire District trucks after their removal attracted national attention and criticism? A compromise may be in the works.
The chairman of the Arlington Board of Fire Commissioners said he's reached out to Chief Tory Gallante to discuss the possibility of a compromise about the use of American flags on fire trucks.
American flags were removed from three Arlington Fire District trucks Tuesday, sparking heated discussion on social media and disappointment from union members.
MORE: Hughsonville to fly Arlington's former flag; some area districts use flags
Gallante was directed by the board to remove the flags from the backs of the trucks during Monday's meeting. He declined to comment on specifics of why the decision was made but said he is "very disappointed with their direction."
Arlington Fire Commissioner Chairman Jim Beretta( Pictured 2nd from Left) said the board majority feel the flags are a "liability during normal operations for our people and other motorists," and that the board had not been consulted before the flags were mounted.
On Wednesday, Beretta told the Poughkeepsie Journal that he has reached out to Gallante and offered to sit down for a discussion with him "and whomever he wants to pull together … to have an initial conversation on how we might come to a compromise, some solution."
Gallante said he, union members and board members are planning to meet on Thursday to "start discussing  flag matter."
"I hope eventually this will get resolved," Gallante said.
EDITORIAL: Fire board should allow flags to fly
The flags, which were only recently mounted on the trucks at the request of the union, were removed during a ceremony at Arlington headquarters in the Town of Poughkeepsie Tuesday.
The Arlington Fire District was not the only local organization to affix flags to its trucks. Hughsonville and Poughkeepsie are among departments that have used cloth flags, while others, including Arlington, feature flag decals on the trucks.
William H. Beale, a public information officer for Hughsonville Fire Department in Wappingers Falls, said the department has flown flags on the rear of its trucks since the 9/11 attacks.
"Our fire department has taken pride with displaying the flag on each of our apparatuses," Beale said. "When it was brought to our attention (Tuesday) that this was happening at another department, we were surprised that anyone would encourage a flag to be removed."
Hughsonville Fire Department members plan to attach one of the flags to its ladder truck in a ceremony at 6:30 p.m. today, Wednesday.
The City of Poughkeepsie Fire Department has displayed the American flag on its trucks since 9/11, according to Chief Mark Johnson.
"We don't agree with the decision (in Arlington) and feel the flags were an appropriate tribute," Johnson said.
The fire department has received dozens of calls and emails regarding the controversy, primarily from people mistaking the City of Poughkeepsie Fire Department with Arlington.
Trucks in the Amenia district are affixed with flags for ceremonial events. But they are not attached during everyday service, according to Chief Christopher Howard.
Howard said he was "shocked" by the Arlington board's decision and saw no reason to ban the flags, as long as they do not impact operations.
"I don't see where it was really harming anything," he said….
1 comment
Comment
from:
HAROLD MCPEAK
[Visitor]
I HONESTLY DON'T KNOW WHAT HAS GOTTEN INTO ALL THE SO-CALLED LEADERS IN THIS COUNTRY BUT IT SEEMS YOU'VE ALL LOST YOUR BACKBONES OR YOU'RE JUST OUT OF YOUR MINDS. WE PUT ONE BLACK MAN IN OFFICE NOT ONCE BUT, TWICE AND HE TURNS OUT TO BE A MUSLIM AND NOW EVERYBODY THINKS WE SHOULD TURN OUR BACKS ON OUR COUNTRY. WELL NOT EVERYBODY JUST THOSE WHO ARE SUPPOSED TO SET EXAMPLES YET ARE CATERING TO ANY AND EVERY OTHER NATION BUT, OUR OWN. I HAVE TRIED BEING NICE AND NOT CUSS OR CURSE OR WHATEVER A BAD WORD IS WHICH IS ONLY WORDS ANYWAY BUT YOU LEADERS NEED TO GET YOUR HEADS OUT OF YOUR ASSES BEFORE WE ARE SPEAKING ANOTHER LANGUAGE AND KISSING THE GROUND 5 TIMES A DAY.
08/21/16 @ 10:33