Latest ABC News/ Washington Post Poll Finds Trump Blowing GOP Field Away at 42%
October 22nd, 2015
Latest ABC News/ Washington Post Poll Finds Trump Blowing GOP Field Away at 42%
Posted by:
Barry
Published on October 22nd, 2015 @ 12:22:00 am , using 318 words,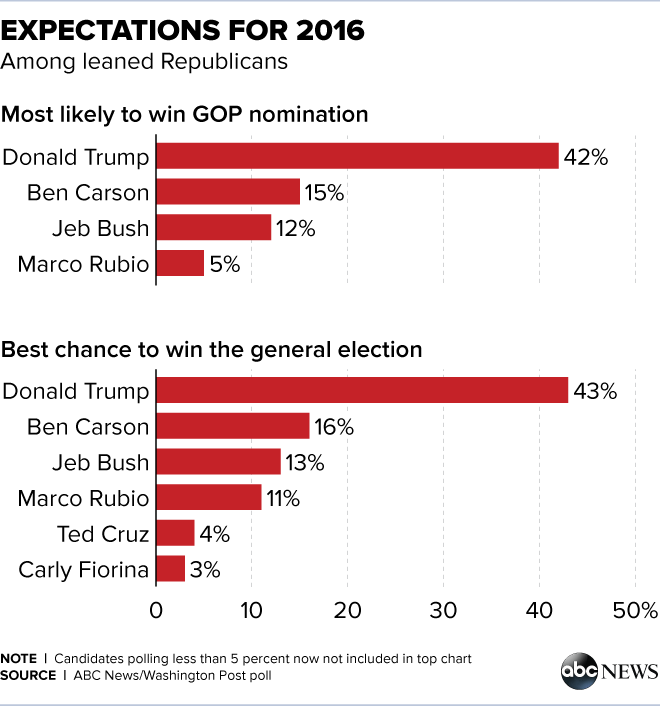 For the first time in many years, the GOP finally has a winner-take-all candidate, the only problem is, Trump's not an establishment GOP candidate–which means that a large number of Political class GOP organizations are arranging for a major ad push to eradicate their own candidate from the race…..~Refocus Notes
by Julie Phelan
Donald Trump leads the Republican presidential field in the latest ABC News/Washington Post poll, not only in vote preferences but in expectations as well -– a remarkable feat for the non-politician who's surprised the GOP establishment with his staying power as well as his support.
Trump has leveled off with backing from 32 percent of Republicans and Republican-leaning independents who are registered to vote, easily enough to retain his frontrunner status. Fellow outsider Ben Carson follows with 22 percent, also flat this month after sharp summertime gains. Notably, even more leaned Republicans – 42 percent – say they expect Trump to win the GOP nomination for president.
And given a list of six potential nominees, 43 percent pick Trump as having the best chance to win the general election just more than a year from now.
See PDF with full results here.
 Trump also fares well on many key attributes. Nearly half of leaned Republicans – 47 percent – view him as the strongest leader; 39 percent think he'd be best able to handle immigration; 32 percent feel he is closest to them on the issues; and 29 percent say he "best understands the problems of people like you."
In each case he leads the other top-five contenders for the nomination, Carson, Marco Rubio, Jeb Bush, Ted Cruz and Carly Fiorina.
Trump has weaknesses nonetheless. More view Carson as the most honest and trustworthy (33 percent vs. 21 percent for Trump), and Trump trails Bush in having the best experience (31 vs. 23 percent). While 19 percent say Trump has the best personality and temperament to serve effectively as president, that compares with a similar 24 percent for Carson.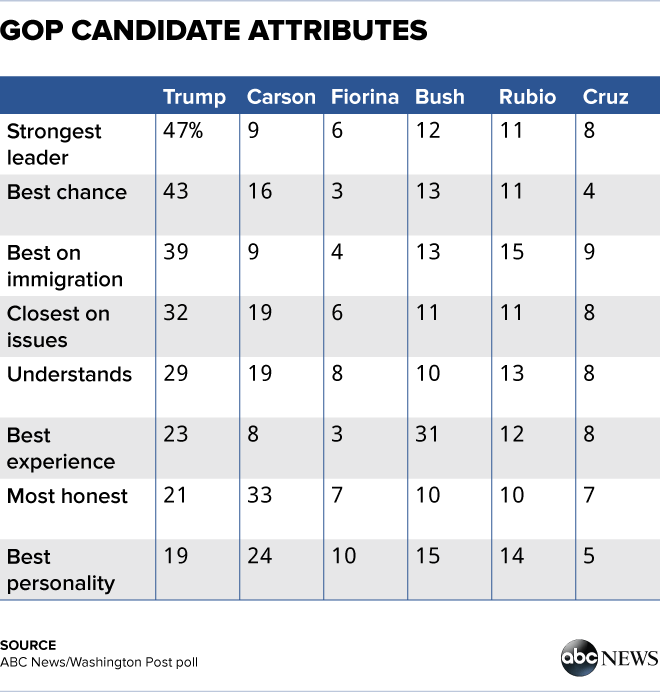 Read more On Latest GOP Polling Numbers
No feedback yet